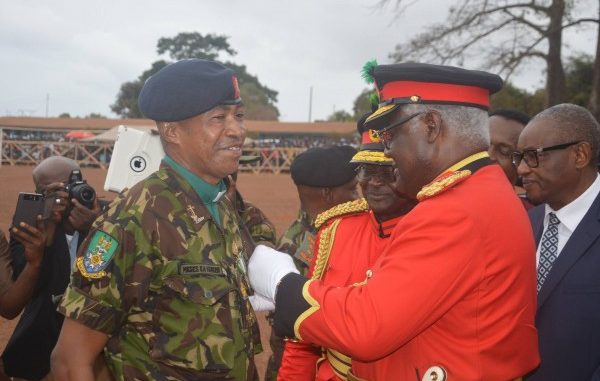 By State House Communication Unit
The Commander-in-Chief of the Republic of Sierra Leone Armed Forces (RSLAF) and Minister of Defence, His Excellency the President, Dr Ernest Bai Koroma joined officers, men and women of RSLAF in honour of their 8th Annual Armed Forces Celebrations which took place on Saturday February 18, at the Hockey Pitch, Wilberforce Barracks in Freetown.
Delivering his keynote address, President Koroma described the story of RSLAF as bittersweet – long and tedious – characterized by low and high moments. "But in the recent past, the RSLAF has gone through tremendous transformations; especially in the areas of training, operation and discipline, resulting in its current high standards of professionalism," he said. The president went on to note that Sierra Leoneans can now be proud of "a military that is disciplined, well trained and democratically accountable," saying that the men and women in uniform continue to excel in Peace Support Operations and contributing in no small measure to international efforts in bringing peace to the peoples of Sudan, Somalia, Mali, Haiti, Lebanon and Nepal.
According to President Koroma, his government has put at the disposal of the UN two infantry battalions given the demand for their services by AU/UN Missions around the world. This, said the CIC, will further enhance their professionalism. "My Government and the Ministry of Defence (MOD) are working assiduously to make this happen within the shortest possible time. Plans are far advanced in the acquisition of major equipment, uniforms and other logistics. I am confident that RSLAF will create the desired impact expected of a professional force," he stated with optimism.
The Armed Forces Celebrations, according to Defence Spokesman Brigadier Osman Turay, is organized in recognition and honour of services of the military forces. He said this celebration is similar to the Veterans Day in the United States, the Remembrance Day in the United Kingdom and many other nations around the world. He noted that the Armed Forces Day falls on February 18 since it was on that day the Ex-president Alhaji Dr Ahmed Tejan Kabbah officially declared 'the war over'.
Brigadier Turay informed that the RSLAF had fought bravely in World War 1 & 2 as part of the Royal West African Frontier Force in India, Burma, Cameroons, ECOMOG in Liberia, in the 11-year rebel war in Sierra Leone and also participated in peace supporting operations in DR Congo, Sudan and in Somalia. He commended President Koroma and his government for not only transforming the RSLAF but for also making available their monthly bags of rice on time.
The celebration was itemized with activities which started with display of interesting martial arts by trained military officers. The martial art was followed by counter-terrorism demonstration where observers witnessed the exchange of heavy sound firing of what was referred to as blind bullets.
President Koroma also conferred awards on deserving officers in two categories – the meritorious award which was conferred on three military personnel including Colonel Bah, Colonel Moses Ansu Kargbo, Major Manso Kekuda Jawara and the long service and good conduct medal award which was conferred on seven military officers including Colonel Jumbo, Colonel Kerefa Marrah, Staff Sergeant Abdul Kabia, Sergeant Richard Ngegba, Major Oluyemi Neceta Cole, Staff Sgt. Beatrice Wilson and Brigadier Tamba Allieu.