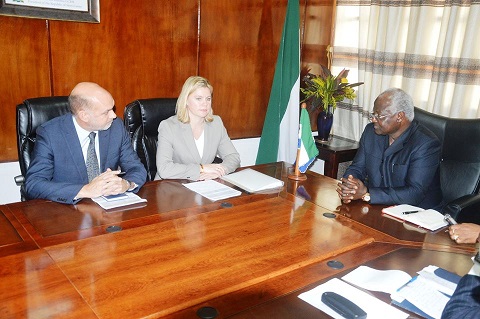 By State House Communications Unit
President Ernest Bai Koroma Tuesday 16 December received the United Kingdom Secretary of State for International Development Justine Greening at State House, Freetown. The Secretary of State is in the country on a follow up visit on Ebola and to assess progress made so far to stop the transmission of the disease.
President Koroma informed the British minister that following her last visit, the country had made tremendous progress by increasing its fighting capacity to containing the virus. He stated that there are treatment centers across the country with a simultaneous increase in lab capacity that shows the country's effectiveness in combating the disease.
The president explained that his continuous social mobilization of religious and traditional leaders, heads of traditional and cultural societies across the country has helped in bringing out the sick and revealed that Operation Western Area Surge will start Wednesday 17th December. He however expressed concern over the rate of new infections in the Western Area, adding that government will focus on the region to substantially reduce the number of new cases.
The president also noted that government will continue motivating communities, providing support and rewards for getting the sick out, and added that he was encouraged by the increase in facilities and expressed hope that very soon Ebola will be eliminated.
Justine Greening described President Koroma's social mobilization drive as very effective, saying that it is a key mechanism for containing the outbreak. She highlighted the situation in Port Loko in terms of facilities and Community Care Centers and hoped that in the coming weeks a huge difference would have been made.
The UK Secretary of State for International Development observed that the Western Area Surge is critical and needs to be managed well until the outbreak is contained. She emphasized the significance of social mobilization to quickly help in tackling the outbreak.