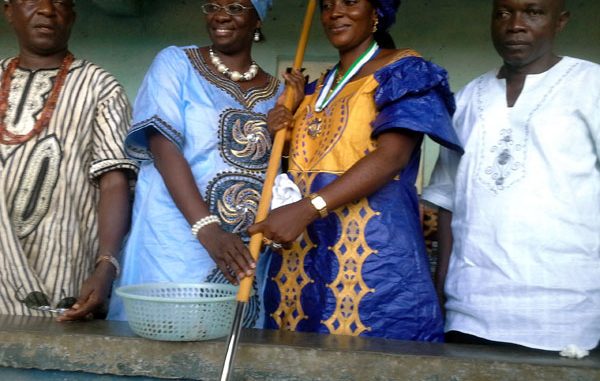 PUBLISHED COURTESY OF THE AWARENESS TIMES NEWSPAPER :By Paul Lamin in Kenema & Augustine Samba in FreetownMay 20, 2014, 17:21
https://www.youtube.com/watch?v=SiNemkjMiQ8
Special Executive Assistant to the President has called on the people of Niawa Chiefdom in the Kenema district to join hands with the leadership of His Excellency President Ernest Bai Koroma in removing tribal sentiments from Sierra Leone's body politics. Dr. Sylvia Olayinka Blyden was speaking at the Inauguration of the 37 years old Madam P.C. Mariama Jaward Tamia III who is the first educated Paramount Chief of Niawa chiefdom and also currently, the youngest ever in the Eastern Province.
Dr. Sylvia Blyden, in her address to a jam-packed town field said she travelled for hundreds of miles from Freetown to Niawa because she considers the female Paramount Chief Mariama Jaward Tamia III as her Sierra Leone sister despite their different ethnic backgrounds.
Blyden said progressive citizens do not judge based on tribes but by characters and leadership traits. She said the upsurge of "de-tribalising the body politics" has been a hallmark of the Koroma presidency especially during the awarding of ruling APC party symbols to contest elections.
To loud applause, Dr. Blyden reiterated that under President Koroma's leadership of Sierra Leone, there is a conscious effort being done by the President to de-tribalise our body politics. She dismissed claims of tribalism prevailing in the Government of President Koroma as untrue. Rather, she told the occasion that President Koroma was a unifier and a nationalist with exceptional leadership insight. She revealed these President Koroma's attributes are recognised around Africa and the world.
Dr. Blyden told people of Niawa of the fact that it was not a Temne or Limba who was representing in Parliament, the President's Goderich constituency in Freetown under the APC symbol. Rather, she said, it was a Mende man, Hon. Kallon, who was given the APC symbol by the President to represent his Freetown constituency as MP.
Hammering her points home that President Koroma chose a Mende man to represent his Goderich residential constituency, it could be clearly seen that many Niawa residents were visibly stunned to hear such a report about a President whom some mischievous politicians had portrayed to them as being against the Mende tribe.
Residents of Niawa rush up to shake the hands of the SEA, Dr. Sylvia Blyden after her speech.
According to Sylvia Olayinka Blyden, President Koroma has been deliberate and systematic in his efforts to remove tribalism from APC's body politics and furthermore, President Koroma was very determined to ensure tribal considerations are totally removed from all facets of the country's political life.
Dr. Blyden further revealed that President Koroma has consistently refused to follow the ethnic-motivated urgings of those who push for political representation to be based on tribal considerations. As a result, she gave the example of her own ancestral constituency that was considered as bastion of Creoles, today is represented under the APC party by a non-Creole parliamentarian who is of the Fula tribe. She cited similar example in the APC stronghold of Makeni city that was a Temne bastion but which currently has an elected Susu lady as Mayor. Along that line, Blyden told the Niawa women that no other president in History has done more for women than President Koroma which was why she said she was very proud to be serving him at State House.
Provincial Secreatry for the Eastern Province, Mr. Penyikie told the gathering that after elections, it was time for development and so he called for all to put aside other considerations and join hands with the new P.C. to develop Niawa Chiefdom.
Delivering her inaugural address, Madam P.C. Mariama Jaward Tamia III warmly welcomed Dr. Sylvia Blyden's presence in her chiefdom. She said she was overjoyed with the large turn out of distinguished guests. The female chief gave glory to her Christian faith which saw her achieve what had seemed to be impossible before. She said she started the race contesting against 14 contenders but with no money to campaign with. She however said the blessings of her late Paramount Chief father and her strong Christian faith saw her through to victory.
Dr. Sylvia Olayinka Blyden invited to jointly hold the staff of office of P.C. Madam Mariama Jaward Tamia III of Niawa Chiefdom. They are flanked by Assessor Chief P.C. Denton Bona of Nimikoro and Mr. Mbayo, the husband of the female chief
Madam P.C. Mariama Jaward Tamia III promised to serve the interests of her people and to work most earnestly with the government of President Ernest Koroma to ensure development reaches her chiefdom people.
One of the defeated contenders for the chieftaincy, a University lecturer, Mr. Feika, also spoke. He promised to work with the new chief especially as she was the first educated Paramount Chief of Niawa.
Thousands of people from all over the country and even from overseas, thronged to witness the occasion which was so colourful with cultural and traditional dancing.
Also present at the occasion were several past and present honourable parliamentarians, many Paramount Chiefs from all over the country and the Mayor of Kenema City, His Worship J.S. Keifala who read out the profile of the new Paramount Chief. Former MP from Pujehun, Honourable Jobson Momoh, whose mother hails from Niawa, effectively chaired the auspicious occasion.
Earlier, a Catholic mass was also held to celebrate the day.
It was all smiles in Niawa Chiefdom.
Dr. Blyden has meanwhile returned to Freetown from Kenema yesterday, Monday 19th May 2014. She immediately spoke to this independent newspaper house to dismiss the pro-opposition Global Times newspaper's "idle, libellous claims" that she wrote against a neighbouring president on her Facebook wall.
"It is totally untrue just as it is untrue that my boss ever asked me to stop writing on social media," Blyden said on arrival in Freetown yesterday evening. She added that she currently enjoys "a great working relationship with President Koroma".
WATCH THE VIDEO AS CARRIED BY SLBC AND UPLOADED BY SENATOR PRESS BY CLICKING AT THE LINK BELOW:
CLICK HERE TO WATCH VIDEO NEWS