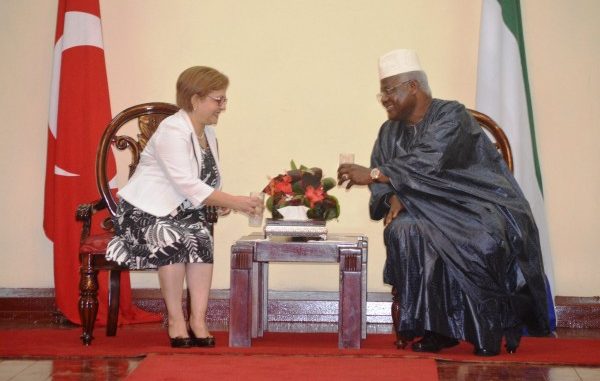 By State House Communication Unit
FREETOWN, Sierra Leone, September 3, 2015/ — Their Excellencies, the Ambassador-designate of the Republic of The Gambia, the Ambassador-designate of the Republic of Turkey and the High Commissioner-designate of the Republic of India presented their Letters of Credence to the President at State House today.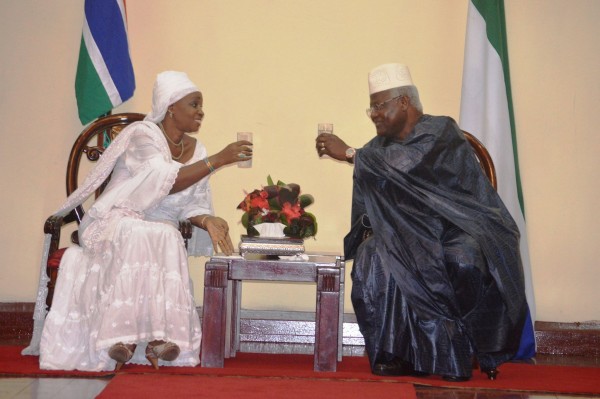 Receiving the diplomats, President Ernest Bai Koroma highlighted new avenues to strengthen socio-economic cooperation between Sierra Leone and the three countries and underscored the need to deepen mutually bilateral relations with them. He thanked the respective governments for supporting Sierra Leone during the height of the Ebola epidemic.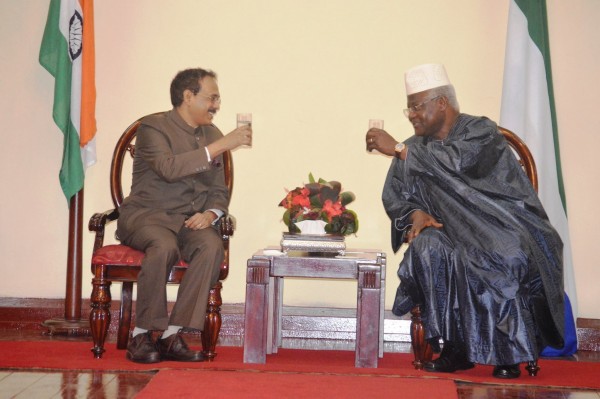 The president emphasized that the main task of his government is to ensure the country returns on the "Agenda for Prosperity" pathway following the implementation of post Ebola recovery programmes prioritizing health, education, social security and economic resurgence through promotion of the private sector. He called on the governments of India, Turkey and The Gambia to support the Government and people of Sierra Leone in fighting what he described as a "great threat to our recovery from this evil virus." "This great threat is stigmatization of citizens and residents of the region when they travel abroad," he said.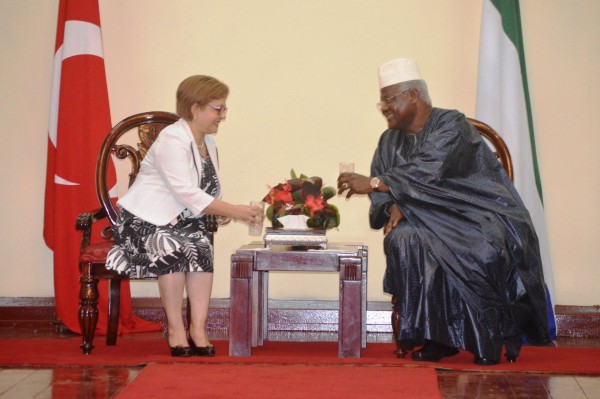 While expressing satisfaction with Sierra Leone's determined struggle with the epidemic, which has yielded positive results, Ambassador Penbe Nesrin Bayazit also said that Turkey has exerted every effort to provide assistance to Sierra Leone and other Ebola stricken countries both bilaterally and through the United Nations, World Health Organization and the African Union.
High Commissioner K. Jeeva Sagar, on his part, expressed deep admiration for the great progress registered under the leadership of President Koroma. He noted that Sierra Leone has made impressive growth in recent years although the Ebola outbreak has impacted negatively on economic growth as well as the flow of normal life in the country. "We assure you of India's support in these difficult times," he stressed.
Ambassador Mrs. Fatou Ndeye Gaye of The Gambia registered her government's unflinching commitment to continue the bond of friendship and ties existing between the two sister countries. "The Government and People of The Gambia are particularly concern and will continue to support the recent Ebola outbreak in Sierra Leone and the sub-region that claimed lives of Sierra Leoneans and other nationals within the sub-region, of which your Government committed a lot of financial, technical and human resources," she stated.
The credentials ceremony saw in attendance cabinet ministers, senior government officials, officials of the Ministry of Foreign Affairs and International Cooperation and senior State House staffers.