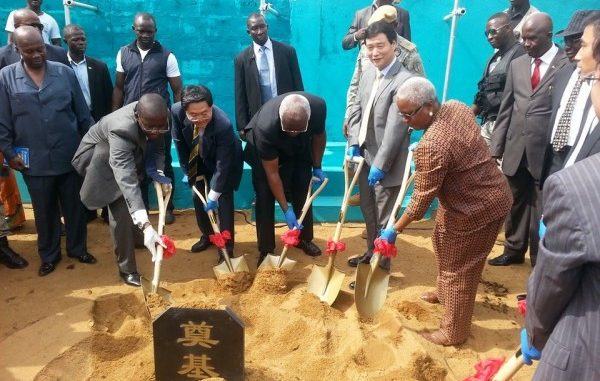 By State House Communications Unit :
President Ernest Bai Koroma turned the sod Thursday morning to begin construction of an ultra modern level P3 laboratory at the China-Sierra Leone Friendship Hospital, Jui.
Speaking during the groundbreaking ceremony, the president said construction of the lab will benefit the country and leave the health sector stronger. He described China as a special friend, saying that since the outbreak China has come a long way in providing support.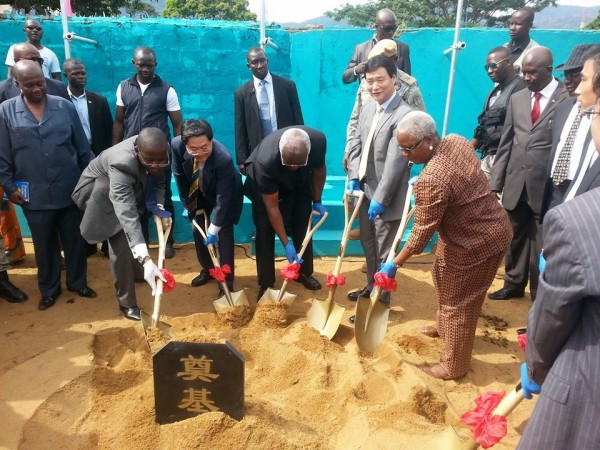 President Koroma recalled that when government announced the outbreak in May this year the Chinese Ambassador to Sierra Leone led a delegation to State House where he made a firm commitment that China is going to provide support, through personnel, medical supplies and now with a permanent infrastructure.
He said such developments will enable Sierra Leoneans to learn skills from the Chinese and use such skills to strengthen the health sector. According to President Koroma the facility is going to be a transformation in the country's health sector, adding that there was a commitment made that it is not only going to be built to support Sierra Leone alone, but also as a world class facility that will serve the demands of the immediate sub-region. He therefore thanked the President, government and people of China for the support and noted that the ceremony yet again symbolizes the strengthening of over 40 years of bilateral cooperation between the two countries.
Chinese Ambassador to Sierra Leone Zhao Yanbo said since the outbreak of Ebola, China wasted no time in providing medical support through personnel, medical supplies and training of health workers in the country.
Ambassador Yanbo disclosed that the team is in the country to further train over 4,000 community health workers to help contain the spreading virus. He also noted that the construction of a permanent level P3 laboratory in Sierra Leone is another landmark in the history of the relations between both countries.
Health Minister Dr Abu Bakarr Fofanah described the event as historic in the health sector, recalling that at the beginning of the outbreak there was only one lab in the country which was inadequate to address the situation.
He said Chinese President Xi Jinping and Southern African President Jacob Zuma were the first world leaders that responded immediately to President Ernest Bai Koroma's call for support to fight the spread of Ebola in Sierra Leone.
Statements were made by the Chief Medical Officer Dr Brima Kargbo and the Project Manager Beijing Urban Construction Group Reng Zhou. President Koroma and the Chinese Ambassador took a conducted tour of the site before officially turning the sod that marked the start of construction of the facility.
Photos show President Koroma performing groundbreaking ceremony for the construction of level P3 lab at the Chinese Hospital, Jui…