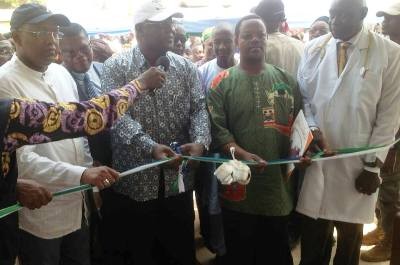 By State House Communications Team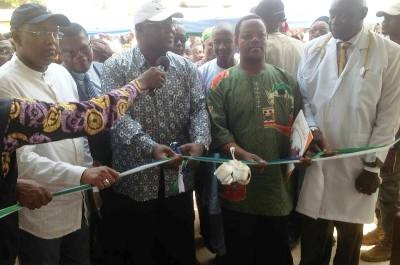 By State House Communications Unit
President Dr Ernest Bai Koroma on Friday 7th February urged health professionals and workers, local councils and other government officials to rededicate their commitment to promoting quality health care services to reduce maternal and child mortality as well as ensure improved health care delivery for all Sierra Leoneans. He made this statement during the official commissioning ceremonies of the newly constructed Maternity Wards in both Kenema and Bo cities.
President Koroma said that since the launch of the Free Health Care Initiative (FHI) in 2010, government in collaboration with development partners has made tremendous efforts in transforming the health sector and improving quality health care service delivery, particularly for maternal and child health.
"These modern maternity facilities are among 5 new maternity centers and 21 new PHUs constructed across 5 districts (Bo, Bonthe, Kenema, Port Loko and Tonkolili). These facilities have been constructed by my government with the support of our partners the African Development Bank (AfDB) and UNFPA," the president said.
He also noted that the recent preliminary report of the Demographic and Health Survey (DHS) shows encouraging trends and improvements made in childhood mortality, and other women's health indicators. This is an indication that my vision of the Free Health Care Initiative for pregnant women, lactating mothers and children under-five is yielding the dividends that we envisioned, the president emphasized.
President Koroma reiterated government's commitment to continue to prioritize the improvement of health care service delivery particularly for women and children. "We will double our efforts in our pursuit to ensure that we address the challenges and barriers to providing quality and timely health care services to all our citizens."
The indefatigable Minister of Health and Sanitation, Miatta Kargbo said that a $28 million grant was provided by the AfDB for strengthening district health services in the country. The project, she revealed, started in 2008 and was implemented by the MOHS and UNFPA. The minister noted that the project was a comprehensive package which targeted five districts and its main objective was to increase access to quality health care in the five districts (Bo, Bonthe, Kenema, Port Loko and Tonkolili).
According to Miatta Kargbo, the project included the construction of five maternity wards and staff quarters in the five districts, peripheral health units, capacity building care providers, supply of medical equipment and provision of essential drugs, water supply, solar lights and incinerators were also provided in all facilities.
In his welcome statement, Mayor of Kenema City, J.S. Kelfala said the occasion was a landmark for the adequate promotion of sound health care, especially for women who have been victims of poor medical attention during labour. "Your Excellency, your dream to promote a sound health for all citizens is no more a policy formulated, but an activity implemented," he said. The abandonment of pregnant women in labour room, the increase child mortality rate and many other health related hazards are gradually becoming things of the past, Mayor of Kenema said, and thanked President Koroma for making this happen.
Resident Representative of the AfDB, Dr Yero Baldeh said that the project was the bank's holistic support towards the government's drive towards improved health care and service delivery as enshrined under the now completed Agenda for Change and remains a priority under the Agenda for Prosperity. "As a Bank, we are delighted to have supported and be part of a critical part of this drive, which has already achieved significant results on the ground as expected under the preliminary results of the 2013 Demographic and Health Survey," Dr Baldeh said. He added that increase access to antenatal care from skilled providers for women clearly demonstrates the positive strides the government is making under the Free Heath Care Initiative.
UNFPA Representative Dr Bannet Ndyanabangi also commended the president for his investments in health that have not only attracted worldwide recognition, but also led to improvements in the health care of the people as manifested in the recent demographic health survey. "The use of modern family planning methods among married women, for instance, doubled since 2008: from 7% to 16%. Deliveries in health facilities doubled from 25% to 56% in 5 years," he revealed. He noted that although challenges still remain, the improvements in health care delivery reflect concerted action by government and development partners working in the country.