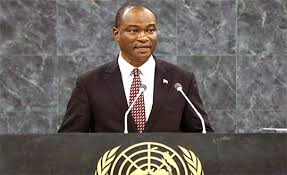 PRESS RELEASE FROM DR. SAMURA KAMARA, CANDIDATE FOR THE PRESIDENCY OF THE AFRICAN DEVELOPMENT BANK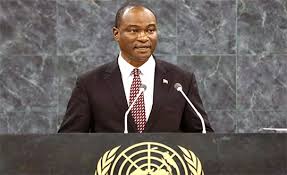 YOU WILL RECALL THAT SIERRA LEONE WAS ONE OF THE EIGHT (8) CANDIDATES FOR THE PRESIDENCY OF THE AFRICAN DEVELOPMENT BANK. PRELIMINARY RESULTS HAVE SHOWN THAT SIERRA LEONE IS OUT OF THE RACE BECAUSE WE DID NOT RECEIVE THE REQUIRED VOTES ACCORDING TO THE ELECTORAL RULES OF THE BANK.
I WOULD LIKE TO SALUTE HIS EXCELLENCY, OUR PRESIDENT DR. ERNEST BAI KOROMA, AND THE PEOPLE OF SIERRA LEONE FOR THEIR UNRESERVED SUPPORT I HAVE RECEIVED AS OUR NATION'S CANDIDATE FOR THIS POSITION. I DEEPLY APPRECIATE AND AM HUMBLED BY THE UNIFIED NATIONAL SUPPORT THAT HAS FAVOURED ME DURING THIS IMPORTANT MOMENT. AND I HAVE WELCOMED THE OPPORTUNITY TO HIGHLIGHT SIERRA LEONE'S SUCCESSES THOUGRHOUT THIS PROCESS.
THE CAMPAIGN HAS BEEN INTENSE. ALL CANDIDATES WERE HIGHLY QUALIFIED, EXPERENCED AND TESTED—BUT THERE CAN ONLY BE ONE WINNER. I WISH THE NEXT PRESIDENT OF THE BANK WELL AS WE MOVE FORWARD TO ADDRESS THE CHALLENGES AND OPPORTUNITIES CONFRONTING OUR CONTINENT.
I INTEND TO CONTINUE MY DIPLOMATIC EFFORTS TO PROMOTE THE INTERESTS OF SIERRA LEONE, OUR REGION AND THE CONTINENT. HAVING CONTRIBUTED TO THE SUCCESSFUL POST-CONFLICT RECOVERY OF OUR NATION, AS WELL AS THE REGION'S MORE RECENT EFFORTS TO ERADICATE EBOLA, I LOOK FORWARD TO ADVANCING OUR ONGOING FOREIGN POLICY OBJECTIVES.
AT THIS JUNCTURE, I ONCE AGAIN THANK ALL PARTNERS, THE CAMPAIGN TEAM AND THOSE WHO HAVE WORKED SO ARDENTLY WITH US IN THIS RACE, ESPECIALLY THE BELOVED PEOPLE OF SIERRA LEONE.
ABIDJANMay 28, 2015
__________________________________
Nigeria Grabs AfDB top Job
Akinwumi Adesina was elected as the 8th President of the African Development Bank on Thursday, May 28.
A Nigerian citizen, Adesina is currently serving as Nigeria's Minister of Agriculture and Rural Development.
He succeeds Donald Kaberuka, whose second term as President of the Bank ends in August.
His name was announced by Albert Toikeusse Mabri, Minister of Planning and Development for Côte d'Ivoire, and current Chairman of the Board of Governors of the African Development Bank.
The election was conducted by the Board within the Annual Meetings of the African Development Bank Group, held in Abidjan.
Adesina, 55, will assume office on 1 September 2015.