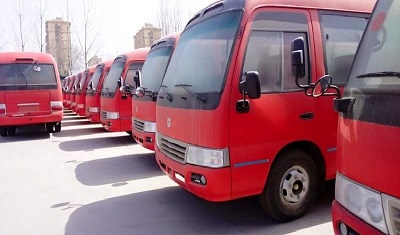 By Sheriff Mahmud Ismail

Background
Sierra Leone's public transport system has been fraught with many challenges and for a long time. Its infrastructure – roads, vehicles, human resource, sales architecture and maintenance paraphernalia were completely devastated during the country's 11 years war. Even though the conflict ended about two decades ago, fixing the roads and bridges and putting worthy vehicles on them to serve the public is as capital intensive as organizing the sector has been difficult. For an economy like Sierra Leone's, where everything is a priority including health, education, agriculture, energy, the challenge of fixing the country's transport sector had only become stiffer.
The current situation
Inadequate public transport therefore has become a major problem especially in Freetown. The hassle to move from one place to the other especially in Sierra Leone's densely populated capital is simply too much for everyone without a vehicle. Queues are all over- from Jui through Calaba Town, in the east end to PZ in the center of town; from Goderich through Lumley, to St. John in the West the problems are the same.  School kids wake too early in the morning yet they get to school late, miss their lessons and get punished by their teachers, return home late; too tired to study.
"She had to walk some distance, tired, her shoes split up and I was worried about her. I thought something bad had happened to my daughter – she did not come till 8pm," said Dora Lewis, a mother of four and a business women living in Wellington, in the East end of Freetown. Dora told me about the transportation difficulties she had to endure daily.
"I have four school going kids, one of them a girl. On Friday, 3rd July 2015, I became really restless, I started crying because my girl didn't come home after 8pm," she said.
Her daughter didn't get home in time because drivers do not take commuters to their destinations if they do not pay four or five times more than the official price. Dora's daughter, a pupil of the Annie Walsh Memorial Secondary School, had to walk some distance to cover part of the journey, ruining her shoes in the process.
"I spend not less than Le 5,000 daily on each of my four kids just on transportation and I do not make that kind of money from my small earning," she lamented.
Dora went on to say that she regularly travels all around the country to buy local produce to sell in Freetown.
"I struggle a lot; sometimes I spend days just waiting for a vehicle that would bring my goods from interior, in the process my commodities perish. I loss money, it is really tough," she bemoans.
Dora and her children are not the only ones affected by the problem of inadequate public transport.
Marion Kamara, 22, a student of Fourah Bay College, University of Sierra Leone who commutes from Leicester (the mountainous West End to her campus endures a similar ordeal.
"The drivers charge us more, they move at their own time and they overload the small salon cars with four or five passengers. Sometimes we have to use motor bikes if we must get to class in time. Either way, it is expensive, inconvenient and unsafe," said Marion.
"It will be a great relief if government were to intervene and alleviate the problem," said Alusine Conteh, 20, a senior secondary school pupil who has just taken the West African School Certificate Examination. Alusine leaves at Thunder Hill in the East of Freetown but attended tutorial classes in the central part of the city.
"By the time we got home it would be so late in the evening and we would be so tired that we had to make every effort to be able to study at night," he lamented.
For Jeneba Koroma, 16, a junior secondary school girl of the Sierra Leone International Mission Secondary School in Wellington (also in the East end), her biggest problem is having to copy lesson notes from her classmates each time she gets to school late.
"It is by far better to listen to the teacher than to copy my lesson notes from a classmate," she asserted.
Jeneba also said that sometimes they are so overloaded and overcharged in the 'poda podas' (mini vans) that pupils would have to carry their school mates on their laps which is part of a compromise to defray the high cost of the fare. Overloading, over charging and other abuses of commuters have become commonplace. Thousands of people are stranded every day, especially during the rush hours, all, owing to the acute shortage of public transport.
The government has heard the cry of its citizens – 100 new buses arrive
"We have heard the cry, we have seen the inconvenience and we know our people risk their lives and limbs on motorbikes and still others have to pay extra to get to one destination," said Balogun Leonard Koroma, Minister of Transport and Aviation.
The challenge now, he went on, is to make sure that there is an organized and safe transport system by which our citizens are conveyed safely and conveniently from one point to the other.
"We are rising to the occasion to ameliorate the problem," he asserted. The minister went further to explain that the government is bringing 100 new buses. He added: "This intervention, 100% fund by government, would help to address these problems and make the public transport system more convenient and safer."
Other challenges in the public transport sector – some remedy in the offing
Observers say the shortage of public transport is only part of the malaise. The disorganized nature of the sector; the poor attitude of drivers and the apparent inability to enforce the official prices per route/destination have contributed the hardship inflicted upon the ordinary commuters.
Bockarie Lewis-Kamara, the General Manager of the Sierra Leone Road Transport Corporation agrees: "It has been very difficult to fix prices for private transporters – individuals or companies – or to effectively regulate their activities and this is particularly so because there has been no serious competition or alternative". He went on to assert that "by this sheer number of the buses we are confident that the sector would regulate itself and that our citizens would soon breathe a sigh of relief".
By all accounts, it would appear that the authorities have taken conscientious steps to ensure that the sector is organized and orderly.
"We have recruited and trained drivers and conductors; established an accessible and transparent ticketing system and deployed sales representatives across the country to serve our people with a customer service attitude," he disclosed.
The public is skeptical but also hopeful
The news about government's procurement of 100 new buses has come way ahead of the buses but some members of the public have been skeptical.
"I have heard on several occasions about these buses but I am yet to see them or feel their impact," said Jeneba Koroma, the 16 year old junior secondary school girl in Wellington.
One commuter was even more critical: "Government has been bringing buses, but before you know it, they are either broken or not just available at all".
For Alusine Conteh, the senior secondary school pupil from Thunder Hill, "this is a very good initiative, it shows that the government listens and takes the views of the people seriously".
Dora Lewis, the mother of four is cautiously hopeful: 'If these buses actually arrive and are properly managed, I think they would make some difference and I would be very happy".
"The buses will arrive at 11am Monday July 6, 2015," the Minister of Transport and Aviation told me categorically. How would you sustain this project, I asked? His response was direct and quite convincing.
"We have learned from past experience; we have ensured that we have spares that would last for three years, we have two mobile garages, and we have re-equipped the main garage; we also included a Technical Support component in the project just to be certain that there is effective and sustainable maintenance and repairs regime". The minister went on to state that this project will also be commercially viable and self sustaining.
"The ticketing system is so water tight that it makes fraud very difficult. The many franchises we have established across the country will ensure that tickets are easily accessible and sales are properly accounted for. With the demand for the service, we are sure that there will be sufficient returns to keep the project going".
He also said that 'this project clearly resonates with President Koroma's Agenda for Prosperity (A4P); we are creating hundreds of jobs, facilitating trade and enhancing better life for many families as espoused in the A4P.
Going forward
100 new buses is quite a good number but spreading these across Sierra Leone would make this number look like a drop in the ocean and the minister knows all too well.
"My vision is for a dedicated national school bus service, a dedicated provincial and inter districts bus service and a bus service dedicated to international routes such as Sierra Leone to Guinea," the minister said. He acknowledging that this would mean that ''we need more buses and ours, being a government of the ordinary man is not oblivious of these needs; we keep all the cards on the table".