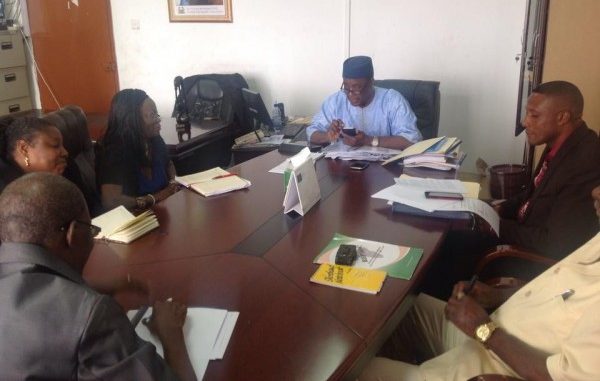 By Septimus Kanu–
Sierra Leone Commission on Small Arms pays a courtesy call on the Minister of information and Communications, Hon. Alhaji Alpha Bakarr Sahid Kanu,who has played host to a delegation from the Sierra Leone Commission on Small Arms, Office of the President.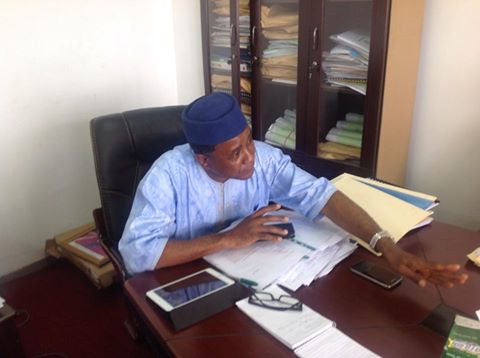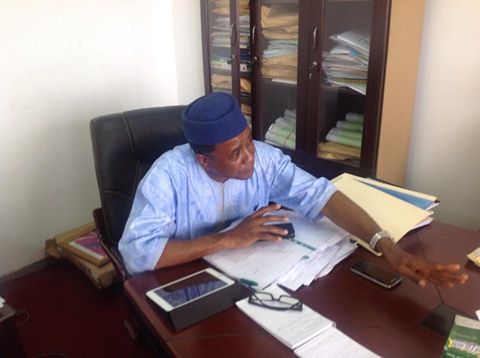 The delegates constituted two representatives from the Commission, who were: Madam Mabinty Bayraytay,( Finance Admin. Officer) and Rtd. Brig. Modibo Leslie Lymon( Chairman and Commissioner and two representatives from the Board Members, Madam Florella Hailyn, and Rtd. Capt. Sulaiman Idrissa Bangura( Systemic) who made the  courtesy call to the Minister, to brief him about their functions in the Commission and to do a following up about the fibre optic and E-governance platform which the Ministry of Information and Communications is about to launch the fiber optic and E-governance this (August 2015) at around State Avenue.
"I believe that If the fibre optic reaches  State House it will service many other offices around. We know the importance of the Commission. And we are always to ensure that we do what we can to improve it. And one of the ways to do it is to provide Internet facility that could allow its operation fully," said Minister Kanu. The Minister thanked members of the Commission for their good work and admonished them to be more proactive.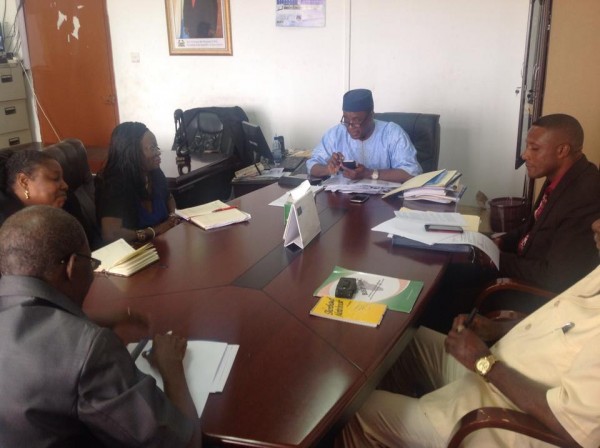 Rtd Brig. Modibo Leslie Lymon, also explained about the mandate of the commission,which he said  was established in 2010, through proper legislation, and they have done a lot of hard work to make sure they sensitize and educate the populace with regards the content of the legislation. As part of their work, the Commission has also put another legislation, which is the Arms and Ammunition Act of 2012 – a document that they have also popularized throughout the country.
Recently, the Commission also forwarded the Arms and ammunition regulations document to both Cabinet and Parliament, a document that will ensure that people  easily understand the laws of holding a weapon.  Issues dealt with are–what qualified a person to hold a weapon, who is the registrar of fire arms and what could be the responsibility of that individual. The Rtd. Brig. has determined to ensure that those three documents are upheld by the public.

Rtd Brig. Lymon, reiterated that they are about to issue licenses of fire arms because they have a lot of pressure in all over the country.