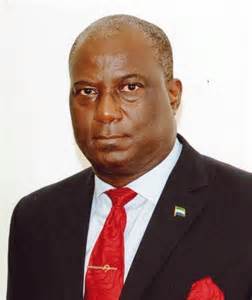 By Umaru S. Jah

In an effort to ensure a transparent and accountable system in the collection and distribution of all Ebola donations received on behalf of the people of Sierra Leone, the Embassy of Sierra Leone in the Federal Republic of Germany has assembled compatriots and German NGO's to brief them about how all these resources are used judiciously.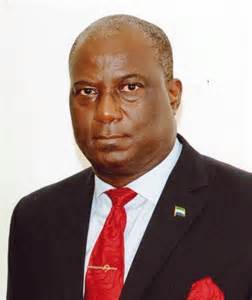 AMBASSADOR JONGOPIE STEVENS
The Embassy has received a total cash donation of about EUR 22,980.00 from both Germans and Sierra Leoneans, while medical supplies worth approximately EUR 15.000.00 were from humanitarian organisations across Germany.



The cash donations were used to buy medical supplies which include hand gloves, Personal Protective Equipment (PPE), facial masks and goggles. 

The items have since been loaded into a forty feet container and sent to Sierra Leone through the Ministry of Foreign Affairs and International Cooperation.

"This is part of our promise that whatever contribution we collect towards the fight against Ebola in Sierra Leone should be made public," 


Ambassador Stevens told a cross section of Sierra Leoneans and German organisations at the well attended meeting last weekend.

He informed his audience that such a move was necessary considering the urgent and desperate situation back home. 

Since the outbreak, Ambassador Stevens said thousands of people have died as a result of inadequate medical supplies and personnel in the country. 



This was why the government of Sierra Leone has since called for support from International and humanitarian organisations to help end the scourge. 

He emphasised that resources collected towards the fight against Ebola should be used for its intended purpose and not for the selfish interest of some people from certain quarters. 

The Ambassador further encouraged all the organisations present to feel free and ask questions relating to the financial report presented to them by the Embassy's Finance Attaché Mr. Septimus O. Johnson.

Ag. Minister Counsellor and Head of Chancery Mr. Al-Hassan K. Kondeh, emphasised the need to ensure transparency and accountability in the management of Ebola donations, noting further that such a process allows the people to seek for clarifications and have a clear insight as to how the resources are being spent. 

He reiterated the Embassy's promise to the people following a meeting held to solicit support for the fight against Ebola in Sierra Leone in August this year. During the meeting, Mr. Kondeh said the Embassy promised to not only publish donations received for the Ebola on its website but also invite them to a meeting and provide them with proper financial records. 

He implored the people to continue with their humanitarian assistance towards the fight against Ebola in Sierra Leone and called on the German NGO's to work together in order to achieve a common goal. 

Representatives from various organisations gave an overview of their respective work in Sierra Leone, especially those related to the fight against Ebola in the country.