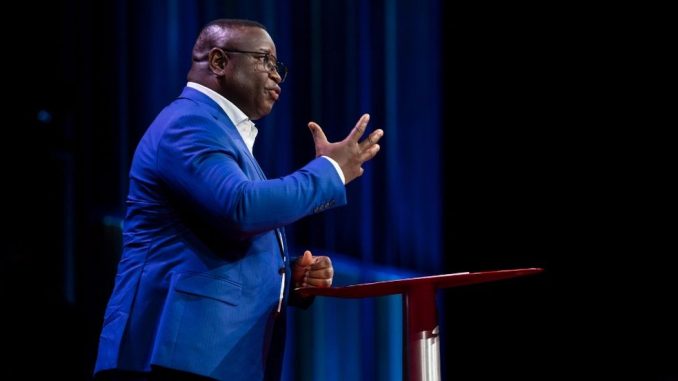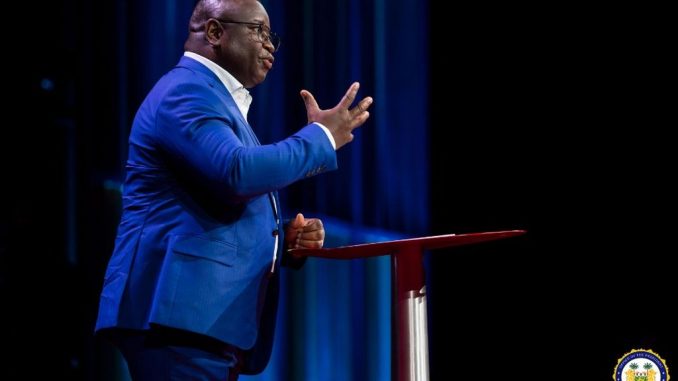 BY KABS KANU
The Concerned Sierra Leoneans United Kingdom Branch over the weekend staged  two days of demonstrations against the Sierra Leone Government, while President Maada Bio was in London attending the UK-Africa Summit.
The demonstrations were staged to highlight the gross human rights abuses, disrespect for law and the constitution , which have turned Sierra Leone into a pariah state since President Bio came to power in 2018.
The first demonstration was held on Saturday January 19 around the precincts  of  the  Ruach City Church,  197-199 Kilburn High Road London  and on Sunday, the Concerned Citizens assembled again , this time at the Queen Elizabeth 11 Conference Centre, Broad Sanctuary Westminster London , where they demonstrated again against President Bio and his government.
During the demonstration, Sierra Leoneans carried placards and chanted slogans describing President Bio as a thief and a human rights abuser.
We don turn bone nar throat for dis cannibalistic, tribalistic, lawless, and undemocratic government. If these nincompoops think that this is 1992, then they must be forced to wake up.

Posted by Mamu Al Conteh on Monday, January 20, 2020
Though the Sierra Leone Government is playing down the effects of these demonstrations being staged against President Bio around the world , especially at the UN  every year during the UN General Assembly, political observers believe that these demonstrations are responsible for the poor investment climate in Sierra Leone , donor fatigue and the inability of the government to accrue any significant investments during the recent UK-Africa Summit, in comparison to other West African countries like Ghana and Nigeria.
A member of the Concerned Sierra Leoneans told COCORIOKO  that their demonstrations were successful and that they were able to pass on their message to the international community. They are calling on the International Community to intervene in Sierra Leone to stop the gross human rights abuses.
BELOW IS A STATEMENT RELEASED BY THE CONCERNED SIERRA LEONEANS 
"The spirit of democracy cannot be superimposed on the veil of terror,state-driven anarchy and the deliberate disregard for basic freedoms first enshrined in the greatest Magna Carta Charter 1215 which is a model of global Constitutionality that is being threatened in Sierra Leone!
"Genuine democracy must come from within the circles of any serious government acting on national interest to fairly dispense the tenets of democracy and the rule of law in an emerging economy like ours. If we are serious to attract the flock of investors in a country shackled by violence sponsored by the state.
"The SLPP government has paralysed our institutions to function independently, our justice system is weak, outdated and cannot, therefore, hold President Bio's government, supporters and their hired criminals to account for their gross human rights violations in Sierra Leone since the inception of his government nearly two years ago.
"In addition, our international partners and donors have been extensively misled by the over-bloated and overrated government in Sierra Leone about the real picture of President Bio's government pernicious activities in relation to human rights violations and refusal of upholding the basic tenets of the rule of law. We cannot therefore afford to give a blind eye to the terrible human records of Bio's government neither stand with hands akimbo seeing our democracy being reduced or degenerated to mobocracy.
"It is prevalent that liberty and democracy become unholy when state actors' hands are dyed in red with the innocent blood of citizens with impunity. Leadership comes with responsibilities and this is why we are holding President Bio and his officials to account through the legal instrument of sections (25)-(26) of the Sierra Leone 1991 Constitution in London! Mahatma Gandi said: "Democracy, is not a state where people in positions of trust act like sheep."
"Concerned Sierra Leoneans are not prepared to embrace the politics of everything goes, championed by those who are desperately keen to wallow in the politics of divide and rule. We are therefore calling on peaceful and law-abiding Sierra Leoneans to join us to defend the values of democracy that we cherished in this part of the world to be replicated in our country, Sierra Leone.
"Police clearances have been sought for both events and we are going to be protected and pampered by the best police force on planet earth and we will be grateful if citizens join us to the following addresses and on time. "