Africa Report N°12912 Jul 2007
 EXECUTIVE SUMMARY AND RECOMMENDATIONS
Sierra Leone holds presidential and legislative elections in August 2007. President Ahmed Tejan Kabbah, who won a landslide victory in 2002 at the end of the civil war, split the ruling Sierra Leone People's Party (SLPP) by anointing a successor, Vice-President Solomon Berewa. When Charles Margai formed the People's Movement for Democratic Change (PMDC), the break-up rejuvenated politics but also heightened tension in SLPP strongholds. The All People's Congress (APC), which gained in 2004 local elections, may be able to exploit this division. Return to a constituency-based voting system for parliament has reinforced the leverage of traditional chiefs in national politics and produced potentially vicious competition. Sierra Leone is still a fragile state in which peace will not be consolidated until two things happen. The elections must be violence-free and fair for results to be respected. Then the new authorities must deal with sources of discontent such as corruption, chiefs' abuse of power and youth unemployment, lest they threaten stability.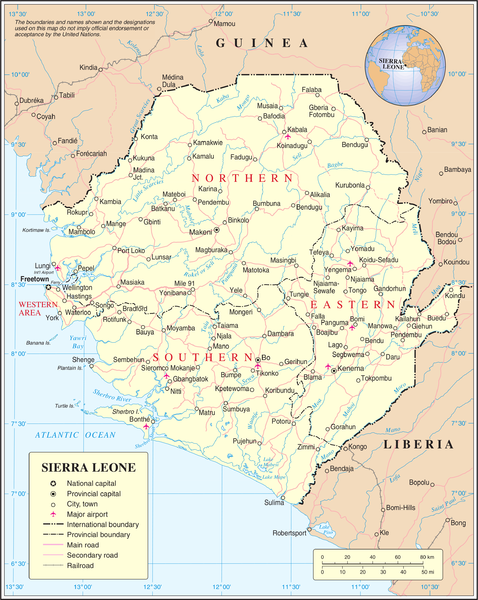 The completely new National Electoral Commission (NEC) has started well and broadly inspires confidence. It has completed voter registration and has one month after nominations close to produce and distribute ballot papers. The choice of 11 August, the height of the rainy season, as polling day will not make the task any easier. National and international observers have a critical responsibility but it is also essential that allegations of fraud or malpractice be adjudicated promptly and fairly.
An escalating spate of house burnings, which started in Pujehun District in January, indicated tension between the SLPP and the breakaway PMDC. No one has claimed responsibility or been convicted, a lack of clarity which is reminiscent of the war years and undermines confidence in the re-establishment of rule of law. Although the police seem to have calmed the situation, more accountability is essential if recourse to violence is to become less attractive.
All parties are vying for the youth vote. Reconstruction efforts have done little to address the marginalisation of young people, and the next government must find a new approach to boosting economic growth and increasing income-generating opportunities. A robust attack on economic mismanagement is needed to rescue Sierra Leone's reputation as a poor place for investment, but each of the major presidential candidates is burdened by history. Vice-President Berewa is fully implicated in the current system. Margai was part of the administration until 2005. Ernest Koroma of the APC has not held office himself but his party's long-serving president, Siaka Stevens, was an autocrat who introduced a one-party state.
If the elections go smoothly and the new administration starts with a strong reform program, Sierra Leone can profit from remaining international goodwill, exemplified by the commitment of the UN Peacebuilding Commission as well as of the UK and other partners, to achieve its potential. If not, a return to conflict would again be a real possibility. In any event, the population's tolerance of bad governance and lack of economic development is unlikely to last much longer.
RECOMMENDATIONS
To All Political Parties:
1.  Respect the voluntary Code of Conduct and, in particular, instruct all officials and supporters that violence, or calls to violence, will be swiftly investigated and punished in accordance with law.
2.  Deploy witnesses to voting stations all over the country to strengthen transparency of the polls.
3.  Commit to a comprehensive post-election reform program to tackle the popular discontent generated by corruption, chiefs' abuse of their powers and politicisation of the security forces and judiciary.
To the National Electoral Commission (NEC):
4.  Develop a proactive communication strategy on shortcomings in administration of the elections and challenge the government to maintain a free, secure and fair environment throughout the electoral period.
5.  Establish decentralised coordination with the national police designed to produce quick reaction to security incidents.
6.  Support civil society in conducting a dialogue to sensitise chiefs on the need for them to act impartially throughout the electoral process.
To the Government of Sierra Leone:
7.  Take all necessary steps, including approaches to Paramount Chiefs and security officials, to ensure even-handed policing and a level field for all parties and candidates during the campaign.
8.  Ensure that government funds are not misused to support the ruling party's campaign and that state-run media cover the election impartially.
To Donors:
9.  Maintain oversight and offer technical and logistical support during the election period with the overriding aim of minimising risk of conflict.
10.  Immediately engage with the new administration to make clear that a break with past failure to tackle corruption is a prerequisite for long-term support.
11.  Supplement the funds given through the UN's Peacebuilding Fund so as to ensure sustained support for projects to create youth employment, good governance, justice and a capable public service.
To the United Nations Peacebuilding Commission:
12.  Strengthen local outreach strategies to emphasise the independent and apolitical nature of its funding under the Peacebuilding Fund.
Dakar/Brussels, 12 July 2007