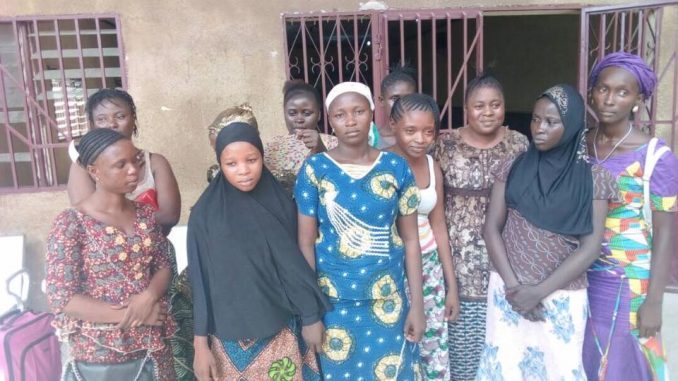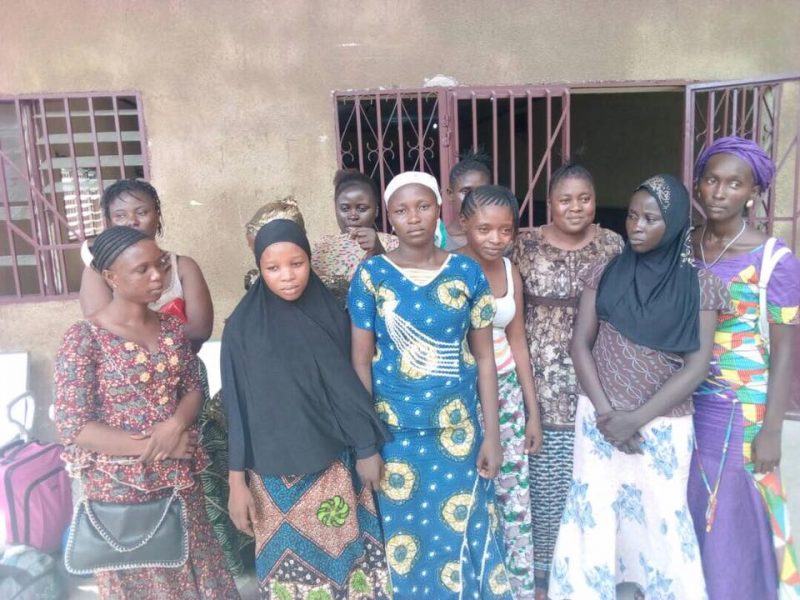 These sisters are Sierra Leoneans been arrested by Guinean police at Guinea international airport in their attempt to go to Kuwait as domestic slaves. But the Sierra Leone embassy in Guinea Conakry is engaging the Guinean government for their release and repatriation to Sierra Leone.
Despite all the reports in the social media about the harrowing experiences girls from Africa are facing in these Arab countries, our young women continue to allow themselves to be fooled by human traffickers who lure them to these countries without the knowledge of lawful authorities in their countries.
Comments by Sierra Leoneans on Facebook
Yankuba Kai-samba
Really, are they not aware of the horror stories of abuse and violence on foreign domestic worker in Kuwait .
TambaYama Lebie
If these young ladies really think Sierra Leone is bad to live in — let them venture to the heartless arab world. Thanks to The Guinean authorities.
TambaYama Lebie
The arabs don't provide basic neccessities for their indentured unpaid workers . Better be in my village in Ngorama Kono & farm than be a slave anywhere in the world.
Melvin S Camara
HOW MANY YEARS WE HAVE BEEN SAYING THE WEST HAS USED US AS SLAVES? OOOOOOOH NOW IS THE TURN OF THE ARABS TO TURN AFRICANS AS SLAVES. WITH ALL WHAT GOD GAVE US INN THIS CONTENT? YET STILL WE ARE NOT OK WITH OUR SELVES BUT TO GO OUT TO ARAB WORLD TO BE USED AS SLAVES. SHAME ON YOU ALL
Josie Sakendu
We have been following episode after episode our African sisters are going through as domestic slaves in the Arab world. I think as a nation or a continent large,we have the responsibility to create massive aware programs to let these poor, desperate and apparently illiterate. Young woman to know the carnage that awaits them out there and how women of their kind are perceived in the Arab world. Moreover, those are are responsible for this human trafficking should be brought to justice.
Abdulai Sesay
Please Sierra Leoneans don't waste your time by being gullible in believing fake promises peddled by misguided elements in our native land, for greener pastures abroad to the Middle East. No Arab will pay you more than $500 for doing sweet nothing. Besides, be informed that once you arrive in the Middle East, your passport is seized by your slave master. The salary promised you is fake. The accommodation also promised will be deducted cleverly from your salary. Worst of all , any family member will loan you from your slave master to do negative jobs that you could never imagine. Being there at their own expense, you have to do cheap labour for a period of 2 years to ease off the transportation fare from Africa and also the cost of getting you from your rogue agents. Chaiiiii. Don't say you were not warned before you make the mistake of your life. Lonta !!!!!!!!!
Veronica Rapul
Sometimes poverty can force one to take the kind of risks… i dont blame them and you may not understand until you taste poverty.
Abdulai Sesay
Bra dis noto government business oh. Tradae Sylvia O Blyden bin rub mot pan dem. Later den runaway go Guinea. R bin dae on a case study na Rafik Harriri Airport na Beirut and tok to any African wae drop from anywhere inside English or French during Ebola tem. R realise say plenty dae pass through Guinea or Gambia. The tin wae r wan make famble dem know but na de kind tranganess wae dae na Arab world. House rent for single room na $250 and above na dem suburb dem and twice the amount down town. If even den pay you $500 for month you get for eat, pay rent and pay transport fare to and from work. Transport na $2 pole to pole and e depend to the hour and location. Some sie liedom place sef nor dae. Not even kitchen room. Worst of all inside Winter if you room nor get Air Condition you go die with pneumonia. Do ya try you luck pan other thing. Salone tight taaaay e better pass for work for person taaay don latter den deport you lek criminal. Da tem dae the shame wae you bin dae avoid na him you burst pan so. Just lay hands pan other movement. Middle East na lie lie bra. Hahahahaha !!!!!!!!
Umaru Bobor
TambaYama Lebie, land is so fertile in Kono. I visited Kainkondu and Yigbeda in the 80's. People in those places had market days every Saturday and it was full of produce.