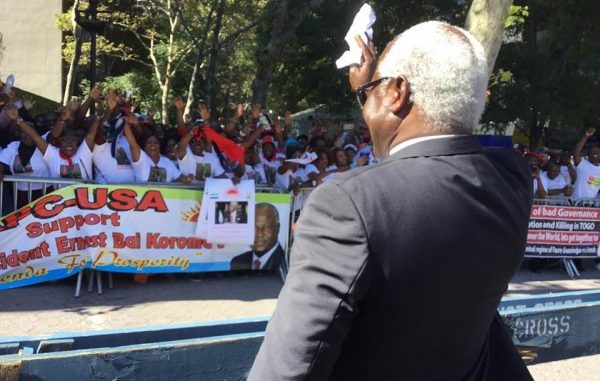 The Sierra Leoneans For Peace and Democracy  last Thursday September 22, 2016 staged a solidarity rally at the UN on behalf of  the Sierra Leone Head of State, President Ernest Bai Koroma.
The rally was timed to coincide with the moment President Ernest Koroma was addressing the United Nations General Assembly. As the President was delivering his address, hundreds of Sierra Leoneans were chanting slogans , waving banners and dancing in support of him.
After addressing the UNGA, President Koroma and some members of his delegation  strolled down to the Dag Hammarskjold Plaza, where the rally was being held,  to acknowledge the show of support and solidarity for him by the Sierra Leoneans.
The Sierra Leoneans praised President Ernest Koroma for his outstanding leadership and socio-economic and political developments in the country.
President Koroma was very delighted and waved enthusiastically to the throng of Sierra Leoneans rallying in his support.
Talking to COCORIOKO  later, the organizers of the rally said the event was staged for two reasons : To demonstrate support for the President while he was addressing the UN and to demonstrate their appreciation to him for the way he was busy developing Sierra Leone socio-economically and politically.