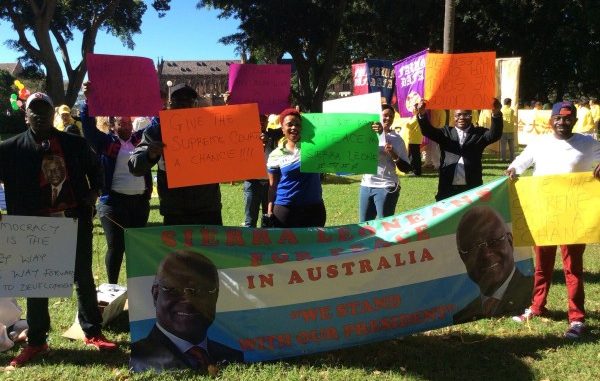 The Australian Branch of the Sierra Leoneans For Peace Standing With the President today staged a successful pro- Government demonstration at St. Martin's Park in Sydney.
The demonstrators represented a cross-section of the Sierra Leone community in Australia and the purpose was not only to counter an anti-government demonstration staged by the opposition Sierra Leone People's Party ( SLPP ) at another part of the park , but to show the world that President Ernest Bai Koroma still enjoys the support , goodwill and trust of Sierra Leoneans in general.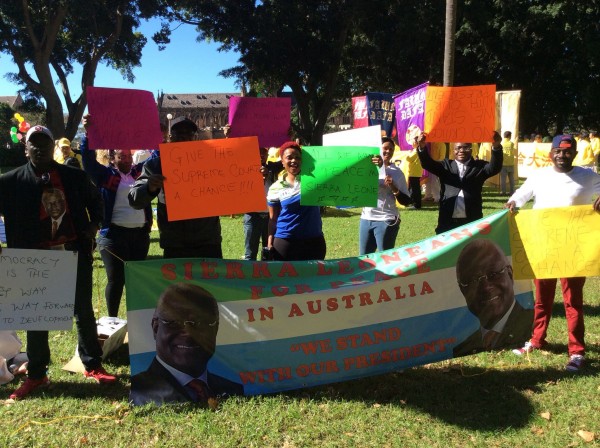 SIERRA LEONEANS DEMONSTRATING IN AUSTRALIA IN SUPPORT OF PRESIDENT KOROMA
Speaking with COCORIOKO  after the demonstration, the Secretary General of the All People's Congress ( APC ) Australia, Mr. Amadu Bangura, was delighted to announce that the rally went on successfully and demonstrators were able to make the world know that most Sierra Leoneans were in support of President Koroma's policies and agenda for a better Sierra Leone.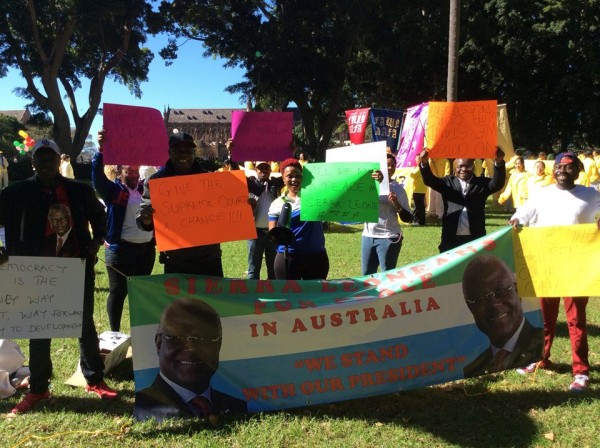 Mr.Bangura said that the opponents wanted to give the impression that Sierra Leoneans in general were displeased with President Koroma for recently relieving former Vice-President Samuel Sam Sumana of his job for abandoning his duties , but by their demonstration , Mr. Bangura said, the Sierra Leoneans For Peace wanted to tell the world that the opponents were wrong and that majority of the Sierra Leoneans supported the action against the ex-Vice-President.
As a matter of fact, the anti-government demonstration in Australia , which drew a  lesser crowd than the pro-Ernest Koroma demonstration, was orchestrated and staged by the opposition SLPP , according to Bangura. The SLPP  is being accused by Sierra Leoneans of hijacking the Sam Sumana issue to pursue and promote their own selfish ends. "They don't love the former Vice-President at all" , many Sierra Leoneans have opined .
"We are happy with President Ernest Koroma for the socio-economic and political developments he has done in Sierra Leone and so we stand in support of him", Mr. Bangura told COCORIOKO  .
Today's demonstration was followed by a debate. WE WILL BRING YOU MORE DETAILS.