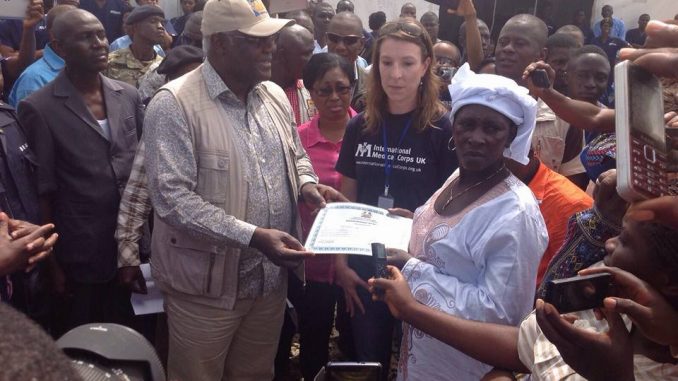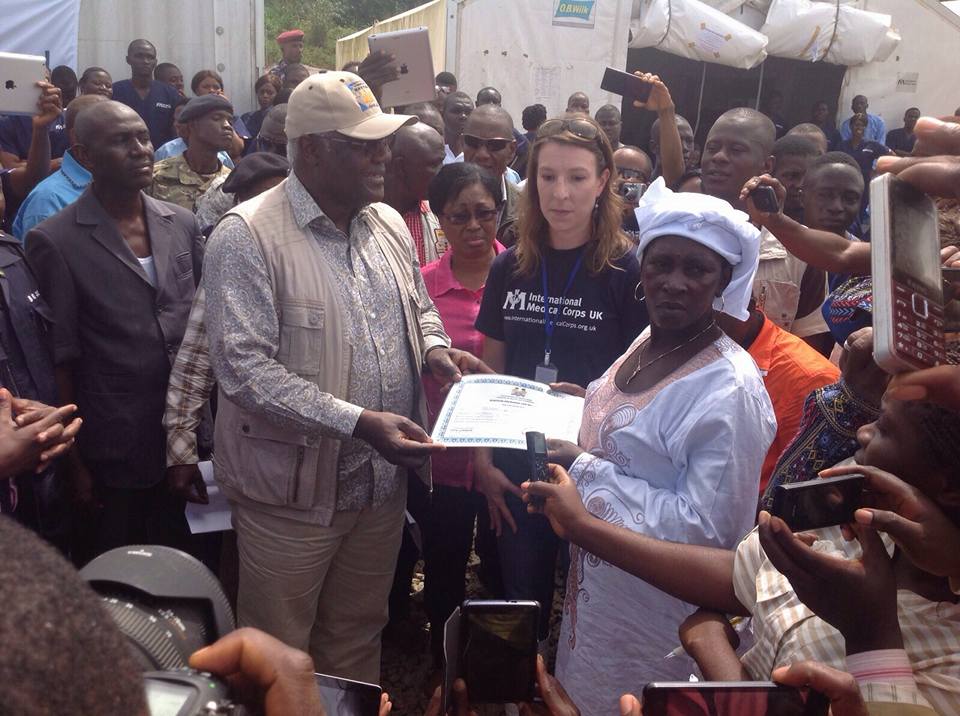 Sierra Leone's last known Ebola patient, Adama Sankoh, in white, is discarched from a treatment facility on the outskirts of Makeni on Aug. 24. (Alie Turay / Associated Press)
By ALEXANDRA ZAVIS contact the reporter Africa Sierra Leone Ebola World Health Organization
Sierra Leone's last known Ebola patient emerged from a treatment center Monday singing and dancing, marking a celebratory start to the 42-day countdown to the country being declared free of the virus.
President Ernest Bai Koroma was among a joyful throng waiting to receive Adama Sankoh on the outskirts of the north-central city of Makeni. He presented her with a discharge certificate, as staff from the International Medical Corps facility clapped and beat drums.
Ebola in Liberia
CAPTION
Ebola in Liberia
John Moore / Getty Images
Sanitized gloves and boots hang to dry as a burial team collects Ebola victims from a Ministry of Health treatment center for cremation on Oct. 2 in Monrovia, Liberia.
CAPTION
Ebola in Liberia
Pascal Guyot / AFP/Getty Images
Medical personnel at the Ebola treatment center at Island hospital in Monrovia, Liberia, disinfect people who had brought patients suspected of having the Ebola virus on Oct. 2.
"Everyone just wants this to be over," said Bill Boyes, a spokesman for the Los Angeles-based group that cared for Sankoh.
Sierra Leone was one of the three West African countries hardest hit by Ebola, accounting for half of the approximately 27,900 people sickened and nearly a third of the 11,284 killed in the biggest outbreak on record, according to the World Health Organization.
The country has not recorded a new case since the beginning of August, but the WHO won't declare it Ebola-free until six weeks after the last patient is discharged or buried. That is twice the maximum incubation period of the virus.
Even then, the president cautioned the crowd Monday that Sierra Leone won't be safe until Ebola has been eradicated from the region. In neighboring Liberia, new cases were detected nearly two months after the country was declared free of the virus in May.
"The Ebola fight is not yet over. Go and tell members of your community that," Koroma was quoted as saying by the Associated Press.
Ebola returns to Liberia: Tests confirm a teenager died of the virus
Ebola returns to Liberia: Tests confirm a teenager died of the virus
Guinea, where the epidemic began at the end of 2013, is still grappling with a small number of cases. Health officials in that country lost contact with 45 people who may have been exposed to the virus, the WHO warned in a report last week.
"Several high-risk contacts have also been lost to follow-up in the Sierra Leonean capital, Freetown," the WHO said.
Sankoh, 35, contracted the deadly virus from her young adult son, Moussa, who returned to his home village from Freetown for a visit at the end of the Muslim fasting month of Ramadan in July.
She began exhibiting symptoms soon after and was admitted to the Makeni treatment facility in early August, as was a nephew, Alhaji Sankoh.
cComments
what happened to all those ebola-infected jihadists that were sneaking across the border to kill us all?
BEAST OF BURDEN
AT 7:23 PM AUGUST 24, 2015
ADD A COMMENTSEE ALL COMMENTS
1
"When she came in, she was quite ill and depressed," Boyes said. "But as she grew healthier, she brightened up. When Alhaji was released [a few days ago], she was singing and dancing."
The excitement continued to build Sunday, as fellow survivors who volunteer at the center arrived to do Adama Sankoh's hair and help her pick a new outfit for her release.
Early Monday morning, staff arrived in full protective gear to collect her old clothes and escort her through a chlorinated shower, which they have dubbed "the happy shower."
When she emerged, she was dressed all in white, in a traditional gown and head scarf, Boyes said. She was then invited to add her hand print to a survivor's wall and left the center at the head of a procession of singing, clapping and drumming caregivers.
"Although my child died of Ebola, I am very happy that I have survived," Sankoh told the waiting crowd, according to the AP.
She appealed to the president to provide more help for survivors, noting that she might need care again.
The disease has left some patients with persistent health problems, including lost vision, joint and muscle pain, chronic fatigue, depression and psychological trauma, said Dr. Vanessa Wolfman, the International Medical Corps' medical director in Sierra Leone. At the same time, it has ravaged the local healthcare facilities, some of which became sources of infection for employees and patients.
As the country struggles to rebuild confidence in its battered health system, it is also grappling with the economic effect of a disease that has kept farmers from their fields and left many communities under quarantine for months.
"So there are a lot of challenges still ahead," Wolfman said.
For more international news, follow @alexzavis on Twitter.
Copyright © 2015, Los Angeles Times
Sponsored LinksFROM AROUND THE WEB
Patients Discuss Hepatitis C Treatment
LiveStrong for Healthline
The Highest Rated Travel Credit Card Offers 40k Bonus Miles
LendingTree
Here's 4 Examples of How Businesses are Using CRM
Salesforce
How This Razor is Disrupting a $13 Billion Industry
Dollar Shave Club
Ridiculously Popular Hoodie is Finally Available After Months on Waitlist.
BI.com | American Giant Hoodie
We Tried Blue Apron: Here's What Happened
Blue Apron
by Taboola
LOCAL L.A. Now
Man dies after being run over by WWII tank on Jelly Belly chairman's property
Veronica Rocha
The husband of Jelly Belly's chief executive accidentally crushed a man to death with a World War II-era tank during a reunion on the family's property in Fairfield, Calif., authorities said.
The accident occurred about 2:25 p.m. Saturday afternoon on the property of fourth-generation candy maker Herman Rowland Sr. during a family reunion, authorities said. Rowland is a collector of the military vehicles, which he stores in a restoration facility known as "The Tank Barn," the Daily Republic reported.
Read Full Article
LOCAL L.A. Now
Group of black women kicked off Napa wine train after laughing too loud
Veronica Rocha
Train workers told 11 women — all members of the same book club and all but one African Amerian — that they had to leave because they were too loud.
"It wasn't an issue of bias," train spokesman Sam Singer said, adding that conflicts involving overly boisterous passengers occur about once a month. "It was an issue of noise."
The hashtag #laughingwhileblack, which one of the women used on her Facebook page, has taken off on social media, with many vowing to boycott the wine train.
Read Full Article
Sports Sports Now
Curt Schilling removed from ESPN's Little League coverage after controversial tweet
Chuck Schilken
Former MLB pitching great Curt Schilling is never shy about sharing his opinions.
Here's one he should have kept to himself.
On Tuesday morning, the current ESPN baseball analyst tweeted a meme that said: "It's said only 5-10% of Muslims are extremists. In 1940, only 7% of Germans were Nazis. How'd that go?"
Schilling did not create the meme, which featured the likeness of Hitler. But he did add his own commentary to accompany his tweet: "The math is staggering when you get to the true #s."
The tweet was up for only 10 minutes before being deleted.
Read Full Article
LOCAL L.A. Now
Napa Valley Wine Train chief: It was '100% wrong' to boot black women's group
Veronica Rocha
The Napa Valley Wine Train on Tuesday issued a fuller apology to members of a book club made up largely of black women, saying company employees were "100 percent wrong" to kick them off the train for supposedly being loud.
The apology came after a member of the club met with the wine train's chief executive, Anthony Giaccio, late Monday and suggested cultural- and diversity-sensitivity training for its employees.
Giaccio said the company already has cultural sensitivity training but will offer additional diversity training for its employees.
Read Full Article
Fashion All The Rage
Caitlyn Jenner Halloween costumes blasted as 'disgusting,' 'transphobic'
Denise Florez
Read Full Article
LOCAL L.A. Now
Uber and Lyft win battle to bring ridesharing to LAX
Laura J. Nelson
In a nod to consumer demands and the realities of disruptive technology, Los Angeles became the largest city in the nation Wednesday to open the door for ride-hailing services like Uber and Lyft to fully operate alongside taxis at its airport.
After weeks of debate over the potential risks of app-based ride companies, the L.A. City Council approved a policy that would allow Uber and Lyft to apply for permits to pick up passengers at Los Angeles International Aiport, a service they're currently barred from providing.
Read Full Article
ENTERTAINMENT Ministry of Gossip
Alison Brie and Dave Franco are engaged (yeah, they've been dating for a while)
Christie D'Zurilla
Alison Brie and Dave Franco are engaged — despite the fact that she's currently all about "Sleeping With Other People."
The "Community" actress, 32, who's been quietly coupled with Franco, 30, for a few years, flashed her ring Monday night at a screening of "Sleeping," her comedy costarring Jason Sudeikis.
Yup, Brie's going to have James Franco as a brother-in-law. We can't even imagine what that might be like. Never a dull moment when the family gets together for the holidays …
Read Full Article
BUSINESS
U.S. stocks, after surging to start the day, end with a thud
James F. Peltz
Just like that, the rally vanished.
U.S. stocks surged after the opening bell Tuesday but then, in a sharp reversal, surrendered the gains and a good deal more, especially in the final hour of trading.
The Dow Jones industrial average initially shot up as much as 440 points, erasing a chunk of the 8.5% plunge it suffered over the prior three sessions. But the average of 30 blue-chip stocks finished with a loss of 204.91 points, or 1.3%, at 15,666.44.
Read Full Article
LATESTMOST POPULAREDUCATIONLOCALENTERTAINMENTSPORTSOPINIONPLACE AN AD
79°