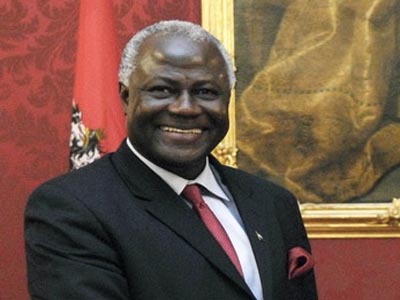 By Mohamed Rashid :
The International Renewable Energy Agency (IRENA) was established in 2009 to promote the accelerated adoption and sustainable use of all forms of renewable energy. The intergovernmental organization provides a global networking hub, advisory resource and unified voice for renewable energy across the globe.
PRESIDENT ERNEST BAI KOROMA 
According to a statement published on its website, the founding members of IRENA were inspired by the opportunities offered by renewable energy to enable sustainable development while addressing issues of energy access, security and volatility. Please follow link:http://www.irena.org/DocumentDownloads/Publications/Africa_renewable_future.pdf
Last week we read in the newspapers and on many websites that President Ernest Bai Koroma attended the Abu Dhabi Sustainability Week 2014 and the World Future Energy Summit. If you ever wonder whether President Koroma is a leader that has this country at heart, or whether what he is doing to transform Sierra Leone is genuine, just first of all think about how far he has taken this country and also go through his responses or watch video clips of his performance during the panel discussion with Macky Sall, President of Senegal and Hailemariam Desalegn, Prime Minister of Ethiopia moderated by Adnan Z. Amin, Director-General of IRENA.
As a country we have had a lot of ups and downs, but we have fought so hard to rebrand this nation and we've made tangible progress. Responding to a question posed by the Director-General of IRENA, Adnan Amin, with regards the challenges Sierra Leone is facing as well as its needs in terms of engagement with the private sector for the future of renewable energy in the country, President Ernest Bai Koroma said that Sierra Leone is home to huge number of mineral resources and arable land, and the responsibility of the government is to create the enabling environment, and said that the legal framework is already being put in place in ensuring that investors partner with the country to exploit the mineral resources in gold, diamond, bauxite and rutile. He also stressed the need for the energy sector to be developed as it is critical to the exploitation and development of the mineral wealth of the country.
According to President Koroma the legal environment that will give space for private sector participation has been created by government and that focus is now on regulation. "But we are of the view that private sector independent power producers can come in and participate in the generation and distribution of energy", the President said, and went on to note that the potential for energy is great. President Koroma highlighted the huge potentials the country has in harnessing hydro, solar, and even the possibility of biomass, saying that markets are not only limited to Sierra Leone. "We have the West African Power Pool connectivity that we are now engaged in and the possibility of moving beyond that". He called on private sector players in the energy sector to come to Sierra Leone and invest as the country is ideal for business.
"Now for us moving forward, we have been engaged with UAE, and in fact, our proposal is one of the proposals that were accepted yesterday and the Freetown Solar Park is going to be an example of how we can create the engagement for opportunities for employment, create a green energy situation which will continue the development process that we have started", he said amidst rapturous applause.
We have faced many challenges but the truth is we are very fortunate to have a leader that is respected across the world. An aftermath of the ADSW 2014 was the approval of a proposal to establish a Solar Park in Freetown with a capacity of 6 megawatts that will produce sufficient energy to power approximately 3000 average type households in Sierra Leone. "The overall performance of the plant" stated a press release by Masdar PV, "complies with 8.5% of Sierra Leone's total energy consumption and ensures access to a renewable, affordable and sustainable energy supply in the future. Sierra Leone has the goal to achieve 25% of the country's energy generation from renewable sources by 2015".
The Solar Park Freetown with a capacity of 6 MW and valued at $9 million is one of six projects which are selected from over 80 project applications for the first funding cycle of the IRENA/ADFD project facility. It is going to be one of West Africa's largest solar plants in the country.
This is welcome news for this country and it shows that despite all what this president has done and continues to do, he is not seating on his oars. He is going all out to explore all avenues of power generation and distribution, mindful of the fact that there can be no sustainable development without sustainable sources of energy.
Unfortunately, the latest citizen of this country caught spreading myths and outright untruth about the state of affairs in the country is none other than the long-ago 2012 SLPP presidential aspirant. Brigadier (Rtd.) General Julius Maada Bio recently blamed President Koroma for assenting to the bill that outlined new qualifications for the office of Speaker of Parliament.
Research has proven that Maada Bio's claims have no merit considering the fact that modern democracies nowadays hardly have a provision like the one Bio is bemoaning now. Even the United States of America's Constitution doesn't have such a provision that only persons with legal minds could become Speakers of Parliament. In fact, research has shown that the American Constitution does not require that the Speaker be an elected House Representative, though all Speakers have been an elected Member of Congress.
If we are to copy best practice as Bio never stops reminding this government, why is he so jittery about something that is best practice all over the world, especially in the US? A member of the minority party in Parliament has even described Bio's conclusions as "silly" and "presumptuous."
Personally I'm sure we will be hearing more from Bio as the SLPP seems bereft of effective opposition and therefore wanted to chip in and fill the void. This is the reason why I believe we can't afford to let any myth like this go unchallenged as we go about the ongoing development and transformation of this country.
What's more absurd is that Maada Bio talks about challenges facing the judiciary as if there was anything like judicial independence when he had a short at state office fifteen years ago. What is happening today in the judiciary is unlike any we've seen since independence, and Bio should know that since he knows nothing about judicial independence other than "governance by force".
If Maada Bio wants attention he should first of all help bring his party together rather than beating the gun.
© 2014, COCORIOKO. All rights reserved. – Discuss this and other related articles on the Salone Forum