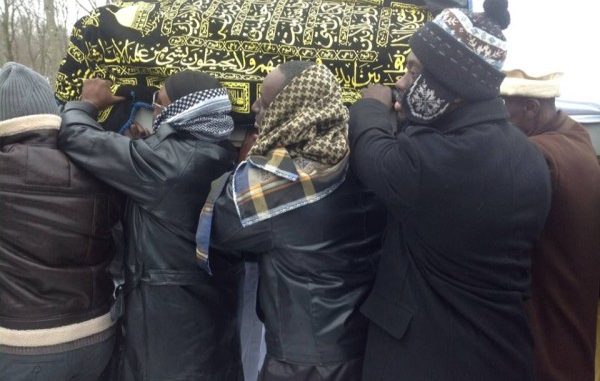 BY KABS KANU :
Grief and sorrow lay thick in New Jersey once again last Sunday as the Sierra Leone community buried another one of their own in what is now a distressful regular feature in the state. This time, the deceased was Haja Sally Iyatunde Savage , the wife of the Chief Imam of Jamatul Haq of New Jersey, Alhaji Abdulai Savage. Haja Savage , 54, passed away at the Hackensack University Medical Center in Hackensack, NJ  on Saturday January 18, 2014 after a brief illness .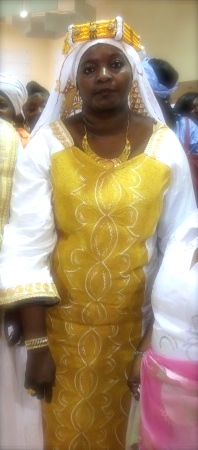 THE LATE HAJA SALLY SAVAGE
Sunday's service took place at the Anderson Funeral Home in New Brunswick and it was followed by Janaza prayers at the Islamic Society of Central Jersey at Monmouth Junction before the burial at the Makbarat As-Salaam Cemetery at Conover Road , Millstone. The Repast ceremony was held at the Ukranian Orthodox Cultural Center at Davidson Avenue , Somerset.
THE JAMPACKED FUNERAL HOME
The funeral drew a huge crowd ,  with mourners coming from different states in the U.S. and other countries . A large number of Muslim cleric was also in attendance.  The Anderson Funeral Home was so jam packed that the crowd spilled out into the corridors outside with some mourners having to endure the brutal cold . Inside, mourners sang sorrowful muslim funeral dirges while awaiting the program to start as the coffin draped with a green shroud bearing the mortal remains of Mrs. Savage sat in the corner of the pulpit . Women sobbed freely and many more burst into tears when statements made during the tributes struck a chord. The funeral service was moderated by Sheikh Ballah of Jamatul Haq.
 IMAM SAVAGE
The program started with elaborate quoranic readings and prayers by different muslim clerics, interspersed with mournful dirges. Then it was time for tributes .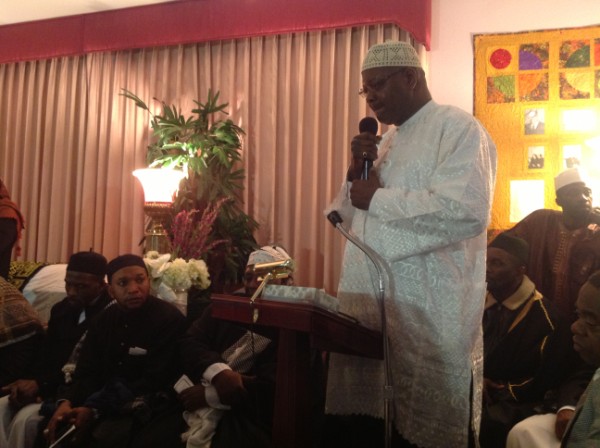 ELDER BROTHER  TEJAN RAHMAN SPEAKING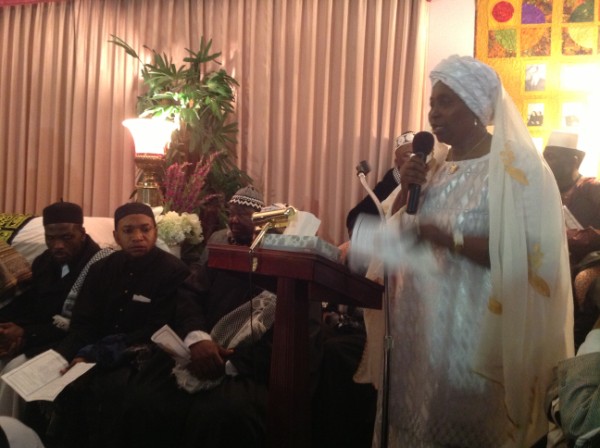 HAJA AMINA RAHMAN SPEAKING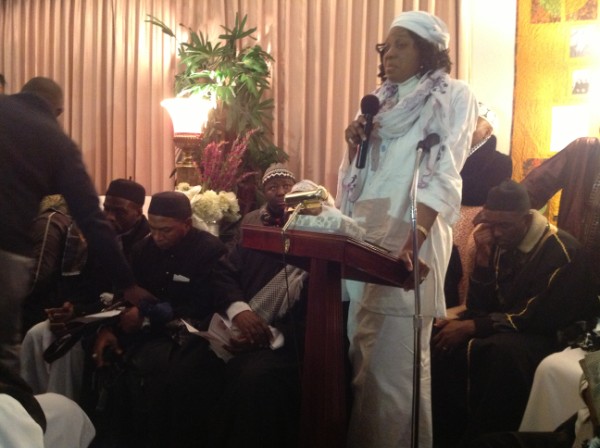 MRS. LAMBREE SESAY SPEAKING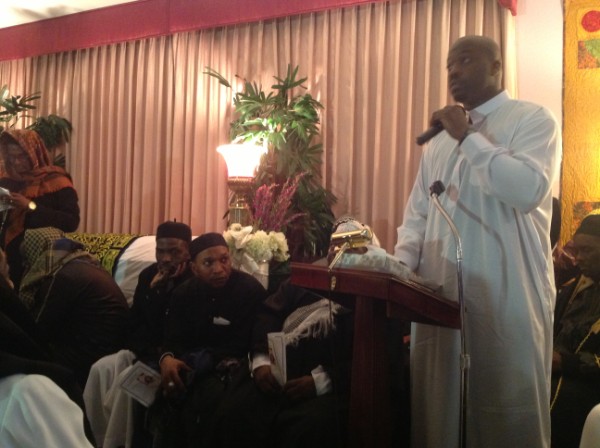 ELDER SON OMAR SPEAKING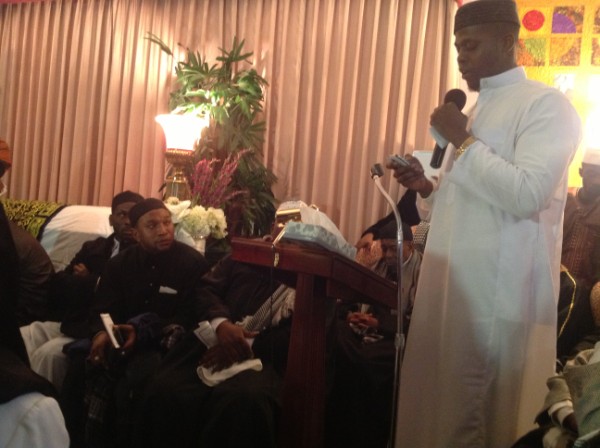 YOUNGER SON ALHAJI READING SPECIAL LETTER TO LATE MUM
THE MOTHER SPEAKING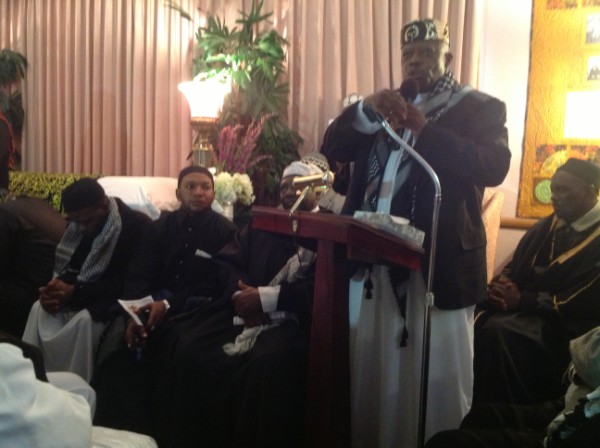 IMAM SAVAGE SPEAKING
The elder brother of the deceased , Mr. Tejan Rahman, said that his sister lived a good life and was kind ,  loving  and generous to her family and others . "She dedicated her life to her husband , family and Islam" , he went on .  He appealed to family members and well-wishers to continue his sister's legacy of giving and not to forget her children. "Whatever good she has done, please return it to her children ", he appealed.
Late Mrs. Savage's  sister, Mrs. Lambree  Sesay , lamented that she had lost her best friend who was always with her during good and bad times and was never judgemental. "She would cook and send food for us in Maryland ", she reminisced .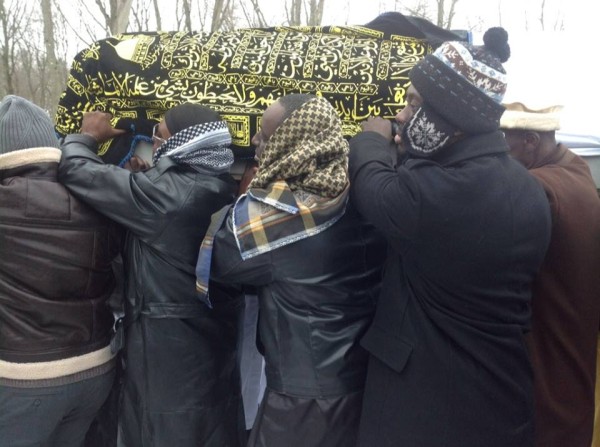 PALLBEARERS CARRYING THE COFFIN TO ITS FINAL RESTING PLACE
Haja's elder son, Omar , confessed that it was tough on him to speak at his mother's funeral , but recovered to powerfully eulogize her as a good mother who always advised him that what you put in life is what you are going to get back. His mother, he went on, touched many lives  and this was manifested by the crowd at her funeral. He addressed his mother directly : "You were a good woman. You had a genuine care for people .This is what people are going to miss–The love you put out. I was blessed to have you . Thank you for what you did for us . Thank you for the discipline ." He assured his mother that he is going to take care of his younger brother, Alhaji and their father. "We will take care of one another. Thank you for being the best mum anybody would wish for ". Some women sobbed bitterly as emotions overcame the man on the podium.
The younger son, Alhaji, was charged with so much grief he sobbed intermittently during his tribute , which took the form of a personal letter to his late mum. He said his mother taught him to handle trials amd losing her was like losing his life. She did good things for a lot of people and "I just want to be like her", he remarked, drawing wails of grief from women in the hall . Calling her fondly by her full name, he ended by saying : "Sally Iyatunde Savage, I will ever remember you " .
The late Haja's mother, Haja Barkisu Rahman, who was later overwhelmed by grief on the podium and had to be delicately led away by mourning cleric and women, described her late daughter as a "good child"  about whom nobody used to complain. "Her husband did not have problems with her . She worked towards attaining blessings from her mother and father , as well as her husband, " the grief-stricken mother said.
 CROWDS AT THE REPAST
The husband, Imam Abdulai Savage, who remarkably had been the one comforting the community (Instead of being comforted ) repeated what he had been telling sympathizers that the death of his wife was the will of God and another test to the community. He said that God will not leave his creation alone without testing them and he called on the community to sum up courage. The muslim cleric, who loves quoting the Bible as well, highlighted Job's test from God and his suffering and stressed Job's affirmation of faith in God : Though  you slay me, yet will I trust in you " . He also quoted James 1 : 12 in which God's creation are admonished that they will receive the crown of life when they would have successfully endured testings from the Lord. The Imam , "Before man and God " then made an attestation to his wife :  "She was a very faithful and dedicated wife in whom I am well pleased. I call on God to grant her the highest paradise .She was also dedicated to her service of God. " When he travelled out of town and was on his way back, if the time for prayer came while he was still on the road, his wife would call him and ask him to park the car somewhere and let them pray. Even in the hospital where she eventually died , she was always praying , "And we had to always wait on her ", the Imam told the mournful congregation.
In his funeral oration, Sheikh Isagar Kanu said that Allah has tested the community  for it  to take a lesson about who would be next to die . "Death is not blind. You do not meet death. Death meets you and the place you least expect it, that is where it meets you . Nobody can escape death"  , he warned. "Take your lessons from here. You are nothing but dust ", he admonished the congregation.  He advised people to stop being proud and asking "Do you know who I am ? '.  The cleric said : "Stop asking that question because you are nothing " . He also condemned man's obsession with amassing material things . He described the riches people spent all their time in life seeking as  worthless . "God wants us to prepare for the journey for which there is no return. The time you never expect it that is when death would come . How have you prepared for the journey ? ", he asked  the congregation . "You will never escape it .Your iron-clad armour cannot help you escape the bullet of death ". The muslim preacher comforted the congregation to have courage and trust in God.
After another round of prayers over the corpse of Haja Sally Savage, the coffin was then slowly wheeled out of the funeral home for the trip  first to the mosque and then the final journey to the graveyard. Women burst into tears, screaming in grief as the coffin was being wheeled through the funeral palace , knowing that for  them it was the last time they would see the coffin , because by muslim tradition , women are forbidden from attending burials at the cemetery.
Haja Savage was later laid to rest at the Conover  Cemetery where some of the many other members of the community who died within the last two years were also interred, notable Haja Fatu Dumbuya, Alpha Tejan, Brima Bangura ( BB ), Ahmad Mustapha,  Shekou Dauda Bangura , Aziz Nabe,  Momoh Unisa Kamara etc. The graveside ceremony was moderated by a Pakistani Cleric , Alhaj Chibli. Tears rang the cemetery as the wooden coffin bearing the body of another New Jersey resident was lowered into the grave.
Haja Sally Iyatunde Savage was indeed gone for good.
May her soul rest in peace.