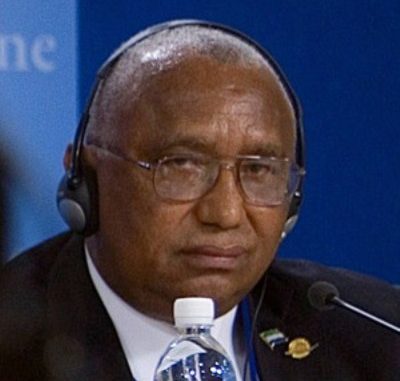 Published on August 15, 2010 by Cocorioko News   ·   No Comments
By Arolyn Koroma, Washington DC,-USA :
For a little over a year, the world have watched and listened to John O. Benjamin blames the government of Dr. Ernest B. Koroma for whatever mishap that comes his way regardless of the hands-off of the government, or how he is responsible for the mess that happened. I have yet to see him accept blames for something appalling he did or his team of critics acknowledge some progress or advancement our loved nation is currently enjoying through the able leadership of Dr. Ernest Koroma.
However, your incoherent complains has reached its zenith and requires equal attention to be addressed from now on. Honorable John O. Benjamin, your decision to occupy the airwaves in monthly Briefings as you set yourself up to be the Sierra Leone People's Party (SLPP) flag bearer for 2012 Election has placed you on a path to destroy yourself, rather than remake and package yourself to the best of your ability to be taken seriously by your constituent.
The president, Dr. Ernest B. Koroma has no intention to place a squeeze on his detractors and self-styled critics who has been on a boat with the worse leaders Sierra Leone has ever had. They were timid and scared to rock the boat while they were in the boat. The SLPP Party and Bosses were anti-transparency and accountability, but because of the APC leadership's tolerance of democracy and freedom of speech, they now conveniently parade the media outlets and the streets of Freetown crying wolf, wolf. John Benjamin  don't think about how to better serve our people and improve his party's platform, but gang themselves in dishing out counter productive criticisms day in and day out. In a subtle way Dr. Ernest Koroma give his foes the theater to parade and rants, in the process they destroys' themselves.
John Benjamin is a man who has antiquated himself. You dwell upon dead issues that expose your lack of grip on world issues much less what happen around you at home. You were in another planet sleeping when the world economics collapsed. You woke up and believed Dr. Ernest Koroma pressed the button to bring inflation in Sierra Leone and to Africa as a whole. Like President Barrack Obama of the United States, President Ernest Koroma inherited the worst of everything in Sierra Leone including inflation.
Your team (SLPP) critic's bottom approach exposes their former administration's ineptness more than the administration they intended to destroy. Their criticism approach helps to educate the Nation which the very critics help to destroy just few years ago. John Benjamin and his group cannot stomach the 36 months progress and development achieved by the Koroma administration as compared to the SLPP 120 wasted months in the State House.
The 120 months (10 years) of SLPP rule was marred by looting the treasury and physically stealing and selling a Libyan Government donation shipment of rice meant for the poor people of Sierra Leone, Generators meant for the people of Sierra Leone and transportation buses meant for the people of Sierra Leone, to mention a few among many others.  Of course Mr. Benjamin, we will constantly remind you of these smallest crimes among many big crimes committed by your party whenever you come up with your so call crying foul.
The SLPP and John Benjamin are walking backwards in time. Thus every time you lash out at the current administration and you believed you have scored 20 point for your party. You instead drop a bomb shell at your party's dismal record, and thus scoring 80 points against yourself and your party. You knew that in 10 years your party created nothing positive to brag about and you had nothing positive to sell to your people, but you are propelled by the itch to fabricate issues and throw them to an audience that is politically cognizance of political events, and knows you more than you knew yourself. Your entire tirade proved that you are swimming in a pool of frustration regarding what to say, and how to say it. You constantly bring bad memories to voters in your long participation in Sierra Leone's politics without making positive marks neither in your villages, nationally or otherwise.
A complete dossier of  John O. Benjamin's political activities  reveal that you are the second worse politician ever to participate in Sierra Leone's politics. You came from a political background of do nothing, but moan and criticize at any opportune time. This is a trait of you and your party, now recognized not only by your villages and regional constituents but by the voters at large. Your constituency waited in vain for 30 good years for your help until the taxi boys administration (you honorably stated in your most recent briefing) came and installs toilets, paint your brothers administrative councils offices and built hospitals, built roads into your villages and renovate schools and hospitals in your own turf. This revealed to you that Diaspora encompasses of men and women of substance. They are intellectually capable, politically savvy, dynamic and progressive thinkers. The SLPP administration of about eleven doctors (PhD's) looted and brought our loved nation Sierra Leone to the last in all facet of international concerns and development. You and your team of critics should step back, mirror yourselves and examine your activities in 120 months of President Dr. Ahmed Kabba's administration, exclusive of your years in the other infamous political administration which I will yet refrain from highlighting.
Well Sir Benjamin, this is the time of confronting yours, and the SLPP's depressing record that you have built over the years. The SLPP re-branding, criticisms and expansion are circumscribed by its past. The rice is currently Le120, 000 in Sierra Leone something that is not the making of the current administration. You and your allies of critics watched, participated and perhaps voted the closure of the Sierra Leone Produce Marketing Board (SLPMB), whose headquarter was in your home region. You never initiated plowing acreage of rice farm in Sierra Leone but cry of high prices of rice. How can John Benjamin repackage himself, and re-brand SLPP will remain the million dollars question for 2012 Election and the next ten years as spectators.
At this time J.O.B. and his SLPP should have a more creative, positive and genuine convincing mission to sell to the electorate than just dwell upon criticism to forward the SLPP cause. With our experiences in Sierra Leone politics we love to have the PhD's, but the current Diaspora stand out and has made a name for themselves with no blemishes, no looting of any sort. In three years they continue to play an immense role in bringing significant development and political awareness to both JOB's villages and the entire Southern Province. Something you and the doctors (PhD's) ignored for over 30 productive years. President Dr. Ernest B. Koroma is the quintessential Sierra Leone president.  He is one of the greatest President to ever emerge out of Sierra Leone this century and perhaps Africa for that matter. He is determined to move our Nation (Sierra Leone) to the next level and no amount of senseless criticism is going to divert President Koroma's attention. That means he is not going to stop improving the southern province, because he regard Sierra Leone as one country, one people. The majority of these critics only reveal that they are oblivious to Sierra Leone's development and advancement.
People who looked at this item also looked at…