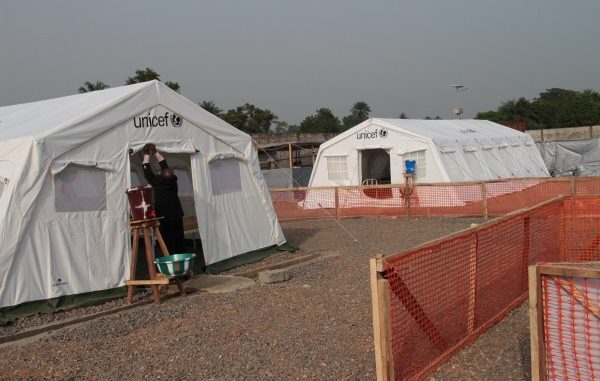 Ebola: Reports from the front lines
Alpert Medical School professors Michael Smit and Noah Rosenberg are in Sierra Leone and Liberia respectively, treating Ebola patients. There are some signs of a slowdown in the epidemic, but the doctors emphasize that the virus must be fought "until the last case."
PROVIDENCE, R.I. [Brown University] — In a limited sense, two Brown University medical professors who have been fighting Ebola in West Africa this winter have good news to report. They have seen some signs of slowing disease transmission. But the broader reality of what Ebola has done in Sierra Leone and Liberia is grim, according to Drs. Michael Smit and Noah Rosenberg.
Ebola shouldn't just be contained, they note: It must be treated until all cases are resolved.
Smit, assistant professor of pediatrics and a physician at Hasbro Children's Hospital, arrived in Sierra Leone Dec. 3, 2014, and will remain there through Jan. 18. Rosenberg, clinical assistant professor of emergency medicine and a Lifespan doctor, arrived in Liberia in mid-December and will stay until Jan. 27. They answered questions for medical science writer David Orenstein about what they are doing and seeing, and what people back in the States need to know.
Please describe a typical day.
NR: I arrive at 7 a.m. and meet with the overnight doctor and nurses to discuss our patients. My team pulls on full personal protective equipment and enters the high-risk area. We examine each patient, inquire about their current symptoms, give routine supportive medications and IV fluids if needed. We take blood to test for Ebola. We remove our equipment while being intermittently sprayed with chlorine. Rounds repeat in the afternoon and we often make an additional trip for a new admission. In the evening we meet with the night team and then rest to return in the morning.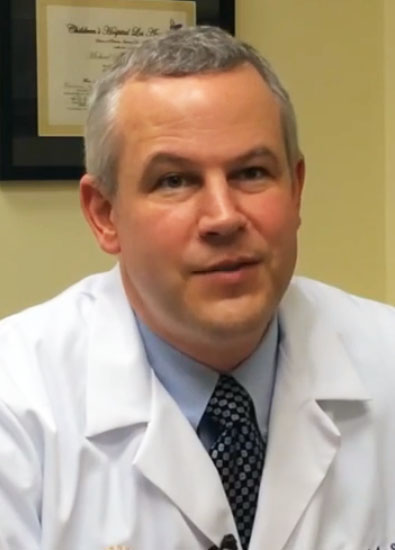 MS: I am the medical team leader of one of four medical teams at the Mateneh Ebola Treatment Center (ETC). Our days differ depending on which shift we are working. When working the early shift, we eat breakfast around 7 a.m. and drive to the ETC. We change into our work uniforms of scrubs and rubber boots at the ETC. At 7:30 we receive signout on the patients from the overnight team. We then assign personnel to conduct the nursing rounds, physician rounds, admissions, and discharges. During the heat of the day, we try to limit time in the high-risk area in personal protective equipment (PPE) to one hour. We deliver meals, administer medications, place intravenous catheters, and draw blood for laboratory tests. We triage admissions as they come through the ambulance bay. We also process discharges. These include survivors discharged home and deaths transferred to the morgue. At the end of the shift, we sign out the patients to the oncoming team, change back into our civilian clothes, and go back to the compound to eat. The late and overnight shifts are the same as the early shift for the most part.
What do you observe and hear about the status of the epidemic where you are?
NR: The exponential growth of the epidemic is clearly over in Liberia, but sporadic outbreaks are likely to continue until every case has been eliminated from West Africa, which may take months. Most of our new admissions now test negative for Ebola; they frequently die nonetheless. This may seem counterintuitive, but Ebola was never the only killer here, and our ability to appropriately diagnose and treat these patients is woefully limited.
MS: It is difficult to assess the status of the epidemic from here. We have limited access to the Internet, so our updates of what is happening are intermittent. As for what we observe, after a slow start from our opening in mid-December, we saw a steady increase in cases in our district in Bombali. Over the last week, admissions have decreased. The reason for this is not clear. We hope that it reflects a reduction in transmission, but we cannot assume this given the complexities of case identification and transport here.
What do people in the United States most need to know, based on what you are experiencing?
NR: Before the epidemic Liberia suffered from a large disease burden and severely limited health care system. Decades of civil war, sparked by inequality and tension between descendants of indigenous West Africans and freed slaves, wrecked the infrastructure and economy. Not only was the U.S.A. responsible for the founding of Liberia, but many of the struggles here today have their origins in the slave trade. Ebola will soon fade from the news but the epidemic has only worsened an already grave condition. We have a special responsibility to Liberia and it deserves our sustained attention.
MS: People in the United States need to know that the epidemic here is far from over. Even in a situation with diminished transmission, the United States needs to send personnel and resources here to combat Ebola until the last case. The effect of the epidemic goes far beyond those infected with Ebola virus. The schools here in Sierra Leone have been closed for months. Teen pregnancy is increasing as a result. The economic impact on the country is devastating, with some estimates setting the economy back 10 years. Also, people in the United States need to know about the dedication and resilience of the local and international healthcare workers who are fighting the epidemic, often under challenging physical and emotional conditions.