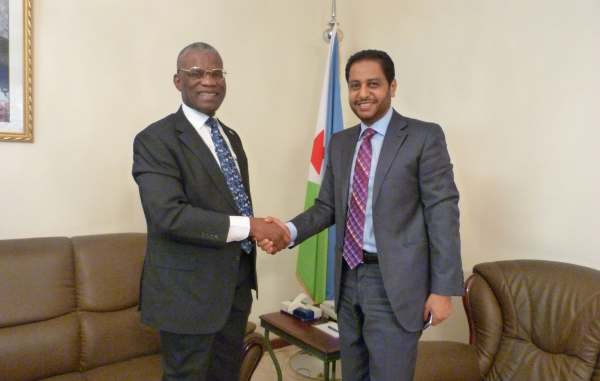 By M.B. Jalloh, Press Attaché, Saudi Arabia
Sierra Leone's Ambassador in the Kingdom of Saudi Arabia has said that Ambassadors accredited to the Arabian Kingdom should continue to work as a team to enable them speak with one voice.
Ambassador Mohamed Sillah Kargbo made the remarks on Monday, 15th September, 2014 when he paid a courtesy call on the Dean or Doyen of the Diplomatic Corps in Riyadh, Ambassador Dya – Eddin Said Bamakhrama of Republic of Djibouti at the latter's Riyadh office.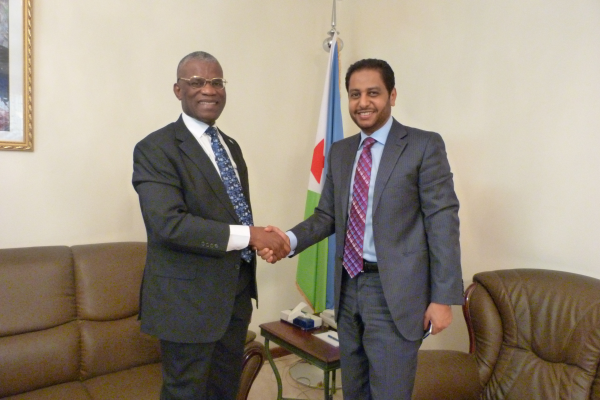 Ambasador Kargbo further stated that under Ambassador Bamakhrama's deanship, the Diplomatic Corps has made great accomplishments, adding that, he believes that under the Dean's continued leadership of the Corps, its work will be carried out effectively and efficiently. The Sierra Leone envoy therefore, pledged his support and cooperation to the Dean and the Diplomatic Corps.
Ambassador Bamakhrama is the youngest Ambassador in the Kingdom of Saudi Arabia, but the longest serving Ambassador in the Kingdom. In welcoming his Sierra Leonean counterpart, the 46 years old Dean congratulated Ambassador Kargbo on his new posting and wished him success in his new assignment. He also assured the Sierra Leone envoy of his support at all times.
The two Ambassadors exchanged views on ways to enhance the relationship between Saudi Arabia and African countries in various fields. They also discussed issues related to African Diplomatic Corps.