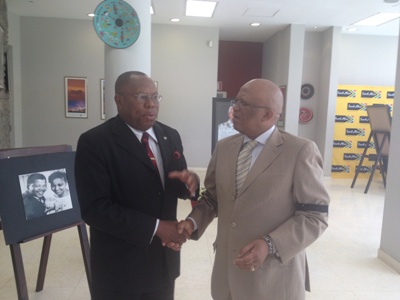 By Abdul Karim Koroma :
Sierra Leone's multi-accredited Emissary to the Federal Democratic Republic of Ethiopia, Ambassador Andrew Gbebay Bangali was today (9th December 2013) among Diplomats that visited the South African Embassy in Addis Ababa to sign the Book of Condolence of the former South African President Dr. Nelson Rolihlahla Mandela and to commiserate with the Government and People of South Africa.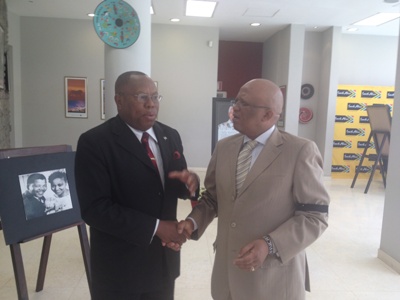 The Condolence Register of the former Anti-Apartheid leader was opened at the Embassy after the South African President His Excellency Mr. Jacob Zuma announced the death of Dr. Mandela in South Africa on Thursday December 5th, 2013.  Dr. Mandela will be buried in his place of birth, Qunu.
At the Chancery, Ambassador Bangali was warmly received by the South African Envoy to Ethiopia, His Excellency Ndumiso Ndima Ntshinga.
Ambassador Bangali's message of condolence which he deposited on the Condolence Register reads in part: "On behalf of His Excellency the President, Dr. Ernest Bai Koroma, the Government and People of the Republic of Sierra Leone, I hereby convey our sincere deep condolences to the bereaved family, the Government and people of South Africa on the passing away of former South African President, Dr. Nelson Mandela on Thursday December 5th, 2013 in Johannesburg, South Africa."
Continuing: "Dr. Mandela was a charismatic World leader and an international icon of peace and reconciliation who guided South Africa from the shackles of apartheid to a multi-racial democracy. The first South African democratic leader was one of Africa's inspirational and illustrious sons. May the Good Lord grant his soul eternal and blissful rest."
On Sunday 8th December, Ambassador Bangali attended a Memorial Service organized by the South African Embassy in honour of its deceased leader at the African Union Commission New Conference Centre in Addis Ababa.
The following paid tributes on Dr. Mandela: The Premier of Ethiopia, His Excellency Hailemariam Desalegn; Her Excellency Dr. Nkosazana Dlamini-Zuma, Chairperson of the African Union Commission and the Russian Ambassador to Ethiopia, His Excellency Valery Utkin.
His Excellency Mohammad Javad Zamanian, the Iranian Emissary to Addis Ababa delivered a statement on behalf of the Non-Aligned States whilst the South African Ambassador, Mr. Ntshinga gave a detailed account of the life and times of Dr. Mandela.
Abdul Karim Koroma
Information Attaché
Embassy of the Republic of Sierra Leone
Addis Ababa
Ethiopia
Email: akk23222@gmail.com