Recent visits to Sweden and Finland by Sierra Leone diplomats headed by High Commissioner, Edward Mohamed Turay to sensitize the governments and peoples of these countries on the Ebola crisis in Sierra Leone has started yielding some positive results.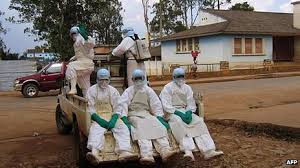 According to a Press Release from the Finnish Ministry of Foreign Affairs dated, 13th August, "By decision of Minister f…or International Development, Pekka Haavisto, the Ministry for Foreign Affairs will provide EUR 280,000 (Two Hundred and Eighty Thousand Euros) of funding for the work against Ebola performed by the International Federation of Red Cross and Red Crescent Societies, submitted through the Finnish Red Cross, and EUR 500,000 (Five Hundred Thousand Euros) for corresponding efforts of the World Health Organization (WHO).
"The situation is alarming as the number of cases keeps growing. If the epidemic in West Africa cannot be suppressed, the consequences will be catastrophic" says Minister Haavisto. The release further states that, "the Finn Church Aid will also retarget some of the funds granted to it by the Ministry of Foreign Affairs for work in Liberia to fight against Ebola.
The aid will be paid from Finland's Appropriations for Humanitarian Assistance, included in the development cooperation funding". It would be recalled that the recent visit to Finland was the initiative of Sierra Leone's Ambassador to the Kingdom of Belgium and Head of Mission to the European Union, Ambassador Ibrahim Sorie. However, other official engagements could not allow him to join his colleague, High Commissioner Eddie Turay but was ably represented by the mission's Information Attaché.
By Chernor Ojuku Sesay, Information Attache, Sierra Leone Embassy, Brussels/EU.