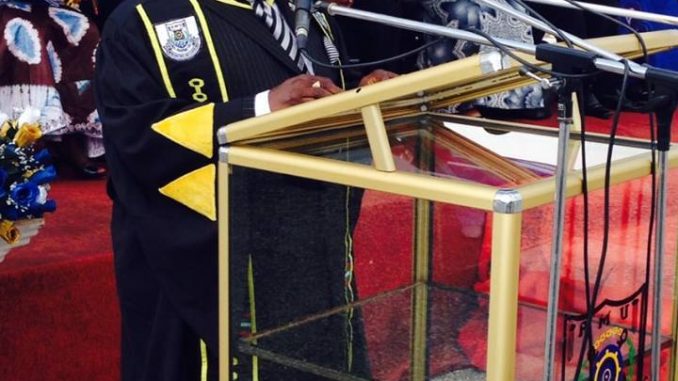 ADDRESS BY THE CHAIRMAN OF THE BOARD OF GOVERNORS OF THE RMU, THE HONOURABLEMINISTER OF TRANSPORT AND AVIATION, REPUBLIC OF SIERRA LEONE, MR. LEONARD BALOGUN KOROMA
DURINGTHE 8TH GRADUATION of
THE REGIONAL MARITIME UNIVERSITY , SATURDAY,
7TH JUNE, 2014
Distinguished Special Guest of Honour,
Honourable Host Minister and Colleague Board Members
Your Excellencies, Members of the Diplomatic and Consular Corp
Honourable Secretary General of MOWCA
Distinguished Members of the Committee of Experts
The Rector and Members of Staff of the RMU
Distinguished Invited Guests and Members of the fourth Estate
Parents and Guardians
Ladies and Gentlemen,
On behalf of the Board, Management and Staff of the RMU, I welcome you to this sombre occasion when our precious materials, the gold, the sliver of this esteemed University, are being put on display that the world may witness what good work is being undertaken within the confines of these grounds. I use the word sombre, ladies and gentlemen, because this occasion has been made possible through the sweat, sleepless nights and great sacrifices of the students you will see being honoured here today.
Benjamin Franklin, a member of the founding fathers of the United
States of America is quoted to have said that "a Genius without education is like silver in the mine". I am very happy that today we have gathered to witness the result of the 'mining' going on within the borders of the Regional Maritime University campus.
Let me therefore congratulate all graduating students for this wonderful achievement. You are today bringing down the curtain on a long academic journey, which for some was pleasant and smooth sailing but for others may have been challenging and difficult. The pleasure of this day however, is going home to your folks with the most tangible evidence of academic time well spent and truly earned. Congratulations!
Today is a special day for them, and all their experiences on the grounds of this University have helped in shaping and making them precious materials capable of becoming useful to the wider Maritime industry. It must be said however that, silver or gold when it is mined goes through further processes of refinement, the more processes it goes through the greater its value. You have been processed with value added and ready to go.
Graduands, as you today join your previous colleagues as alumni of this great institution, please go out there as messengers of peace, love and growth. What you say or do will, directly or indirectly affects the RMU.
Education is precious and its values last a lifetime. Now that you have acquired some at this level, please put it to good use for yourself and for societal benefit. Your employers will test your ability, discipline, loyalty and competence. We await positive response and feedback because we have prepared you well and we are confident that you are ripe for the market and will not fail us and your folks.
The RMU as a Regional institution is of immense value to us members as well as Africa as a whole. We are happy about its training and development drive and more especially, reaching out to industry and building capacity at local levels, like the relationship it is building with local institutions in member countries, such as Cameroon and Sierra Leone. Its eye for collaboration with other stakeholders and partners to improve and strengthen the quality of academic, IMO and OPITO professional programmes is admirable and commendable.
Providing quality education is one way that a Government can respond to the numerous concerns and needs of its people. That is the commitment that we bring to you as a Board. We are aware of some of the perennial problems affecting our dear institution, such as the rapid pace of technology, the need for the provision of a training vessel; the constant need for more hostel accommodation  for students and generally to ensure student's life and welfare on campus are convenient and comfortable.
On the training vessel, we have not given up. We are in active consultation with our partners and donors. In the interim, management continues to work with some ship owners to open up more sea time opportunities for students. The construction of a modern laboratory block and provision of hi-tech equipment by the host Government of Ghana provides an avenue for more practical and simulation exercises for students.
Similarly, the hostel project funded by the President of The Gambia, which had been stalled for a while, has now been cleared for resumption of works and before long should be ready for occupation. That will reduce the pressure on student accommodation.
Against that background, I would like to use this opportunity to thank the Governments of Ghana and The Gambia once again. I would also wish to take this opportunity to thank our collaboration partners, the University of Shanghai and through you the Municipality of Shanghai for choosing us over other Maritime Institutions in Africa to partner with.
Also, the RMU is now home to the Maritime Surveillance initiative for vessels between the Government of Ghana and the EU for large areas of the Gulf of Guinea. Such information or data exchange and sharing helps to boost security, emergency response times as well as ensuring safer seas. Like other similar initiatives, especially anti-piracy ones, we laud it and as a Board, we encourage and support such ventures. Let me also thank the EU for this collaboration.
Distinguished Ladies and Gentlemen, On behalf of the Board and on my own personal behalf, I say congratulations to the Management and Staff for their commitment to the task of tutoring and mentoring and bringing our students forth as quality materials, capable of adding to ongoing efforts in the Maritime industry.
To you graduands, I say again, you are the gold, the silver, the treasure mined on these shores, whatever you choose to do the rest of your life, make your alma mater proud. God bless you.