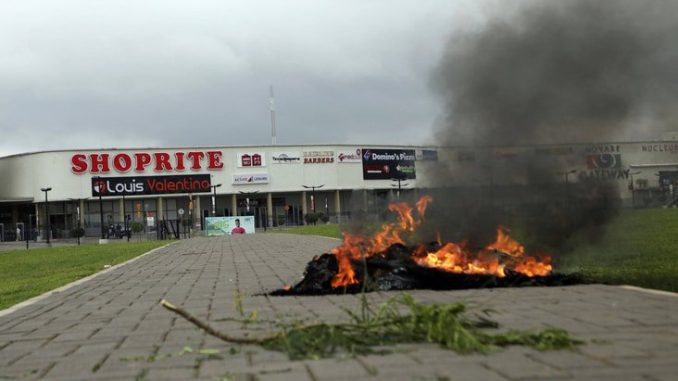 Nigeria is taking a tougher stance in the face of the new wave of xenophobic violence that struck South Africa this week. The country will now boycott the World Economic Forum, which opened on Wednesday in Cape Town.
The Nigerian government announced on Monday that it wanted to take "decisive measures" against South Africa, where attacks and looting of businesses, targeted against foreigners, have spread like wildfire across the country and have killed seven people since the beginning of the week.
Although the nationality of the victims is unknown, President Muhammadu Buhari immediately expressed "his dissatisfaction with the treatment of his fellow citizens" and pledged to "guarantee their safety".
Xenophobic attacks are a regular occurrence in South Africa, with 7 deaths in 2015 and 62 deaths in 2008.
In recent days, Nigerians have not appeared to be targeted any more than the many other immigrants (Somalis, Zimbabweans, Mozambicans, Bangladeshis, Malawians,…) but the two countries have been competing for years to be recognised as 'the continent's leading economy'.
On Wednesday, local newspapers ran front pages headlining "Anger after Nigerians killed in South Africa", and images of burning townships were looped on Nigerian television.
On Wednesday, the West African giant, with a market of 190m people and exporting 2m barrels of oil a day, announced that it was boycotting the World Economic Forum that opened on Wednesday in Cape Town.
Support for artists boycott
But Nigeria's greatest ambassadors are undoubtedly its singers, intercontinental stars with tens of millions of Instagram or Twitter subscribers. Burna Boy said he had been a victim of anti-Interian racism in South Africa in 2017 and has not set foot in South Africa since.
His compatriot, Tiwa Savage (8m subscribers on Instagram), cancelled one of her upcoming concerts in Johannesburg: "I refuse to see my people massacred in South Africa".
Hundreds of thousands of Internet users have called for a boycott of major South African brands, and clashes have broken out in front of Shoprite supermarket chains, forcing increased security in the country.
South African telecom giant MTN announced that it has temporarily closed its branches across the country after stores were attacked in Lagos, Ibadan (southwest) and Uyo (southeast).
"Boycott calls are totally counterproductive," says Nonso Obikili, a Nigerian economist based in Abuja. "The South African companies that are based here employ Nigerians, offer their services here, so boycotting them would be as damaging to us as it would to them."
However, this call has been widely echoed on the Internet across the continent, where the influence of South African companies remains very strong.
Reactions in Africa
In sub-Saharan Africa, however, resentment towards South Africans has not turned into diplomatic conflict and many governments have denounced the violence, but have remained much more measured.
The Minister of Foreign Affairs in Kenya regretted the xenophobic acts, but immediately "welcomed the South African government's condemnation of these attacks".
The Rwandan President's adviser refuted allegations that Paul Kagame had also boycotted the World Economic Forum in Cape Town, assuring Twitter that "the President was unable to attend for other reasons" and that "the Rwandan delegation was very important".
The Congolese Minister of Diaspora, Emmanuel Ilunga, asserts that his ambassador "is in permanent contact with the South African police (…) to protect his compatriots".
"There are no Congolese victims of these acts in South Africa so far," he said. "There is therefore no reason to go to protest outside the South African embassy," the minister said in response to a call to close the embassy in Kinshasa on social networks.
Protestors in Zambia, however, looted South African supermarket chain Pick n Pay in protest.
This article first appeared in Jeune Afrique.