By Yahya Sidi Brima :
Freetown, Sierra Leone, December 23, 2014 – Exactly 20 days after the establishment of an Ebola Treatment Centre entirely run by its own medical staff, the Republic of Sierra Leone Armed Forces (RSLAF) has discharged the first batch of 13 Ebola patients.
At a ceremony held on Saturday, 20th December, 2014 at the 34 Military hospital, the Minister of Health and Sanitation, Dr Abu Bakarr Fofanah said with its immense supports to the fight against the disease, the RSLAF had proved to be a "real asset to Sierra Leone". Dr Fofanah stated that the Ebola epidemic could be described as a medical battle for health workers, but the military had also intervened to contain the spread of the disease with diverse contributions.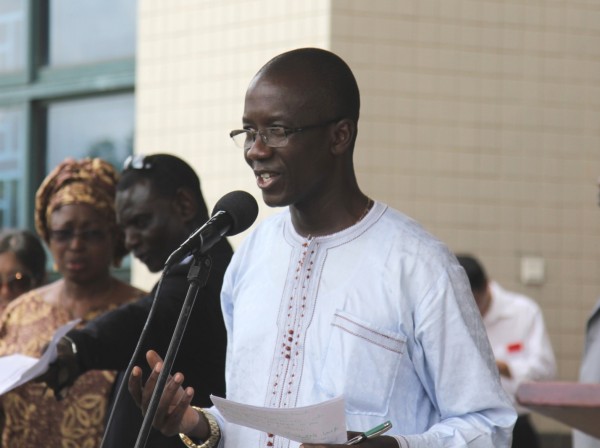 The Health Minister emphasized that the military deserved commendations for its efforts in the Ebola campaign. He affirmed that the government highly appreciated and recognized RSLAF efforts. He described RSLAF as a "force to reckon with". Dr Fofanah assured the military of also benefiting from the World Bank package intended as "morale booster" for all health workers employed at Ebola treatment centres across the country.
Giving the statistics of the RSLAF Ebola Treatment Centre, the Commanding Officer of the Joint Medical Unit and Head of the 34 Military Hospital, Colonel Professor Foday Sahr said 46 confirmed cases had been recorded at the centre since the centre was established on 1st December, 2014. Colonel Professor Sahr said the centre was discharging 13 patients that day. He added that other 10 cases had been transferred to the recovery ward. He disclosed that the centre had recorded 15 deaths.
The RSLAF Medical Professor also disclosed that the convalescent old blood therapy had effectively worked on three discharged patients. He explained that the therapy was the transfusion of blood from an Ebola survivor to a patient.
The RSLAF joined the Ebola fight on 1st August, 2014 following the declaration of a Public Health Emergency by President Ernest Bai-Koroma. The Military launched an operation code-named as "Operation Octopus" to support the Ministry of Health and Sanitation to contain the spread of the Ebola Viral Disease (EVD).
Since its intervention, the RSLAF has not only contributed financially to the Ebola coffer but has also carried out security role, construction work at various treatment centres, medical service, specimen/swab collection and dead body management, to list a few.
Contact: Captain Yayah Brima, Media Operations Cell, Headquarters, Joint Force Command, Cockerill Barracks, Freetown.