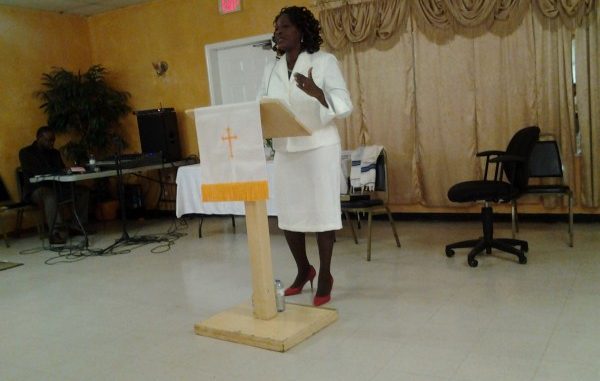 Members of the congregation of  Covenant Child World Ministries were last Sunday admonished to put more premium on the peace of God that passeth all understanding than the peace of man. The Senior Pastor of the church, Rev. Tigidankay Kabs-Kanu gave the admonition while preaching the Easter Sunday sermon during the Resurrection service at  Caribbean Palace Hall in Somerset , New Jersey.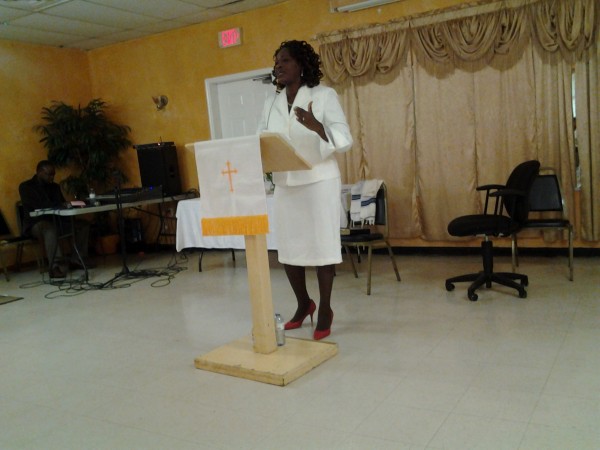 SISTER TIGI PREACHING 
Using John 20: 19, the minister of the gospel warned the congregation to keep their eyes off man and keep their eyes on Jesus Christ.  "If you keep your eyes on man and seek to get your peace from man, you will never be happy", she preached . "Man will always do or say things to make you unhappy ".  She told the congregation that if their eyes were always on man, they will always be frowning but if their eyes are always on Jesus, their faces will always be radiant.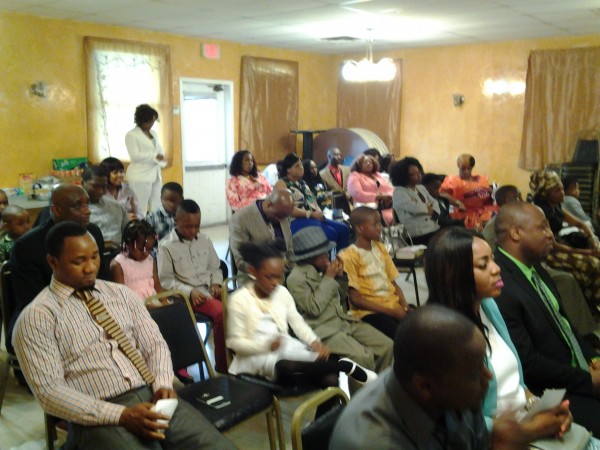 A COMPOSITE PHOTO OF THE CONGREGATION
Jesus Christ died on the cross not only to save man from sin but the chastisement of man's  peace was upon him so that by his death man will have peace. He resurrected and on the first day of the week he appeared before his disciples who were locked in a room and told them, "Peace be unto you."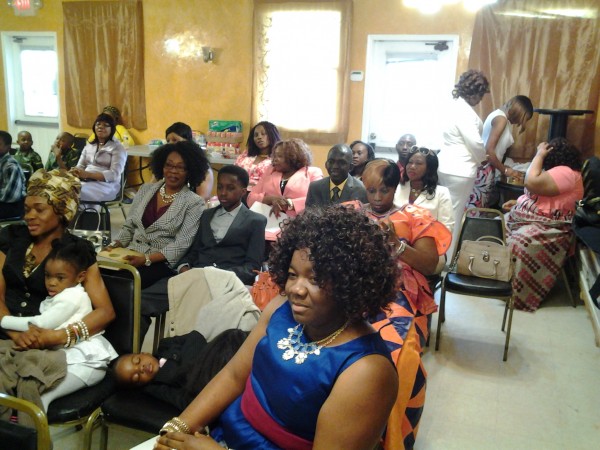 ANOTHER VIEW OF THE CONGREGATION 
In John 14 : 27, he tells them : "Peace I leave with you, my peace I give unto you: not as the world giveth, give I unto you. Let not your heart be troubled, neither let it be afraid."  The peace that Jesus left those who believe in him is better than the peace that this world promises, which it is unable to give. In Jesus , christians have peace, in spite of the circumstances.
Rev. Tigi Kabs-Kanu therefore admonished the congregation to put away all anxieties and fears and let the peace of God that passeth all understanding reign in their lives.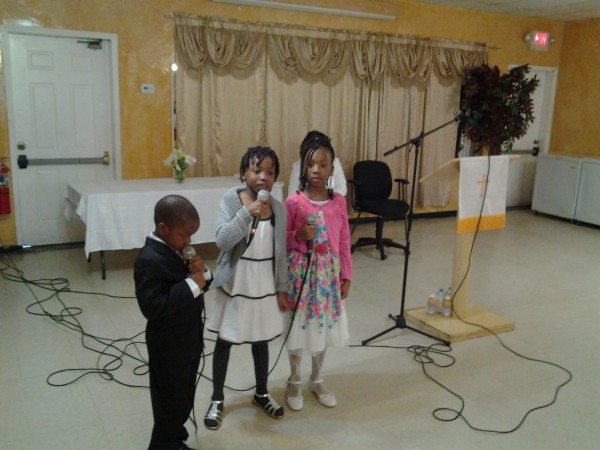 SOME OF THE CHILDREN OF THE CHURCH MAKING AN EASTER RENDITION
She preached that if christians believe in God, he is able to deliver them from the plot of their enemies. She gave the example of the three Hebrew children Shadrach, Meshack and Abednego who were cast in the furnace of fire but God delivered them ( Daniel 3  ). She also gave the example of Daniel  who was thrown in the lion's den but God delivered him  (  Daniel 6    ).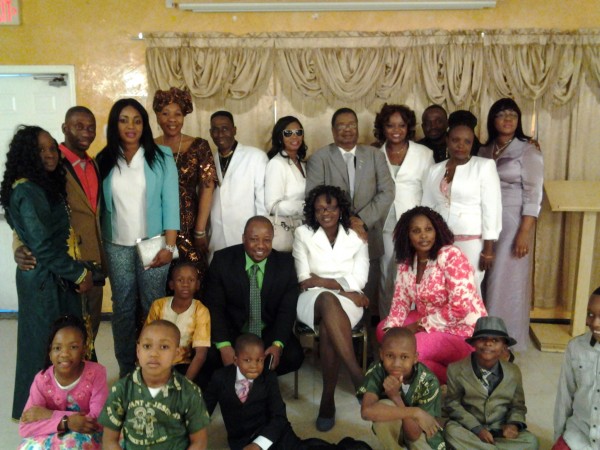 SOME MEMBERS OF THE CONGREGATION AND THE CHILDREN POSE AFTER THE SERVICE
She warned the congregation to keep away from sin and keep themselves spotless to be able to  be in right standing with God and enjoy his blessings.
The Co-Pastor , Rev. Leeroy Wilfred Kabs-Kanu, before giving the benediction , admonished members to continue to attend bible studies to understand the word of God, because it was only through this that they will able to stand on the word during tribulations and continue to win spiritual battles and enjoy the peace of God.
John 20:19
New International Version (NIV)
Jesus Appears to His Disciples
19 On the evening of that first day of the week, when the disciples were together, with the doors locked for fear of the Jewish leaders, Jesus came and stood among them and said, "Peace be with you!"