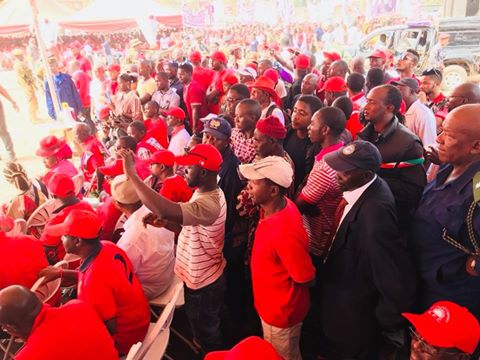 By State House Communication Unit
Chief Paul Garba Saquee V of Tankoro Chiefdom has extolled President Dr Ernest Bai Koroma during a meeting at the Konomanyi Lorry Park in Koidu city. The visit of the President in Kono district was part of his nationwide 'thank you' tour to thank Sierra Leoneans for giving him the mandate to rule for two consecutive terms.
"You have passed our exams beyond our wildest expectations," Chief Saquee told the president whilst delivering his welcome address. He informed the gathering that one of his colleague paramount chiefs who has taken 32 years at the helm observed that he had never seen a president who travelled the length and breath of the country thanking Sierra Leoneans for electing him president.
Chief Saquee V noted that people can now travel from Kono to Freetown and return the same day, saying that there are over 20 kilometers of paved roads within Koidu city under the transformative leadership of President Koroma. "We dreamt that one day we would have paved roads, electricity, water supply and our government hospital would be the envy of the region. All of these you have done. We are so grateful for your remarkable work, Mr President."
The paramount chief also highlighted several accomplishments of the APC government relating to empowerment of sons and daughters of Kono especially in government. The APC, he said, is the first political party to appoint the only Kono man ever to occupy the office of vice president. There was only one Kono man in cabinet in 2006, he noted, and mentioned the names of Kono sons and daughters who are now in cabinet. Chief Saquee also praised President Koroma for appointing the first Kono man as Inspector General of the Sierra Leone Police. "Can you look yourself in the mirror and claim that President Koroma has not promoted and empowered Konos more than at any time in our nations history?" he asked rhetorically. Chief Saquee however publicly apologized to President Koroma for the failure of VP Sam Sumana to live up to expectation.
Chief Saquee went on to call on government to provide security during elections, saying that all they want is decorum and security during this election. "Some say they are popular, fine. But we want the people of Kono to decide who is popular or not. We want security to ensure there's decorum during this election. Karamoh Kabba has rescued Kono from the clutches of thugs. Logus Koroma, Diana Finda Konomanyi – Iron Lady. She's the indisputable political leader of this district," he explained. Dr Kaifala Marrah was also mentioned as a great 'son' of Kono who has contributed immensely to the promotion of the district.
Hon. Diana Konomanyi, APC Regional Chairperson, thanked President Koroma for making Kono district part of his family. She also thanked the president for showing respect for Kono Chiefs. Madam Konomanyi further thanked President Koroma for selecting a Kono who eventually became VP for the first time in the history of their district, but was quick to blame the erstwhile VP for bungling the opportunity.
Raymond Gbekie, APC Chairman in Kono district said the Kono people have spoken to the President, saying that Kono will speak loud and clear to the APC presidential candidate come March 2018.
District Youth Chairman, Mohamed Bandakpara thanked President Koroma for transforming and touching the last corner of Kono district. He noted that although some Konos had not measured up over the years, yet there are young people in Kono who come from homes and have tremendous respect for leadership especially paramount chiefs. "You have appointed a lot of young Kono people to positions of trust, and we thank you immensely, Mr President," he said.
APC Women's Leader for Kono district Madam Alice Torto also joined the previous speakers to thank President Koroma for the work the president has done for Kono district. She noted that even the blind won't miss what the APC has done for them. She praised Diana Konomani and Balogun Koroma for their efforts in complimenting the good work of President Koroma. She appealed for at least three women to be concluded in the APC parliamentary list for Kono district for the forthcoming elections. "The time when people used to say that women cannot do much has passed," she noted.
Kai Abdulai Boway, representing the veterans in Kono district also praised the president for his efforts towards the veterans within the party. He prayed for President Koroma for what he has done for them. Pa Boway also prayed for the APC presidential candidate and running mate to win the March 2018 elections.