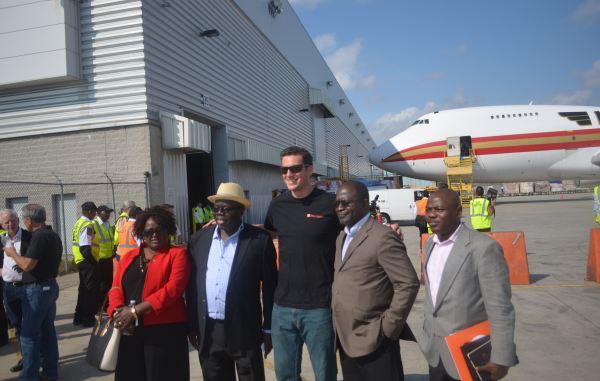 By Kabbs Kanu & Pasco Temple
The largest United States – origin emergency Air lift on Ebola Virus Disease (EVD) from the United States of America to Sierra Leone and Liberia  to date, has on Saturday September 20th 2014, departed the New York's John F. Kennedy Airport on board a chattered Korean Airliner for the duo Countries, after a very brief and impressive ceremony held at Cargo building No.9 that was attended by very high profiled government officials of Liberia and Sierra Leone.
The effort was well coordinated by "Direct Relief" a United States Based International Non Profit, which also chattered the plane.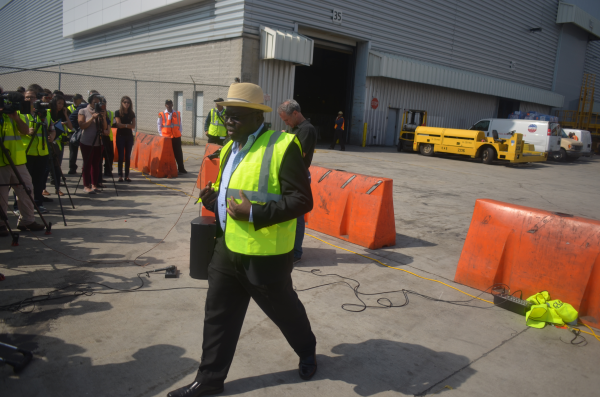 AMBASSADOR BOCKARIE STEVENS
 The One Hundred Tons (100 tons) of Emergency Medical Aid air lift, the largest single emergency medical aid contains personal protective equipment(PPE) and medical supplies valued at Six Million United States Dollars ($6M) (whole sale).
The loading of One Hundred (100) Tons of emergency Medical Aid onto a Chattered 7-4-7 "KALITTA" Airplane  marked "N794LK" by "Direct Relief" bound for communities fighting Ebola in Sierra Leone and Liberia was witnessed by His Excellency Augustine Kpehe Ngafuan Liberia's Foreign Affairs Minister, Ambassador Bockari Kortu Stevens Sierra Leone's Ambassador to the United States, World Bank, International Monetary Fund, Canada, Brazil, Guyana, Venezuela, the Bahamas, Jamaica, Brazil, Trinidad and Tobago, Ambassador Vandy Minah Sierra Leone's Permanent Representative to United Nations, Ambassador Jeremiah Salunteh, Liberia's Ambassador to the United States, Mrs. Isatu Sillah Minister Counsellor, Mr. Pasco Gerald Temple Information Attaché, Mr. Fawundu, Ms. Gail Farngalo Counsellor, Liberia's Permanent Mission to the UN.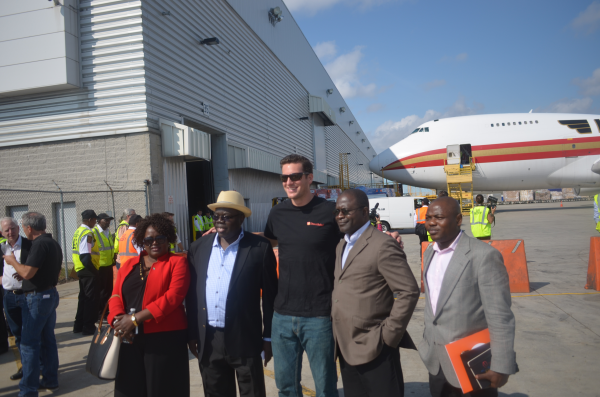 According to Dr. Thomas Tighe, Chief Executive officer of Direct Relief and Chairman of the occasion, the One hundred tons of Emergency Medical Aid include Two Million Eight Hundred (2.8 Million) Surgical and Exam Gloves, One hundred and Seventy Thousand (170,000) overall gowns, One hundred and Twenty Thousand (120,000) masks, Forty Thousand (40,000) Liters of Pre-mixed Oral rehydration solution, Nine Million Hundred (9.8 Million) defined daily doses of essential medications (generic).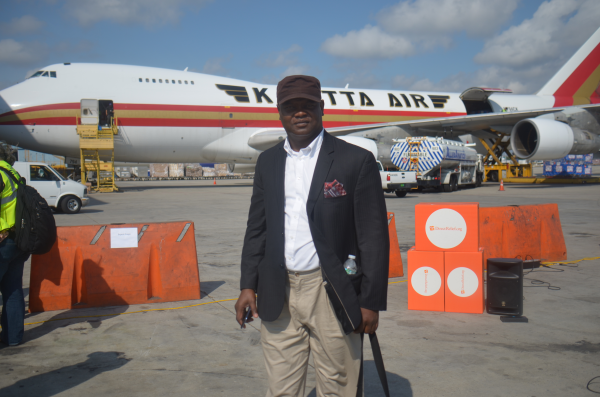 PASCO TEMPLE
He said the specifications and quality were sought in accordance with instructions from the Health Ministries of the two Countries and their respective tasks force.
Dr. Tighe said the scale, PPE (gloves, gowns, Masks) included on the flight are sufficient to supply two hundred and eighty (280) health workers for one year based on the current requirements and utilization estimates  developed in Liberia.
"This Plane is due in Sierra Leone Sunday September 21 2014, discharge the orange cargo in Sierra Leone before going to Liberia." Said Dr. Thomas Tighe, Chief Executive officer of Direct Relief.
On behalf of President Ellen Johnson SirleafHis ExcellencyAugustine Kpehe Ngafuan Liberia's Foreign Affairs Minister thanked Executive and other officers of Direct Aid, The Clinton Global Initiative, Well Body Alliance, AFRICARE, Last Mile Health for coming to them at this trying time in the history of the affected Countries.
He gave a brief synopsis of the effect of Ebola Virus Disease (EVD) on the people of the affected Countries and said it is wreaking havoc on every facet of the affected Countries.
His ExcellencyAugustine Kpehe Ngafuan applauded the effort of Direct Relief and appealed for a continuation of such venture.
On behalf of "President Ernest Bai Koroma, the government and suffering people of Sierra Leone" Ambassador Bockari Kortu Stevens thanked "Direct Relief", "Clinton Global Initiative", "Wellbody Alliance", AFRICARE and "Last Mile Health" for their thoughts, actions and help.
"Ebola Virus Disease has become a universal challenge to us. "We thank you for coming to the rescue, to help save the lives of our people." Said Ambassador Stevens, adding, "Our people are dying because we lack the materials for prevention, and medication: but with these PPE's, we can go a long way"
 Ambassador Stevens referred to actions taken by the Sierra Leone Government, United Nations, World Health Organization, and other global and international partners and reiterated that  security problem, requires global initiative.
"The world should not allow this to happen, this is the 21st century, and you have been able to place people in the moon, you have been able to build Boeing 777, you have been able to do very wonderful things through Science and technology, let us do similar things for mankind. "People are suffering, people are dying. My President should have been at the United Nations today, but he could not, because he is practically coordinating events relating to the battle of Ebola.
"I want to take this opportunity to appeal to the international community to come to the rescue of our people. "You have the capacity, you have the know- how and you also have the resources, Please come to our aid and rescue us against the cruel claws of Ebola." I thank you. Said Ambassador Stevens.
Other speakers include Dr. Bob Harrison, CEO, Clinton Global Initiative, Dr. Darius Mans, CEO, Africare, Lisha McCormick MPH Director Last Mile Health, Dr. Mohamed Bailor Barrie co-founder Wellbody Alliance.   
The Plane was Airborne at 3:30 Eastern PM. Time
Pasco Gerald Temple
Information attaché
Embassy of Sierra Leone
Washington DC
20009 USA
Tel- 2024466958