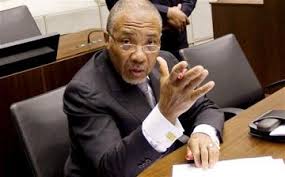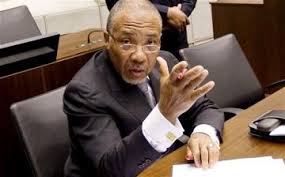 Saturday September 3, 2005
Newspapers in Liberia have published alleged intercepted communication between former Liberian President and war crimes indictee Charles Taylor and his wife, Jewel Howard Taylor which, if authentic, lends credence to accusations by UN  and Sierra Leone Special Court officials that Taylor is still meddling in the affairs of Liberia.
The letters, in which Taylor allegedly spelt his name backwards to create his Yahoo e-mail address,have been the subject of heated debates in Liberian circles. If the letters are genuine, they represent a clear violation of the asylum arrangement which has Nigeria's President Olusegun Obasanjo hosting the former Liberian rebel leader in Calabar.
Also , if the letters are genuine, they can create cause for civil and human rights organizations  to accellerate calls for President Obasanjo to hand over Taylor to the Special Court of Sierra Leone.
READ THE ALLEGED COMMUNICATION BELOW:
Date:               22 Feb 2005 08:54:56 0800 (PST)
From:               ?'Dr. Charles Taylor" rolyatselrahc@yahoo.com
Subject:           Daily Contact
 
Jewel,
I just received a telephone call from Goodridge this morning concerning his paper story last week Friday, ?'The Liberian Dispora", that Death Squard Allegation nonsense.
Please send me the Newspaper and collect the money from Lone Star, the amount of USD $300,000 (Three Hundred Thousand United State Dollars), and 50% of the funding should be deposited at the newly Global Bank Liberia Unlimited, the balance 50% should be use as White Flower.  I have finally talk to Chez Republic to take over your house so that you will transfer to White Flower.
Jewel, any clandestine plot will not be allowed now, eyes on us, concerning the elimination of certain stalwarts.  Meet Goodridge urgently for discussion.  What was Snowe doing at Urey office today, call Focus to tell me.
Take care
Cordially,
Dr. Charles Taylor
 
………………………………………………………………………
Date:               Mon. 25 Feb 2005 07:46:57  0800 (PST)
From:               "Dr. Charles Taylor"rolyatselrahc@yahoo.com
Subject:           Keep in Touch Day After Day
Cc:                   squard4squard@yahoo.com; foxesOfcourse@yahoo.com;  Strikers_check@yahoo.com
I have intelligence that those guys are claiming that ehey have in their possession credible sources linking me to a plot to eliminate Blah, Browne, Nagbe, and Snowe and all.
Jewel, I intended calling you on this issue, but lately realized that your phone conversation was linked to Snowe, moreover, calls are easily traced.  However I will continuously channel information to you via e-mail.  Please make sure my dear, that you alone should have access to your mail box.
Finally, I will be mailing you an important message, which will be an attachment.  Make sure to access your mail constantly.  For Snowe, I ow you a brief explanation.  I have received copy of the hand written complaint forwarded to the police station by Snowe through Foxes.  Foxes is actually doing well, he is on top of information.  Please advise your son not to move about at night alone.  Have you reeived the stuff from Lone Star?  
Please let me know.
Thanks,
Dr. Charles Taylor
____________________