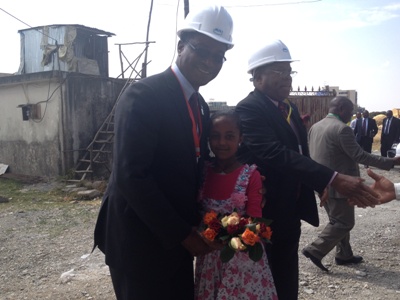 Hon. Dr. Samura Kamara, Minister of Foreign Affairs and International Cooperation on Wednesday 29th January 2014 toured the site of the Sierra Leone Embassy building project site in Addis Ababa to assess the work done there so far.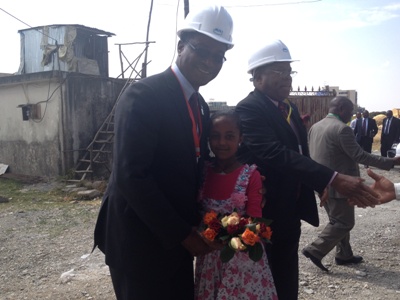 DR. SAMURA KAMARA RECEIVING A BOUQUET OF FLOWERS AT THE SCENE
He took time off his busy schedule whilst attending the African Union Summit to visit the project site for which His Excellency President Dr. Ernest Bai Koroma turned the sod a year ago.
The complex consists of a Chancery, the Ambassador's residence and a Presidential VIP Suite. The building project is situated in Bole, Addis Ababa's prime area.
Dr. Samura Kamara who was so impressed with the progress of the project said that upon his return he would brief President Koroma fully about the work on the site.
He also indicated that he would talk to his counterpart, the Minister of Finance and Economic Development to remit the remaining money for the completion of the work.
Receiving the Foreign Minister at the site, the General Manager of MEEG Building Contractor, Mr. Mehari Enyew disclosed that 80% of the construction work on the Chancery was completed.
He said the building materials imported from Dubai including the interior fixings and ceramics have arrived.
"If I have all the funds needed, the Chancery building will be completed in the next three months," Mr. Enyew said.
He said the Chancery building has 12 office rooms, a meeting room and a hall to host receptions, excluding the Ambassador's office.
The Chancery, he said, when completed will be a ground plus three story building with a very spacious car parking space and a guard house.
Welcoming Dr. Samura Kamara to the site, Ambassador Andrew G. Bangali, Sierra Leone's Envoy to the Federal Democratic Republic of Ethiopia said the Chancery was almost completed as a lot of progress has been made.
Ambassador Bangali pointed out that work on the Ambassador's residence was put on hold to fast track the completion of the Chancery building.
"I hope funds will be remitted soon to complete the Chancery building," he said.
The Foreign Minister's delegation to the site also included: Ambassador Vandy Minah, Sierra Leone's Permanent Representative to the United Nations in New York; Mrs. Rasie Kargbo, Director General and Ambassador-at-Large in the Ministry of Foreign Affairs and International Cooperation; Sierra Leone's newly appointed Deputy Chief of Mission to Ethiopia, Mr. Ismeal Koroma and Mrs. Juliana Fallah, Acting Head of Chancery in the Embassy of the Republic of Sierra Leone in Addis Ababa, among others.
Abdul Karim Koroma
Information Attaché
Embassy of the Republic of Sierra Leone
Addis Ababa
Ethiopia