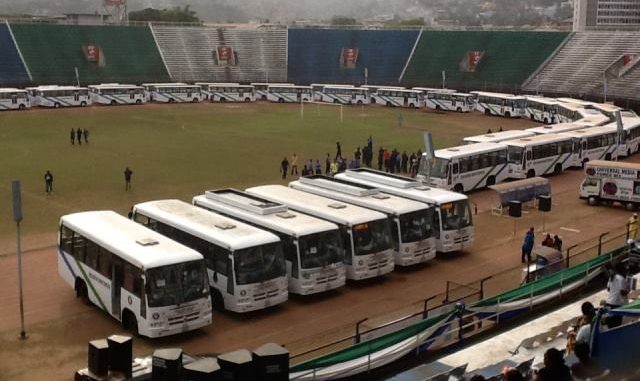 President Ernest Bai Koroma said in Freetown yesterday that his Agenda For Change program is to improve the lives of all Sierra Leoneans . The President made the statement at the National Stadium , Freetown  while commissioning 40 new buses that will soon start plying the roads of Sierra Leone , bringing tremendous relief to the nation. According to the All People's Congress (APC) , President Koroma stated that his Agenda for Change programme is to alleviate the suffering of Sierra Leoneans and today positive changes have been made in Agriculture, Energy, Infrastructure, Health and Education . While saying that his government has transformed the whole country in just four years, President Koroma promised that his government will do everything to make Sierra Leone a great nation once again.
The 40 buses were purchased by the Sierra Leone Government under the inspiring and progressive leadership of President Koroma.  The government has not committed itself or the country to any more loans for the buses. The government's aim after constructing modern and state-of-the- art roads in Sierra Leone is to flood the routes with transportation to make life easier for the Sierra Leonean people. Again, this is a fulfillment of another promise President Koroma made to the Sierra Leonean people during his electioneering campaign in 2007.
At a time when Sierra Leone was steeped in chronic transportation crisis, with thousands of people stranded on the streets whole day looking for vehicles to take them to their destination, President Koroma promised the people that if they voted for him, he will make sure that good roads are constructed and enough buses provided to boost transportation in the country.
The news of the commissioning of the 40 buses brought tremendous joy to Sierra Leoneans. Many people interviewed by COCORIOKO  expressed profound delight and were full of praise for President Ernest Bai Koroma .They gave their sincere opinion that President Koroma is a big blessing to Sierra Leone and five more years of his rule will make Sierra Leone one of the most developed countries in Africa. They extolled the fact that since President Koroma came to power , there had been lots of good news in the country. Many of them said that they will convince friends and family to vote for President Koroma in November's elections.