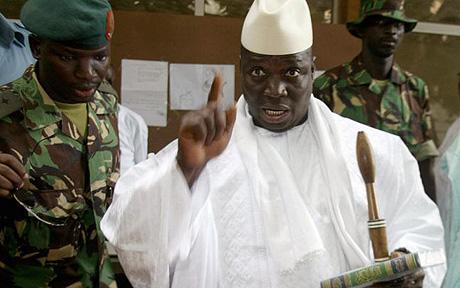 Banjul, the capital of the Gambia, was rocked by heavy machine gun fire this morning and troops were said to have attacked State House. However, President Yahya Jammeh has just made the following statement to his countrymen and women on Facebook, from France where he is presently on a state visit.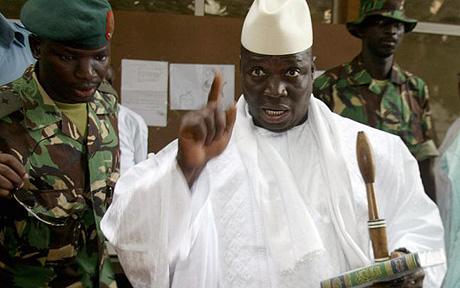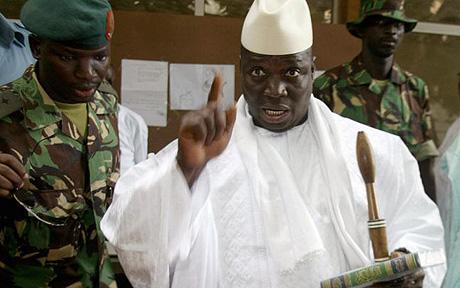 My fellow Gambians:
At 1 o'clock this morning, forces loyal to Lamin Sanneh, the disgraced former Commanding Officer of the State Guards, invaded The Gambia from Senegal in an attempt to overthrow its legitimate government. A group of armed men attacked the presidential palace and the Denton bridge military post before being quickly repelled.
Four of the insurgents were killed and four more captured. Sanneh himself sustained injuries and may have died in the attack.
No Gambian feels the aguish of this heinous plot more deeply than I, against whom Sanneh adds the sin of betraying a friend to the ignominy of high treason.
Rest assured that the Enemies of the People have been defeated, and I will be returning from my state visit to France immediately in order to oversee an investigation and ensure that the perpetrators of this plot face stern justice.
END OF THE BROADCAST
_____________________
Various news agencies quote Gambian military officers and diplomats as saying that coup has been foiled . An Army spokesman has called on civilians to remain calm and stay home.
JOLLOF NEWS , a Gambian online news magazine reported .."some armed men led by former State House Commander, Lt Colonel Lamin Sanneh, invaded the country yesterday evening from neighbouring Senegal and attacked the presidential palace in Banjul and the military post at the Denton Bridge, which links Banjul to the southern part of the country. ..The gun fight started at around 1 am local time and lasted until the early hours of the morning. Lt Colonel Sanneh is reported to have been injured during the gun fight. There are unconfirmed reports that he has died of his injuries.  Four armed men were reported to have been killed while four others have been captured. One of attackers is reported to have sustained serious injuries. "
The paper further reported : "Between four and five people were killed during a gun battle at State House and Denton Bridge," said a senior government official who requested anonymity. Our source said a shoot-out took place on the outskirts of Banjul, with one soldier sustaining serious injuries and is being treated at the Edward Francis Small Teaching Hospital in Banjul.   
"A small group of ill-intentioned individuals attempted to carry out this evil plot against our peaceful country," the source said. "Thank God our gallant soldiers were able to neutralise them."  
At the time of writing this report, armed soldiers are reported to be patrolling the streets of Banjul and Kanilai.