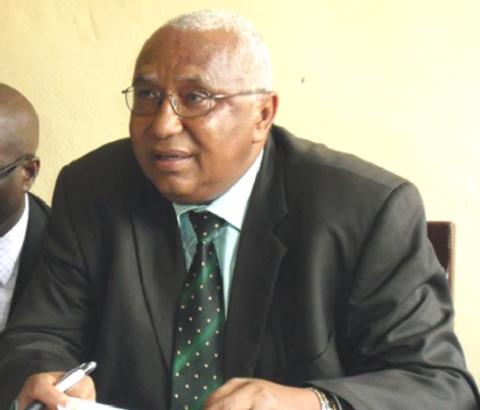 JOHN BENJAMIN 
Monday May 31, 2004
 Kailahun District is turning out to be another battleground for political ascendancy by Sierra Leoneans determined to become President , after the incumbent Head of State, Dr. Ahmad Tejan Kabbah , retires before the 2007 General Elections.
A Sierra Leone Political Insider, who spoke exclusively with COCORIOKO   today , noted that Kailahun may become famous in the years to come for providing one of the many-cornered battles looming for the Sierra Leone Presidency when Pa. Kabbah retires.
According to the insider, John Benjamin( pictured on the right )  , former NPRC Prime Minister and ex-NUP Chairman and the Information Minister in the SLPP government, Professor Septimus KaiKai are both gunning for the Presidency .
John Benjamin  was returned unopposed in the Kailahun Njaluahun Ward Constituency during the local Council elections and  the battle for the Kailahun District Council Chairmanship is between him and Mr. Moinina Conteh , another  winner of a local council seat in the same district for the ruling SLPP.
"John Benjamin's ultimate aim is to become Kailahun District Chairman from where he can leverage his way into another bid for the Presidency, this time, though, through the SLPP, " the insider narrated. "But",  he went on : Moinina Conteh is being backed against John Benjamin  by  Information Minister, Septimus Kai-Kai  , who also wants to be President of Sierra Leone and sees Benjamin's success as Kailahun District Chairman as a threat to his ambitions. "
The insider went on : " However, current indications are that Benjamin will win against Moinina as he and DR. JOHN KARIMU ( Benjamin's buddy in the NPRC : Karimu was their Minister of Finance ) , now Head of the National Revenue Authority ( NRA),  are spraying cash to all successful councillors.  "
BENJAMIN, KAIKAI AND KARIMU ARE INVITED TO RESPOND TO THESE ALLEGATIONS .