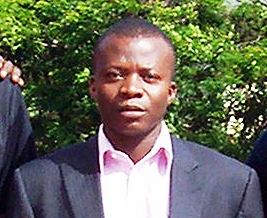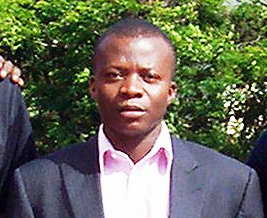 Members of the family of controversial journalist,
Sheka Tarawalie, currently in London after attending
a seminar of editors from post-war countries, are
complaining that there have been recent threats to
his life. Tarawalie's younger brother, Hudson, has
shown series of anonymous letters of threat to this
press indicating that the journalist has again hit a
raw nerve that calls for revenge. "This time we will
not miss you," read one of the anonymous notes.
Hudson said the threats have forced him to move from
his elder brother's residence of 54 Campbell Street,
where he was living until his departure. "One night
I heard conversations in low voices in our compound,
and when I looked through the window I saw people
holding machetes. In the morning, I found a warning
note stating that if my brother did not stop
writing, then he would be stopped. That day I
decided to leave the place," he narrated.
Similarly, Tarawalie's parents in Makeni have
revealed that strange people have been visiting them
asking for the whereabouts of their son. "These were
the same men that were looking for him in 1998. What
has my son done again?" Mrs. Marie Tarawalie, in
tears, asked. She recalled how their home was looted
and the whole family subjected to harassment by
gunmen and machete-wielding militia any time they
came looking for him during that time. Even though
this time around they were not carrying weapons,
Mrs. Tarawalie feared it foreboded danger. "Why do
they come knocking in the middle of the night,
asking for him? We have told them he is not here,
but they do not seem to believe," she explained. Rev
John Tarawalie, the journalist's father, confirmed
the story, and added that they were tired of the
frequent threats to his son's safety ever since he
started running a newspaper in the country.
What this press has gathered is that many people do
not believe that the recent articles being written
and published on the internet are being sent from
London.
What is at stake however is the principle of freedom
of expression. Tarawalie was the first journalist to
be jailed by the SLPP government through parliament in
1996. Before then, on the first day of his newspaper
The Torchlight's appearance on the newsstands, the
Ministry of Information banned it, only to un-ban it
on the same day after Tarawalie challenged the
government to justify their action. In 1998,
Tarawalie's office and home in Freetown were
vandalised by pro-SLPP supporters baying for his blood
after the Nigerian-led intervention, following his
paper's condemnation of the use of force as against
adherence to the Conakry Peace Plan of 1997.
Tarawalie went into hiding for over a year. In 2003
(after reports of a coup plot which former
British-born Inspector General of Police Keith
Biddle had seriously doubted and merely spoke of
thieves in an ammunition depot), Tarawalie was also
critical in an article describing the so-called coup
as "a hoax" to apprehend government's perceived
enemies. This prompted a group of plain-clothes
officers to go looking for Tarawalie, and he again had
to go into hiding. He was in that hide-and -seek
situation until he left for the UK.
Following the latest developments, this press has
tried to contact Tarawalie in London; but as we went
to press, he could not be reached. It is clear that
his latest article, "The International community,
war, and peace in Sierra Leone," (published in a
London-based website, www.africanreviewofbooks.com)
which was very critical of the role of international
players and condemnatory of President Kabbah's
attitude towards the peace process, coupled
with previous ones narrating the atrocious role of
the pro-government militia the kamajors' and their
Special Court-indicted leader Chief Sam Hinga
Norman, must have sparked the current wave of
threats to the former editor's safety.
Prison and police sources are stating that Tarawalie
is suspected to have links and could be charged with
treason in the current alleged Johnny Paul-led coup
trial going on in the High Court. And some members of
the Sierra Leone Police could just be overzealous in
implementing this as they are still reeling from
Tarawalie's exposure of their involvement in a
diamond-turned-stone scandallast year.
In 1998, while Tarawalie was being sought after,and
at one point presumed killed, many
journalists, including former BBC Network Africa
Presenter Hilton Fyle, were arrested by the
government, charged with treason and sentenced to
death. Journalist Conrad Roy of Expo Times died in
prison before the completion of the trial, while
Marouf Sesay of The New Storm was executed along with
23 military officers by a firing squad.