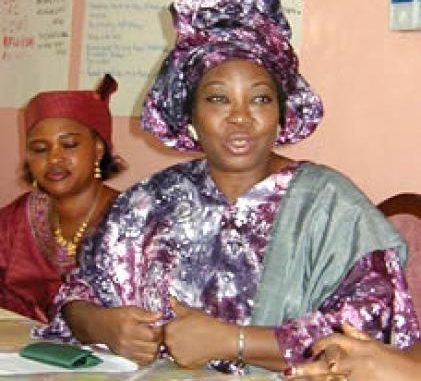 SHIRLEY GBUJAMA ADDRESSES EFFECTS OF POSTWAR TRAUMA
Saturday August 7, 2004
Sampson Cole reports from Freetown
Trauma survivors and war-affected communities are to
benefit from an integrated psychosocial
community-counselling programme after the training
programme for Sierra Leonean NGOs and Community Based
Organisations.
The training, which is organised, by Medico International in collaboration with Grace Land
Counselling Services and the Truth and Reconciliation
Working Group (TRWG) yesterday had its opening
ceremony at the National Stadium Hostel.
Speaking at the ceremony, Usche Merk of Medico International based
in Germany said that her organisation was founded in
1968 in the context of the Biafra and Vietnam War and
is presently supporting around 60 projects in 16
different countries. She said that Medico which a
human right organisation is independent of political
or religious affiliations, adding, "but the spirit
which has been guiding us is longing for a world where
everybody has a chance to live in dignity and in
decent conditions- without fear of violence and war."
She went on "and the strategy which we dream of is to
encourage and work within networks of solidarity with
fellow visionaries." Usche said that she came in
contact with the TRWG in 2002 through the Chairman-
John Caulker who convinced them to come to Sierra
Leone. She went on that it was SINANI a Kwazulu Natal
programme for survivors of violence in South Africa
who have worked in violent and devastated communities
that break the ice "and enabled me to meet incredible
people like you who survived the most brutal war."
She went on "I felt very humbled when I see the amount
of energy, creativity, humanness, the care and concern
for others the people of Sierra Leone have." She went
on further hoping "the training will help to further
develop the Sierra Leonean concepts without having to
go through mistakes others have already made." In his
remarks the Chairman of TRWG- John Caulker said that
he is relieved that they would be going into the
communities to do psychosocial delivery care services:
adding that they would be working with the communities
and not for the communities.
Giving her statement the Minister of Social Welfare Gender and Children's
Affairs, Mrs. Shirley Gbujama said that the training
programme is not a waste of time and resources because
the effects of trauma are like a big load on a head
that cannot let it go. "It requires somebody from
without to help put away that load and that is the
more reason that the communities need such services to
help them put away the multiple stresses that the war
has occasioned," she said.
The Minister went on to say that taking off this load means rehabilitation of the
self-esteem of the individual. Statements were also
given by a representative from National Forum for
Human Rights, the Deputy Director of British Counsel-
Honor Flanagan, Zandile of SINANI and Bondu Manyeh
National Programme Coordinator Grace Land Counselling
Services chaired the programme.