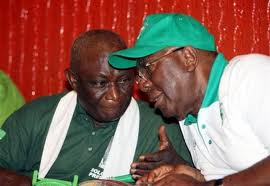 Credible sources has intimated that  outgoing President Ahmad Tejan Kabbah and Presidential candidate and outgoing Vice-President Solomon Berewah have asked President Lansanah Conteh of Guinea to grant them assylum in Guinea.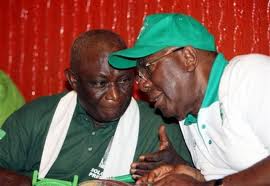 KABBAH AND BEREWA CONSORTING ?
These request comes in the wake of dashed hopes of the SLPP government continuation in power more so as the people have spoken and the international community's stance of withholding aid and support of the corrupt government of the SLPP.
ll hopes of the SLPP sustaining power is in vain. The people of Sierra Leone have spoken, the international community are withholding all Aids until a credible government comes to power. Consequently, credible sources has intimated that Kabbah and Berewah have asked Lassanah Conteh of Guinea to prepare the presidential lodge at Bellvue in Conakry where Kabbah sought assylum in 1997 to accomodate them for the last time as there is no hope for the corrupt government of the SLPP to continue in power.
President Lassanah is yet to confirm the request because he is afraid that the presence of Kabbah and Berewah whom the people of Sierra Leone kicked out democratically will have impact and ripple effect of his fragile and falling regime.
However, sources also confirmed that Blaise Campaori of Burkina Faso has opened his doors to Kabbah and Berewah because he knows that these fugitives are loaded with diamonds looted from the coffers of Sierra Leone which he will ultimately have a share as he did with Kleptomaniac-Charles Taylor who is presently satanding trial in the Hague for his involvement in the Sierra Leone Imbroglio.