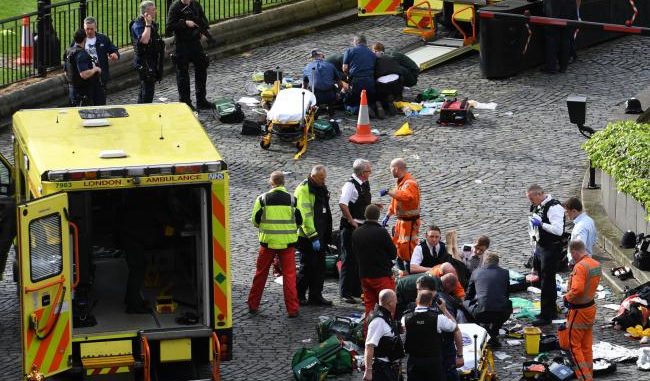 London's worst terror attack in more than a decade left four people dead, including the assailant and the police officer he stabbed, and at least 20 injured.
A car traveled down Westminster Bridge, running over pedestrians before crashing into the fence outside Parliament, according to police. A man armed with a knife then ran through the gate and through security, assaulted a policeman and was shot. Among the fatalities were two people on the bridge. Three French school children were among those hurt.
"This is a day we planned for but hoped would never happen, sadly it's now a reality," Mark Rowley, national head of counter terrorism policing, told reporters. "We will continue to do all we can to protect the people of London." He said he "was satisfied" that there was just one attacker.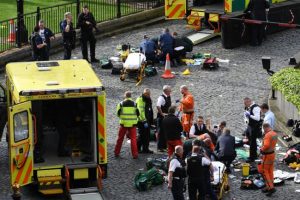 The BBC reported that the police officer passed away while being given mouth-to-mouth. Minister Tobias Ellwood was shown at the scene trying to resuscitate him.
Grant Shapps, a Conservative lawmaker, tweeted that he was walking to the lower house to vote when he heard four gunshots and police ordered members of parliament to crawl to cover.
Tawhid Tanim, 28, a sales assistant who works near Parliament, described how he heard three gunshots and was told to run by police. "All I could hear was loud shots, gun shots – bang, bang, bang. People started running away. I could see a car had smashed the wall of Parliament," he said. "Police were saying 'move, move."'
The attack adds to the sense of turmoil in the U.K., where political instability is already growing amid plans to start withdrawing from the European Union from next week. It's London's biggest terrorist attack since the multiple bombing of the transport network in 2005, and strikes a symbolic — and highly fortified — site in the center of London.
COBRA Meeting
Prime Minister Theresa May was in the lobby of the House of Commons at moment of the attack before she was evacuated. She will chair an emergency meeting — dubbed COBRA — later. Her scheduled meeting on Wednesday night with Luxembourg Prime Minister Xavier Bettel was canceled.
The Metropolitan Police said about an hour after the attacks were reported that they are treating it as a "terrorist incident until we know otherwise."
Images aired by Sky News and the BBC showed people on the bridge and on the sidewalk near Parliament lying on the ground being treated by medical staff. At least four people and as many as 12 were injured, according to eyewitness reports, while video footage showed a crashed car nearby. The police said it received reports of a person in the river.
It's also exactly a year since the worst terror attack in Belgium's history, in which 32 people were killed and hundreds more were wounded at the Brussels airport and Maalbeek metro station, and a day after the U.K. joined the U.S. in unveiling new security measures banning laptops and iPads from flights from some Middle Eastern countries.
2005 Flashback
The U.K.'s last major terrorist attack was in July 2005, when four radical Islamists targeted the public transport system during morning rush hour, killing 52 civilians. More recently, in June 2016, Labour lawmaker Jo Cox was killed by a right-wing extremist, while in May 2013 a British soldier was stabbed to death outside his southwest London barracks by two men.
British police have arrested record numbers on suspected terrorist charges since the country's terror threat was raised to its second-highest level in August 2014.
One of the people on the ground outside Parliament was shot by a plain-clothes police officer, according to a witness account. The entire Parliament complex was put into lockdown. The pound dipped briefly on the news and is now little changed at $1.25.
The Metropolitan Police said on its official Twitter account that it was called at about 2:40 p.m. to reports of an incident at Westminster Bridge. It initially described it as a "firearms" incident.
At the lower house of Parliament, Leader of the House David Lidington said: "What I'm able to say to the house is that there has been a serious incident within the estate. It seems a police officer has been stabbed, that the assailant was shot by armed police."
Police warned people to avoid the areas around Westminster including Whitehall —  where the government departments reside — Westminster Bridge, Lambeth Bridge, Victoria Street up to the junction with Broadway and the Victoria Embankment up to Embankment tube.
BLLOMBERG NEWS