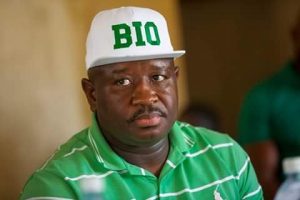 Cocorioko Editorial
As President Maada Bio celebrates one year in power today , no Sierra Leonean is joining him to celebrate  his ascendancy to power , except his rabid Sierra Leone People's Party ( SLPP )  supporters and the gravy train,  of course.
Emotions in Sierra Leone are frayed and subdued today, the first anniversary of Bio's rule  because the coming to power of Maada Bio has turned out to be a curse for the people of Sierra Leone. Due to President Bio's misplaced priorities  to seek Mende hegemony and vindictive revenge over his opponents , the All People's Congress ( APC ) and citizens from the North-West, the socio-economic conditions in the country have worsened to the point where people are literally starving and newspapers , radio and TV  stations are seething with complaints  of extreme hard times .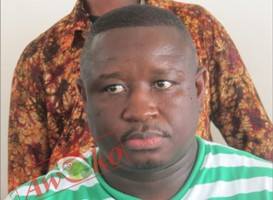 Prices of basic commodities and the nation's staple food, rice, have escalated beyond the means of the citizenry. The national currency, the Leone, has depreciated so dramatically in value that a leone is now worth an astronomical U.S $ 930, 000, which is disastrous to importers and the business community in general because they are unable to import food and commodities. Where they manage to do it, the public suffers because prices have to be increased to recoup their losses and make profits.
Not only has President Bio messed up the Sierra Leone economy , which under the previous President, Dr. Ernest Bai Koroma , was the second fastest-growing economy in the world before Ebola hit, he has destroyed the fine traditions of constitutional rule and the promotion of the Rule of Law bequeathed on the nation by peace guarantors and stakeholders after the civil war, traditions that were followed by previous presidents Ahmad Tejan Kabbah and Ernest Koroma.
President Bio has no respect for the constitution or the laws of the land. Parliament has become his play thing where legally-established procedures are not followed to elect a speaker or his deputy or to vet and approve appointees or pass bills . Citizens with security of tenure are removed from their jobs and President Bio has unlawfully purged ministries, departments and agencies ( MDAs ) to make room for his tribesmen and women and citizens from the South/East, who are now the only beneficiaries of government appointments. Bio has no respect for inclusive governance as only Mendes ,  South-Easterners and his concubines are given jobs . If you are not a Mende or his concubine , forget it. This is a disgrace to a country that the UN and more guarantors of peace, national reconciliation ,  reintegration and national development adjudged the model for other post-conflict countries.
To cut a long story short, President Bio has been a colossal mess in power. His only achievement to date has been Free Education, which , in spite of problems, deserves to be commended.  He is trying to fight corruption, and he could have gained a lot of praise in this aspect too , if only he had not made it a vindictive drive against members of the APC and North-westerners. Permanent Secretaries, who were the vote-controllers and heads  and deputies of parastatals who are Mendes are exempt from  prosecution , which has drawn widespread condemnation from a cross-section of the citizenry.
With the economy in a state of coma, the constitution ripped apart, the laws of the land raped and ravished and tribalism and regionalism at an all-time high, Sierra Leoneans regret the change that took place in their nation one year ago today —-A change that majority of them did not in fact bring about and for which they credit the former Colonial master, Britain, which effected regime change because of the APC's close and unwanted diplomatic, cultural and socio-economic and political ties with China.
President Bio did not win the elections. Sierra Leoneans know that and they continue to complain that they have compelling evidence to demonstrate that the British High Commissioner to Sierra Leone, Mr. Guy Warrington, engaged in covert and overt undiplomatic maneuvers to have the National Elections Commission ( NEC )  rig the elections in favour of the then opposition SLPP  in reprisals for the APC Government's ties with China.
Therefore, everything the nation is suffering today is being blamed on Britain, which literally overthrew the APC and imposed President Bio on them. The failed, incompetent, clueless, tribalistic and lawless President Maada Bio is a brainchild of British High Commissioner Guy Warrington  and Sierra Leoneans are not happy about it and it forms part of their regrets as the first anniversary of the dictator's rule dawns.