Freetown, Feb. 11, 015 (SLENA) – The Minister of Health and Sanitation, Dr. Abu Bakarr Fofanah has led an assessment tour with Senior Officials of his Ministry and the Company, Ideas Partnership to explore the possibility of constructing an ultra-modem Hospitals in the East, West and Central Freetown under the Kuwaiti Project ' Strengthening Tertiary Hospital'.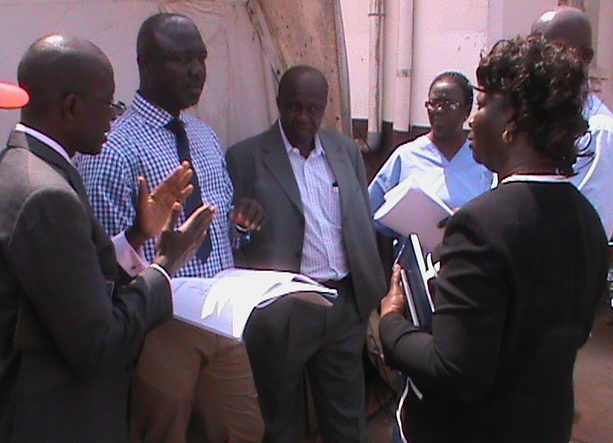 Dr. Abu Bakarr Fofanah and Team at the Rokupa Government Hospital
The initiative is to transform the original plan of the project for the construction of hospitals at Wellington, Kingharman Road and and Lumley communities with a view to serving the wider growing population for posterity.
The Rokupa, Macaulay Street and the Kingharman Road government health facilities that were once Satellite Clinics transformed into hospitals, and the Lumley Government Hospital have been identified for feasibility studies for the construction of four storey buildings within the Minister's initiative in the project.
A perimeter survey by the Ministry of Lands and Ideas Partnership has been proposed for the speedy implementation of the project.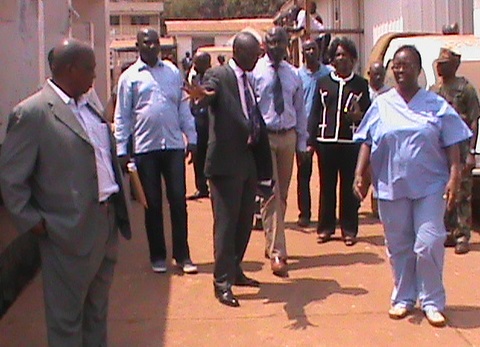 Dr. Abu Bakarr Fofanah making a point on the importance of a perimeter survey
The Minister of Health and Sanitation, Dr. Abu Bakarr Fofanah in his Vision 2015-2016/2016-2020 on Building a Resilient Health System in Sierra Leone during the Post Ebola era, has said the Strengthening Tertiary Hospitals Project will not only provide a conducive working environment for our health professionals but will also ease the case load burden on the three main Tertiary hospitals in Freetown: Connaught, Ola During, and the Princess Christian Maternity hospitals. The areas have been identified, are also geographically highly populated communities where the project will significantly and potentially serve the people within the framework of the Agenda for Prosperity.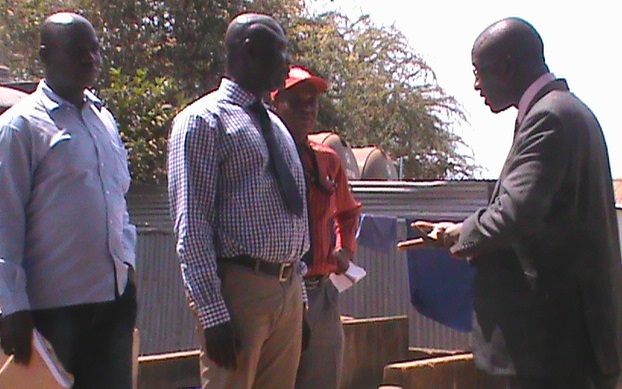 The Minister, Dr. A.B. Fofanah interacts Partnership Ideas Representative at the Lumley site
"Government is committed to providing accessible and affordable quality health services to its citizens and other people living in Sierra Leone in its mandate and continued strides to regain its Ebola obstructed health care recovery development programme which also falls within the rating of the country as one of the fastest growing economy in Africa". The Project, spare headed by the minister, within the Agenda for Prosperity has been highly acclaimed by stakeholders and potential beneficiaries in the various communities. The implementation of the projected is expected soon. SLENA Reports.
JAK/KK/MOHS/SLENA