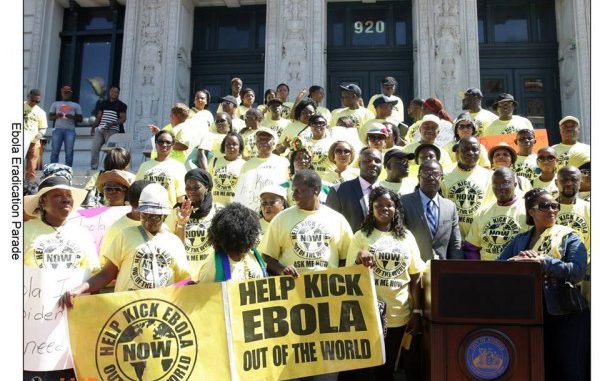 By KABS KANU :
Sierra Leoneans in New Jersey  operating under the name  Concerned Citizens fighting the Ebola Virus yesterday staged a rally outside the Newark City Hall to raise international awareness about the Ebola outbreak in West Africa.
Wearing yellow T-shirts prepared just for the occasion,  with Ebola-related inscriptions on them, the New Jerseyans chanted songs and later delivered statements, calling for a more robust international attention about the Ebola outbreak. Members also appealed for immediate help for the countries presently suffering from the Ebola attack–Sierra Leone, Liberia, Guinea and Nigeria.
Speaking to COCORIOKO,  the Lead organizer, Madam Inez Konjoh, described the rally as highly successful. She stated that "Although we would have wished to have had more people to join us in the rally, this initial program was successful. " She  said that the Ebola outbreak is not a Sierra Leonean issue alone, but an international scourge that should be on concern to everybody in the world. She described Ebola  as a deadly enemyas well as a  gradual killer that has the potential to eventually spread all over the world and cause total devastation. She called on the international community to speed up its response and support to countries presently being ravaged by the disease before it goes out of control .
The other lead organizer of the rally is the Rev. Dr. Victor Fakondo, who is also calling on the international community to do all it takes to nip the Ebola outbreak in the bud. WE WILL BRING YOU THE SPEECHES MADE DURING THE RALLY IN SUBSEQUENT ISSUES.
The Concerned Citizens Group was set up not only to canvass international attention to Ebola but to mobilize resources like medical supplies to help fight the scourge in Sierra Leone. The organization hopes to stage more rallies to inspire international attention and response to the Ebola Scourge.
Sierra Leoneans in New Jersey are among the most proactive when it comes to fighting worthy national and international causes and the organization, the Concerned Citizens fighting the Ebola Virus , yesterday received commendation from Sierra Leoneans from many parts of the diaspora , who called COCORIOKO  to ask that their thanks and appreciation be extended to the organization for the great act it performed in Newark yesterday. 
WE BRING YOU A PICTORIAL DISPLAY OF YESTERDAY'S RALLY.
LEAD  ORGANIZER INEZ KONJOH HOLDS A PLACARD AS MEMBERS CHANT SONGS AND SLOGANS ON THE STEPS OF THE CITY HALL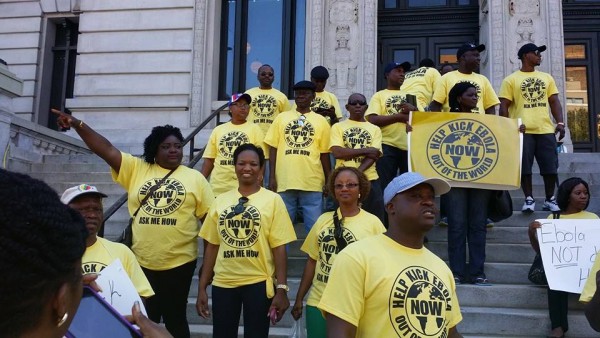 NEW JERSEY RESIDENTS RALLYING YESTERDAY IN NEWARK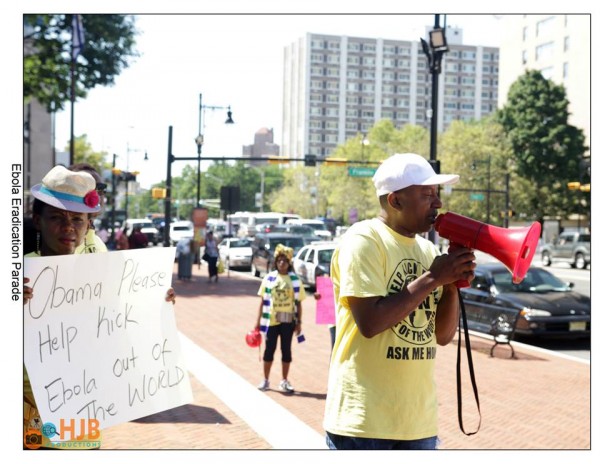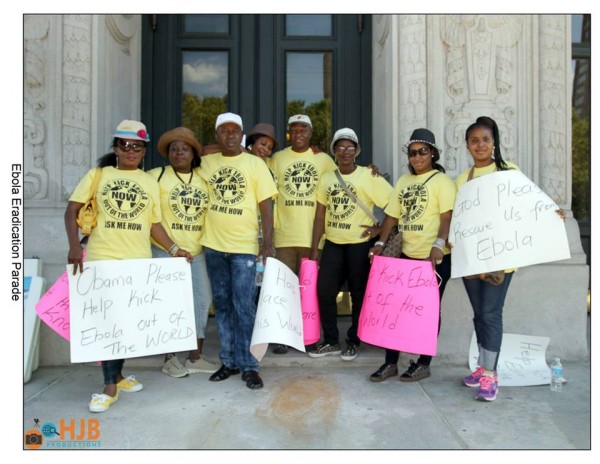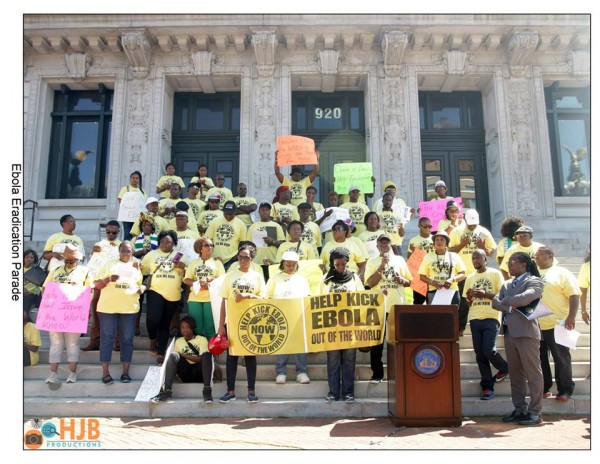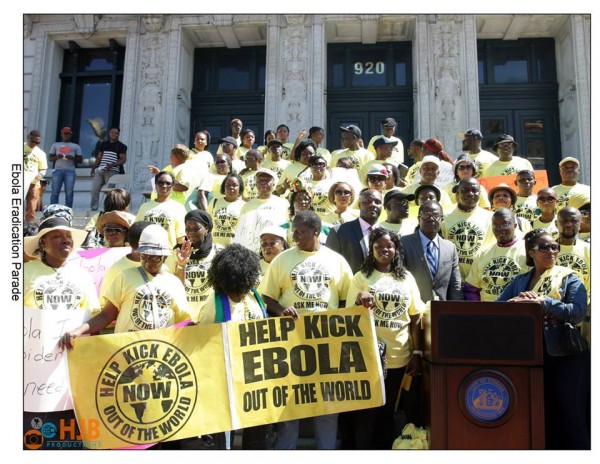 PHOTO  CREDIT : HAMJAT JOLOMY BAH, AGATHA DEMBY AND INEZ KONJOH