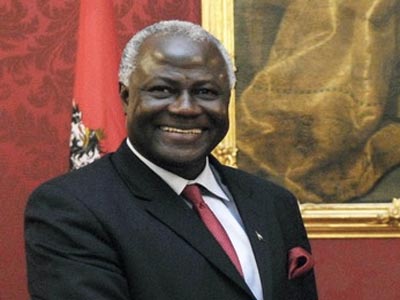 By KABS KANU :
When hypocritical pro-opposition journalists talk glibly  and try to make capital out of Maada Bio's selection of a woman as his running mate as if no women's empowerment is going on ,  what they are ashamed to acknowledge is the fact that President Ernest Bai Koroma has done far more to empower women in Sierra Leone than ever done by the opposition Sierra Leone People's Party (SLPP) or any other regime in Sierra Leone . Any honest person looking at the way women have been brought into the mainstream of governance and decision-making in the country since President Koroma came to power in 2007 will admit that empowering women is one of the strengths of the present All People's Congress ( APC ) Government led by President Koroma.
PRESIDENT KOROMA : WHO HAS EMPOWERED WOMEN IN SIERRA LEONE MORE THAN HIM ?
One of the key focus  of the APC Government has been women's empowerment and this is why we have women in key positions in society. Women are not only holding top ministerial positions; under President Koroma's government, women are ambassadors , deputy ambassadors, leading diplomats , top government functionaries and high-ranking public servants.
The  present APC  cabinet outscores  the various cabinets of  the SLPP in the number of female ministers.  At the moment , there are 5 female ministers , including deputies . There were 6 but one died in August (  http://www.sierra-leone.org/cabinet.html ) .  In the APC cabinet, illustrious women like Madams Zainab Bangura,  Ebun Jusu , Victoria Saidu Kamara, Rosaline Oya Sankoh and  Mabinty Daramy are functioning in major ministerial positions ( Mrs Jenneh Kandeh died few months ago ). Throughout the reign of the SLPP, at no time did 6 women serve as ministers in one cabinet. Never.
When  Ex-President Ahmad Tejan Kabbah first came to power, for long the only female minister was Mrs. Shirley Gbujama . See http://www.sierra-leone.org/cabinet-kabbah3.html. This was a serious relapse after the second cabinet consisted of  three ministers ( http://www.sierra-leone.org/cabinet-kabbah2.html ) and the  first cabinet only two female ministers (http://www.sierra-leone.org/cabinet-kabbah2.html ). The fourth cabinet had only  two female  senior ministers and two deputy ministers (http://www.sierra-leone.org/cabinet-kabbah2.html ). Kabbah's fifth cabinet had only two women ministers and one deputy (http://www.sierra-leone.org/cabinet-kabbah2.html ).  When President Kabbah left power in 2007, there were only three women ministers (http://www.sierra-leone.org/cabinet-kabbah6.html ) .
Even at the seat of power –State House– you would  be able to name no female empowered by the SLPP Government in all the 11 years that the party held power. State House was the hotbed of male dominance and chauvinism. However, under President Ernest Koroma, women hold sway at State House. Powerful women like Khadija Sesy, Nannette Thomas,  Isata Jabbie , Razia Bash-Kamara and Yvonne Tagoe are playing outstanding roles in key positions. In the diplomatic field, the APC has women playing important functions as ambassadors –Rev. Marie Barnet , Khadi Bassir and Rasie Kargbo . Government ministries, departments and institutions have women in vital positions.
Under other governments that had ruled Sierra Leone before 2007, the wives of the heads of state –Or First Ladies– were moribund, undistinguished and underutilized . They were nothing more than mere housewives who  spent their time in the kitchen cooking for the heads of state . Their names appeared in newspapers only for flashiness and ostentation or scandals. But the maverick President Ernest Bai Koroma , in his splendid program of women's empowerment , gave a new meaning to the concept of the First Lady in Sierra Leone . President Koroma , who has tremendous respect for women , and has demonstrated it at different phases of his life,  even while he was an insurance executive, recognized the fact that beside every successful man, there is a woman ( Guys, note : It is no longer "Behind every successful man, there is a woman" . I have heard women activists cry down this old-fashioned rendition of the saying  when unsuspecting men expressed it during UN meetings ).
The President gave impetus to his philosophy by elevating the concept of the First Lady into an important  office and handing his wife very significant  roles to play in the country's postwar reconstruction and development .  For the first time in the history of Sierra Leone ,  we have a very proactive , vibrant and and powerful  Office of the First Lady , with the President's wife , Madam Sia Nyama Koroma, utilized as ain integral part of the Head of State's nation-building machinery. There is no Sierra Leonean who  system . All these facts demonstrate that gender equality and women's empowerment are at the heart of President Koroma's style of governance.
The SLPP  therefore has  nothing to teach President Ernest Koroma and his government about gender equality and the empowerment of women. Even the International Community has highly commended the manner that women have been empowered in Sierra Leone. In April this year, women empowerment in Sierra Leone was celebrated at the Review meetings at the UN of the Sierra Leone Peacebuilding Country Specific Configuration. Cocorioko , it must be recalled reported : " In his remarks, Mr. Shulenburg(The UN Secretary General Executive Representative in Sierra Leone )  emphasized the important role civil society groups were playing in Sierra Leone 's progress towards a democratic and transparent society and this , he said, was manifested by the presence of representatives of the civil society . According to him, while other countries were having problems with democratic governance, Sierra Leone is a vibrant society where political parties , civil society and Gender representatives were thriving .  He disclosed that all these groups are working together and he  also noted the participation of women which was good. He noted that "the last frontier we have to win is women's participation " and Sierra Leone has made progress also in this aspect. "
The APC Government even has structures in place already that will see more women brought into governance and the decision-making process  during President Koroma's second term . Readers can also recall this exclusive report in Cocorioko : 08 March 2010:  Another Day of Pride for Sierra Leone at the United Nations
Thursday March 4, 2010 was another day of pride for Sierra Leone at the United Nations , as the country received tremendous all-round praise from stakeholders and representatives of the International Community  for becoming one of the short-list of  African nations and the 17th in the whole world to showcase the National Action Plan  on the Implementation of UN Security Council Resolutions 1325 and 1820 on women's empowerment .
Also, President Koroma is working with the female parliamentary caucus to ensure that Sierra Leone women get  30 percent  representation in all levels of government.
The Kadi Sesay candidacy does not therefore mean anything to President Koroma.
He is an exponent of women's empowerment and upliftment already . As a matter of fact, he has done more to empower women in Sierra Leone than any President has ever done . This is why the Sierra Leonean people should mobilize to give him his deserved second term at next year's elections.