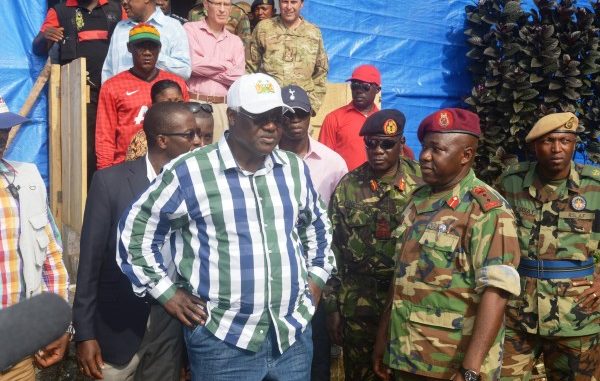 By State House Communications Unit
President Ernest Bai Koroma over the weekend registered government's satisfaction with the response by medical personnel of the Republic of Sierra Leone Armed Forces (RSLAF) among local and international staff at the frontline of the national response to eradicate the deadly Ebola virus disease from the country.
"We are happy with what you are doing here," President Koroma told Col. Dr Foday Sahr, Medical Superintendent at 34 Military hospital.
The president made the commendation during a final stop over at the 34 Military hospital, Wilberforce Barracks, as part of his usual spot checks on Ebola treatment facilities and engagements with stakeholders in the fight against the spreading virus.
Giving an appraisal on work progress at the hospital, Dr Sahr informed President Koroma that the 40 bed capacity holding and treatment centre is run by RSLAF personnel and has so far recorded 17 positive cases and 7 had been discharged.
At the 60 bed capacity Hastings airfield treatment center run by Aspen Medical, Australian Project Manager Dan Kerr said they have vast experience in handling and treating infectious diseases and are expected to start administering treatment soon.
On arrival at the PTS holding and treatment centre also at Hastings, President Koroma was informed by nurses and health workers that they were in need of more personal protective equipment (PPEs), water supply and a backup generator to provide power supply to the new extension of the facility with 250 bed capacity that is scheduled to commence operations this week with at least 150 beds.
The issue of outstanding payment of contractors was also brought to the attention of the president which he swiftly instructed the NERC CEO to address as Western Area activities could not be more effective without the Hastings centre. Whilst at the 100 bed Ebola Treatment Center located at the Prince of Wales School run by MSF, Dr Iza Ciglenecki said they will start work this week with 20 beds.
President Koroma also visited the Kerry Town Treatment Centre which still has only 17 patients and the Emergency Treatment Centre at the Milton Margai College of Education and Technology, Goderich.