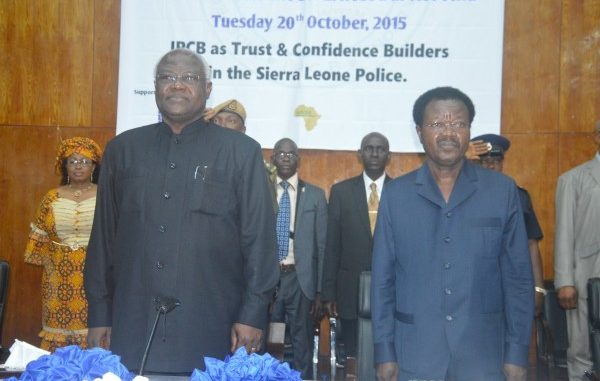 As a way of further strengthening the reform of the Sierra Leone Police (SLP), President Dr Ernest Bai Koroma Tuesday 20 October 2015 launched the Independent Police Complaints Board (IPCB) at the Miatta Conference Centre in Freetown.
The Independent Complaints Board is an independent civilian oversight body for the police, established by the Police Council under section 158 of the Constitution of Sierra Leone 1991 (Act No 6 of 1991).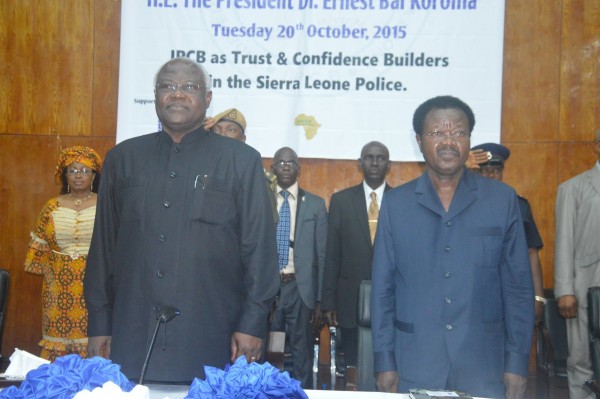 The mandate of IPCB is to receive, investigate and monitor complaints from the community about the Sierra Leone Police, to protect people from abusive police practices as well as a means for the public to hold the police accountable for any misconduct or violation of human rights.
Delivering the keynote address, President Koroma said the launching of the IPCB is part of government's actions for making the Sierra Leone Police a force for best practice and a force for greater accountability to Sierra Leoneans.
He pointed out that the latest Mo Ibrahim Index in safety and the rule of law, Sierra Leone made tremendous progress placing the country 5th in the sub-region with an outstanding performance of 82.9%. The report further states that in participation and human rights, Sierra Leone scored 60.8%. He stated that government is committed to doing more by taking actions to secure its achievement and improve on its performances as well. "Building civilian oversight mechanisms, promoting accountability and peace are central pillars of our actions," the president emphasized.
President Koroma said the Complaints Board will receive and examine all complaints that fall within its mandate and shall ensure citizens have access to a prompt and transparent process for handling and investigating complaints. He noted that the Board will self-direct investigations and to convey public interest hearings as a way to address organizational and systemic challenges facing the Sierra Leone Police. He expressed hope that the Board lives up to public expectations.
Giving an overview of the IPCB, Minister of Internal Affairs Hon. Joseph Bandabla Dauda explained that the IPCB came into existence in July 2013 through the Police Complaints Regulations saying that the IPCB provides the need for the police to be subjected to external review, recommend remedial actions and to improve on accountability. The minister stated that the IPCB's mission is to build public trust and confidence in the SLP by seeking to establish the truth, determining facts, and ensuring that justice prevails.
British High Commissioner Peter West making a statement on behalf of Access to Security and Justice Programme (ASJP) said the quality and efficacy of such institutions will play an important role in the efforts of attaining a middle income status and moving the country forward.