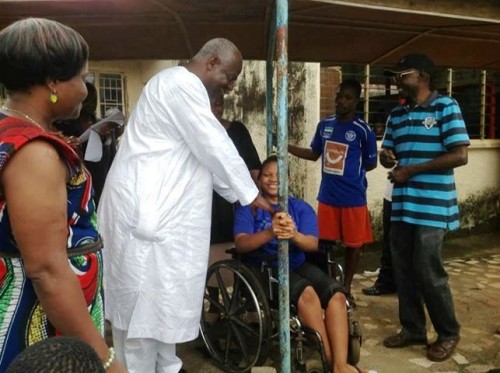 President Ernest Bai Koroma on Wednesday 2nd October organized a prayer breakfast at State Lodge, Hill Station to celebrate his 60thbirthday anniversary. In attendance were close friends, family members and members of the Muslim and Christian clergy.  (President Koroma cuts his birthday cake)
Immediately following the prayer breakfast, and group photographs with close family members as well as staffers were taken, the President, as a way of commemorating his birthday in a unique way, as he put it, embarked on a needs assessment visit to the Lumley Government Hospital, the Kroo Bay Community Health Centre, PCMH, Ola During and Connaught hospitals, and the Freetown Cheshire Home at Race Course, Cline Town.
Prayer breakfast
At the Lumley Government Hospital in the west of Freetown, President Koroma was briefed by Dr. Olivet Buck about plans by the Ministry of Health and Sanitation in collaboration with the Freetown City Council to refurbish the hospital.
Dr. Buck informed the President that the contractors are expected very soon to start the refurbishment of the entire facility. She noted that the operation theatre suffers hugely from leakages even when they are at work. She also informed President Koroma about lack of a storage facility for drugs, including those that are being provided for the free health care.
Sheik Tejan Sillah of Freetown Central Mosque delivering his birthday greeting
While at the Kroo Bay Community Health Centre, where he was warmly greeted with drumming, singing and dancing by ecstatic members of the community, President Koroma was taken on a tour of facilities by the Community Health Officer, Baba Musa. He informed the Head of State about challenges facing the health centre, even though they normally receive drugs from the Ministry of Health and Sanitation.
Led on a conducted tour of the PCMH and Ola During hospitals by Dr. Michael Koroma, who deputised the Medical Superintendent, President Koroma quizzed health workers about challenges facing them in running the hospital, and further enquired how beneficiaries were coping with facilities meant for the implementation of the free health care.
In euphoric chorus, they replied, "We are having free drugs and treatment from the free health care", and sang strains of happy birthday to commemorate his day.
Dr Koroma told the President about series of challenges facing the hospital, ranging from faulty plumbing system, lack of oxygen cylinders as he took him on a tour of some critical wards and facilities, including the blood bank of the hospital.
PCMH and Ola During visit
At the blood bank, President Koroma observed that there was a huge problem with the donation of blood, to which he suggested that there should be motivation for donors.
He met and had a snap shot with medical students who are already on housemanship at the hospital.
President Koroma also visited the Out Patients Ward at Connaught hospital, where he was led on an inspection tour by Dr. Kamara.
The President further inquired about progress made so far in improving health service delivery at the biggest tertiary hospital in the country. He urged health workers at Connaught hospital to step up to the plate by delivering on the promise made by the Task Force recently to overhaul the current state of the hospital.
Cheshire Home visit
At the Freetown Cheshire Home, which was the first port of call, President Koroma was informed by the home's administrator, Mrs. Henrietta Sesay that though the school is government-assisted, yet they are in dire need of help.
She said they most times advocate for help for both nursery and primary schools to humanitarian organizations, recalling that the First Lady, Madam Sia Nyama Koroma's last visit to the orphanage was very much instrumental.
She further took President Koroma on a needs assessment tour of facilities, including the Vocational and Skill Training centre and dormitories for male and female students.
Everywhere we went from Cheshire Home to PCMH and Ola During to Connaught through Kroo Bay to Congo Town and Lumley; people came out in their numbers not just to catch a glimpse of the President who was expected be at home celebrating his natal day, but also to take pictures of him with either their mobile phones or cameras.
When we asked President Koroma why he decided to celebrate his anniversary in this way, he stated that, "There is nothing more satisfactory than intermingling with these orphans and unprivileged communities on such a unique day for me. I am 60 years old today, and I am President of Sierra Leone, serving my second and final term. I can only say thanks to God for this unique opportunity". He also emphasized that he wanted to motivate the underprivileged, and make them aim high in life.