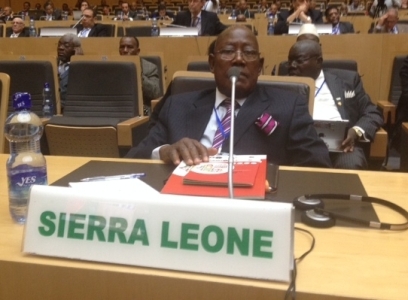 Professor Victor Strasser-King, Director Strategic and Policy Unit at State House led Sierra Leone's delegation to the just concluded two-day U.S-Africa Energy Ministerial (AEM) conference which ended on 4rd June, 2014 in Africa's diplomatic and political capital, Addis Ababa.
Other members in Prof.  Strasser-King's delegation included Sierra Leone's Ambassador to Washington, His Excellency Ambassador Bockarie Stevens and Mr. Edmund Koroma, Financial Secretary in the Ministry of Finance and Economic Development.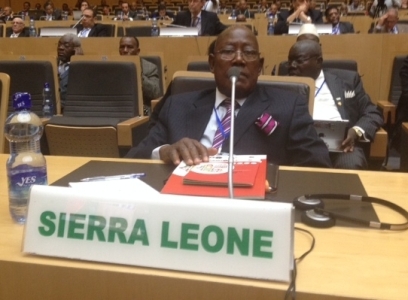 The Government of the Federal Democratic Republic of Ethiopia and the U.S Government co-hosted the AEM meeting which took place at the Nelson Mandela Hall of the African Union Commission.
The event was themed: "Catalyzing Sustainable Energy Growth in Africa" aimed at providing a forum for major announcements and commitments that support energy development throughout Africa.
In his intervention, Prof.  Strasser-King said that through the dynamic leadership of His Excellency President Dr. Ernest Bai Koroma, Sierra Leone is undergoing a reform process in the energy sector.
"The new transformation is moving from the old system where Government was wholly and solely the owner of the energy sector in the country," he said, adding that this is attracting the private sector to invest in the energy sector.
He however, highlighted a major challenge the energy sector is facing with these private companies citing transmission and distribution losses as a case in point.
Strasser-King requested the U.S Government through President Obama's Power Africa Initiative to help Sierra Leone in building a sustainable energy sector.
The confab also showcased African leadership in energy development, explore strategies and effective practices across Africa and the United States for accelerating development of clean energy sources and adoption of energy efficient technologies, review best practices in oil and gas resource development, and highlight progress on President Obama's Power Africa Initiative.
Over 40 African Energy Ministers attended the meeting as well as senior U.S Government officials, multilateral development partners, regional and sub-regional African energy organizations, academia, civil society and African private sector leaders.
The meeting was declared open by the Ethiopian Premier, His Excellency Hailemariam Desalegn.
The meeting was also attended, among others, by the Sierra Leone's Charge'd Affaires a.i. to Ethiopia, Mr. Ismael Koroma; the Minister Counsellor and Head of Chancery, Mr. Ibrahim Vandi Kondoh and Mr. Mohamed Victor Kamara, Second Secretary in the Embassy of the Republic of Sierra Leone in Addis Ababa respectively.
Abdul Karim Koroma
Information Attaché
Embassy of the Republic of Sierra Leone
Addis Ababa
Ethiopia
Email: akk23222@gmail.com