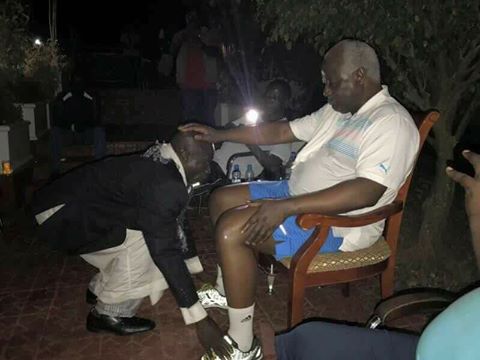 Osman Tarawally, the man aspiring to be a Presidential candidate , who rants against President Ernest Koroma and the Government had won him the nickname of Salone Donald Trump, has surrendered to President Koroma.
After all the attacks he had launched on the President and the Government, Mr.  Tarawally succumbed yesterday and fell at the President's knees and asked for his blessings. He also described President Koroma as the best President ever.
This is another comical interlude to the political drama unfolding in Sierra Leone where people are eager for a third force to challenge the ascendancy of the ruling APC and the opposition SLPP.  The so-called Donald Trump of Sierra Leone had built so much momentum , appearing on TV and radio stations and newspapers where he has been charming the populace with his populist ideas and rants.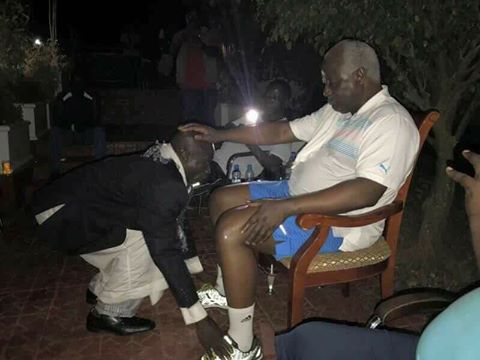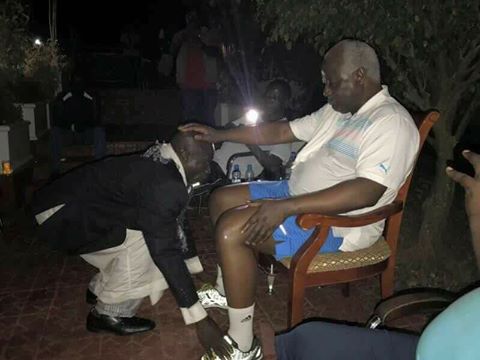 ___________________________________
PDP Osman Tarawally has just confirmed to The Times SL Newspaper that the photo in circulation about him subduing to President Koroma is true. Tarawally said it was EBK who went and picked him up on the 14th April this year to go and spend time with him at President Lodge. " President Koroma came and picked me with his vehicle and we went to the President Lodge where he explained to me how he has earmarked me to be his successor " Tarawally said. The president he said, blessed him and honor him at Lodge giving him all d respect to be the next president of this nation. " I later subdued bowing before the President after he had honored me " PDP Osman Tarawally clearly stated. Go and spread the news that I am d one and that it was not a Photoshop . ©Times SL Newspaper…