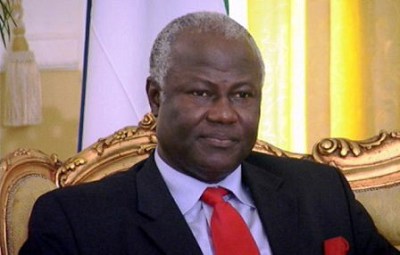 Sierra Leonean President, Ernest Koroma, yesterday cautioned western countries and the World Bank against withholding aid to African countries over new laws banning homosexuality in some countries.
Koroma spoke to newsmen in Abuja after commissioning a building project at the Sierra Leonean High Commission.
His remarks followed the World Bank's suspension of 90 million dollars loan to Uganda over its tough anti-gay law.
The News Agency of Nigeria (NAN) reports that countries like Denmark and Norway had criticised the law, saying that they would redirect aid from the government to assist agencies.
Koroma, who was in Abuja to attend Nigeria's centenary said: "We have to ensure that the communities are sensitised well enough. It is not right for issues to be imposed lock, stalk and barrel from the international world''.
He added that laws on issues such as homosexuality should be left to the prevailing circumstances in individual countries.
"We have to take into consideration our culture, tradition, religious beliefs and all that.
"I believe that on issues like this, like it is happening in other sensitive areas, time should be given to countries to engage,'' Koroma.
The Sierra Leonean president called for "further engagements'' among African governments, western countries and donor agencies to resolve the differences on the issue of homosexuality.
He warned that such engagements must respect the "consensus'' of the African people.
"I believe with engagement with our communities, sensitisation and other public awareness programmes, we will get at a consensus.
"When a country arrives at a consensus, I think the country should be led by what it believes is right for the country and not what is necessarily right for the international community because of the variations in our traditions.''
Koroma inspected and commissioned ongoing building projects and the renovated   Sierra Leone High Commission in Abuja.
He also announced that Sierra Leone Export Promotion Agency would lead a trade and investment team to Lagos next week to showcase investments opportunities in the West African country.
He encouraged Nigeria's private sector to take advantage of the visit and explore opportunities in the areas of mining, agriculture and tourism.
"Sierra Leone is one of the fastest growing economies and the opportunities are growing by the day, we have transformed ourselves into one of the leading places of doing business in the sub-region.''
The president also said the country had made tremendous progress in the fight against corruption and attributed the success to the independence of country's anti-corruption commission.
"When we took over governance, our first step was to strengthen the anti-corruption commission.
"We reviewed the Act and in the new Act, we have not only increased the number of charges from nine to 27, we have also given the anti-corruption commission the authority to investigate and prosecute cases, independent of government.