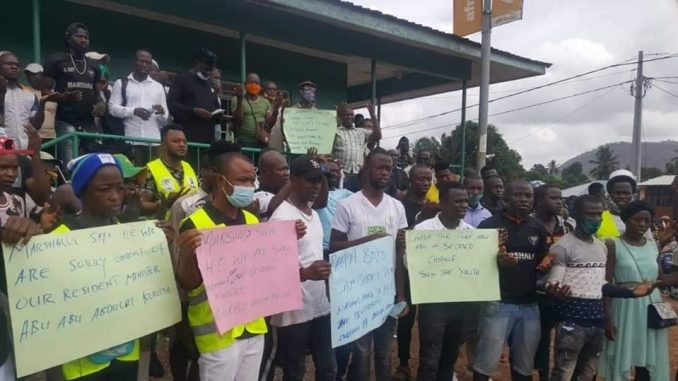 After being holed up for nearly 2 months at home , I finally decided to go out for a spin this evening to see what my people out there are up to . To say the truth , I miss my city … the ambience in the streets and just that feeling of being alive .
I don't know if Bo City really believes COVID-19 is real .
Everything was flowing like it used to … I did not notice any form of social distancing nor did I see the stream of people criss-crossing having masks on 😩😩.
99% were without masks .
99% of the 1% with masks had their masks below their chins .
So …. that brings me to these questions :
Are we just disobeying laws ?
Are we ignorant to the fact that COVID-19 is real ?
Do we even believe it's real ?
Are we too desperate making ends meet to care ?!
Is hunger MASKING our sense of reason ?
Or are we just waiting to see The prediction of Mr and Mrs Bill Gates happen for us to take precautions ?
I was shocked to say the truth .
Everyone was busy doing their thing WITHOUT any precautions .
Schools are out … the flow of teenage traders was serious !
And I ask again : are those kids safer out there peddling wares in the streets than in schools ?!
I don't know about other cities but my city needs to step up before " dawn breaks " .
____________________________________________-
By Mamu Al Conteh
Mamu Salone TearGas is with Mamu Al Conteh.
Maada Bio used his selective State Of Emergency to intimidate, imprisoned, tortured and even kill opposition party members but repeated allowed SLPP supporters to break his imposed emergency laws.
For example, the SLPP transported people from Bo, all the way to Makeni to demonstrate for a Minister who preached genocide and opposition lynching.
Because Bio want's to reinstate Abu Abu, his Resident Minister North, but don't not want the suspecting eyes of the international community to see his game plan. He is trying to paint a picture that narrates a positive picture of a very ruthless SLPP minister.
God help Sierra Leone
Happening now,SLPP supporters in Bombali district and it's environs at the regional party office headquarters pleading and calling on the president to show mercy,and bring back the north giant resident minister.Abu Abu koromo
1: how come em get police clearance 4 demonstrate inside dis corona pandemic wahala na de country?
2: no public gathering yet em gather with a journalist in front. Na only de opposition de laws em dae for?
3. Why people 4 demonstrate bcus em suspend somebody wae em suppose sack n jail?