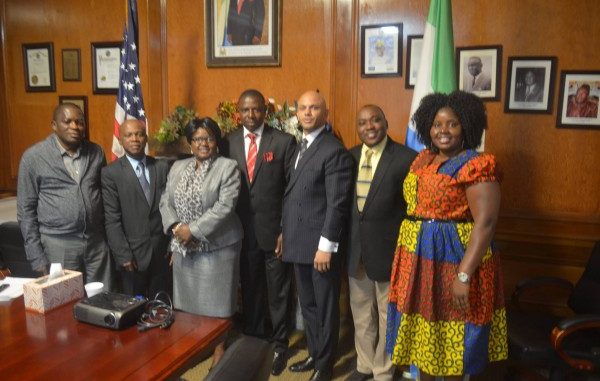 By PASCO TEMPLE :
At a meeting Convened late last week at the Sierra Leone Chancery on 1701 19th Street North West Washington DC by Honorable Dauda J. B. Kallon, Member of Parliament, Deputy Chairman of Foreign Affairs and International Co-operation, Committee, Member of Water Resources, Fisheries and Marine Resources, and Youth Affairs Committees, attended by Aaron Alexander Vice President sales CLP group International, a Limited Liability Company (LLC) and witnessed by Mrs. Isatu Sema Aisha Sillah, Minster Counsellor & Head of Chancery, Mr. Momodu Lamin Deen Rogers, Clerk of Committees, Mr. Pasco Gerald Temple, Information Attaché, Ms. Fatmatta Dao, Second Secretary, the discussion was centered on the provision of "Two Hundred(200) Megawatt Solar System to be designed for Sierra Leone energy sector".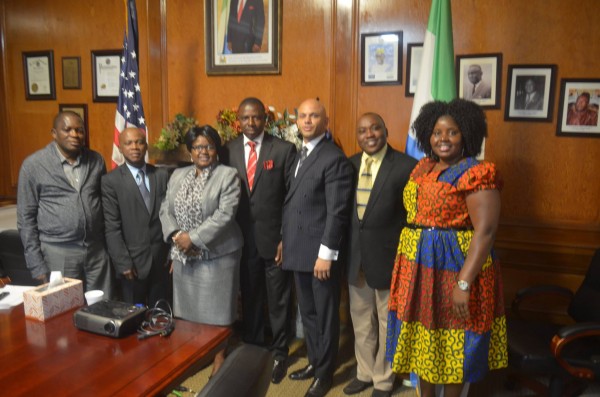 According to Hon. Dauda J.B Kallon, when agreements are tied, the project will be executed in different faces according to plan.
In his introduction, Hon. Dauda J.B. Kallon said we are here to continue a deliberation on the introduction of renewable energy into Sierra Leone's power grid.
"Let me be clear: everything we do or deliberate on here has the blessing of President Dr. Ernest Bai Koroma, and as a matter of fact this project is his baby, and I am not working in isolation, but with him to succeed."
Concurred by Aaron Alexander, "we consider this project an opportunity and a good source of pride. The possibility of working with the Country and its respected dignitaries is an esteemed privilege"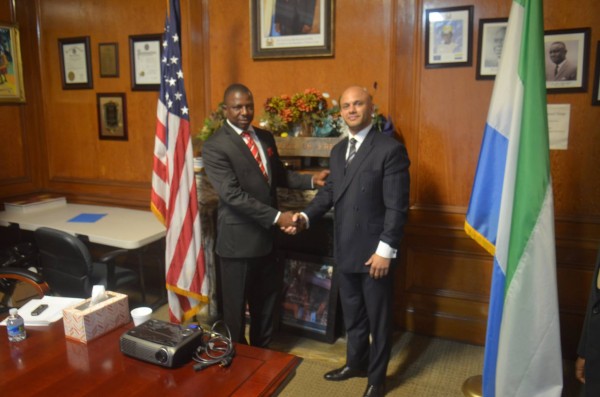 According to him, CLP group has a vested interest in the Country and people of Sierra Leone and the United States and Sierra Leone's mutual history is held in very high regard. "Therefore, it is of paramount importance that we present the very best solutions to the nation of Sierra Leone as it continue towards its development and completion of its Ministry of Energy goals.
As the vice president of International sales, on behalf of CLP group, I commit to take all necessary steps to assist and serve the nation of Sierra Leone in making their sustainable and renewable energy goals within the upcoming years.
Alex Alexander said the solar system his company is proposing to the government of Sierra Leone is based on using highest quality USA and German made products. "All components and mechanisms come from top manufacturers in USA and Germany.
"All of the parts carry the highest warranties and guaranties in the industry. "Our manufacturers will assist your contractors with instructions to complete a seamless, "turn-key" installation of the Solar System that you purchased.
Other relevant information including the process, the cost, and payment methodology, pattern of installation and duration of implementation were briefly divulge but the Hon. Dauda J.B. Kallon deferred the discussion and said all detailed technical discussions, and financial aspect will be handled by the relevant authorities at the Ministry of Finance and Ministry of Energy in Freetown.
According to him, the CLP group has accepted an invitation and agreed to visit Freetown in a date to be fixed.
Earlier, Mrs. Isatu Sillah Minister Counselor and Head of Chancery opened the meeting with courtesies and introduction.
On behalf of Ambassador Bockari Kortu Stevens, I once again thank every attendee and look forward to starting the process.
The CLP group is an experienced and reputable 25 year old food and Energy distribution Company.
The past fifteen years has seen CLP Group established networks with several solar engineering developers and manufacturers.
In order to develop the best solar system for a business, government or private citizen, it requires several components integrated together to produce the system. The various components are produced by different companies.
Each component must have matching properties to properly integrate and work as a system. The solar panels alone do not generate the electricity by itself. There are other components that are needed to make it all happen.CLP Group and its solar designers bring together all the necessary mechanisms to design the best system for our customers.
In a brief interview with Hon. Dauda J.B. Kallon, he said the project will eventually see the end of epileptic electricity in Sierra Leone, thereby creating job opportunities and at the same-time building the capacity of the youth and young. Said the Hon. Member of Parliament. Adding to make mention of economic improvements need not be overemphasized."